We use affiliate links. If you buy something through the links on this page, we may earn a commission at no cost to you. Learn more.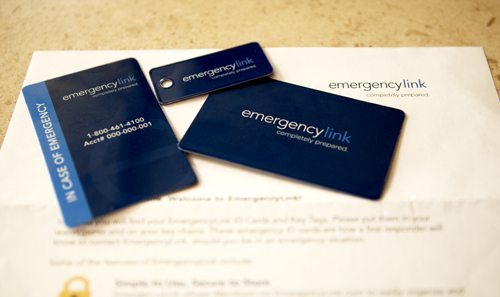 There are various methods of making emergency medical information available in case you are injured and can't talk for yourself, but they don't always have information about notifying your emergency contacts.  With EmergencyLink, information for the people you need to be notified immediately in case of emergency is included with your account, and they'll be notified as your medical information is being sent to the hospital.  It's a free "24-Hour Emergency Response Network that allows you to create an emergency plan, share your emergency plan with family/friends and has a 24-Hour
Response center to execute your plan in an emergency."
Unlike some plans that cover only an individual, EmergencyLink lets you add family members – your spouse, children, even your parents.  You'll get ID cards and fobs for your keychain or shoe laces, and you'll be able to access your account via the web or Android or iOS apps.  You can give friends and family members access to your emergency plan, so you'll be sure that someone will know what needs to be done when you are injured, such as pick up your kids and keep them safe.
Signing up is free.  For each new signup, EmergencyLink will donate $1 to the American Red Cross, Autism Speaks, or the (George) Lopez Foundation.