The Gadgeteer is supported by readers like you! If you buy something through links on our site, we may earn an affiliate commission at no cost to you. Thank you! Learn more.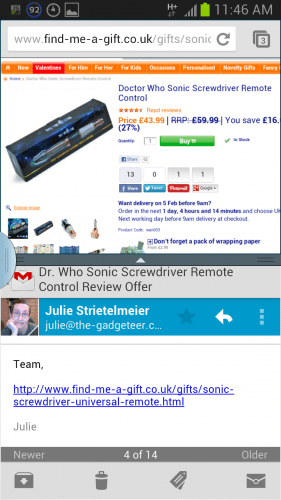 While most stock Android ROMs include features that can only be considered bloatware, once and a while a manufacturer comes up with an innovative and useful feature that they include into their OEM products. Samsung released their Multi Window on the Note 2, and the Multi Window utility is included with the release of their Premium Suite utilities with their Jelly Bean 4.1.2 update to the Samsung Galaxy S3, amongst some of the other updates.  How well does it work? Read on.
Availabilty
As mentioned in my opening paragraph, Samsung's Premium Suite, which includes the Multi Window utility, is only available in version 4.1.2 of their OEM Touchwiz ROM for the S3.  It's slowly making the rounds as an Over The Air (OTA) update if you're on a stock ROM, so if you haven't got it yet, hopefully you will soon. If you can't wait, then your other option, and the one I've taken, is to download any one of many modified Samsung 4.1.2 ROMs available on XDA-Developers.
Enabling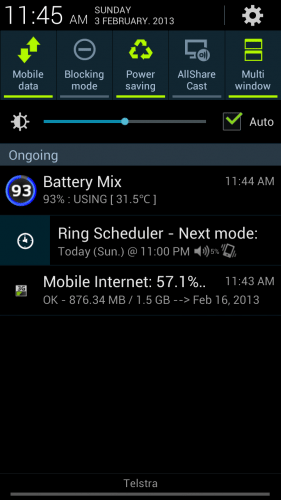 There are two ways to turn on Multi Windows.  The easiest way is to open your notification bar and go to the far right, where you'll see the toggle to enable it.  The other way is to go through the Settings – Display menu.
What does it do?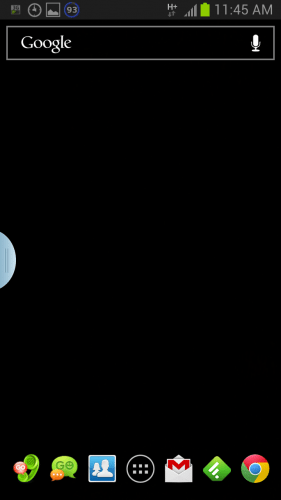 Once you enable it, you"ll see an additional drag bar on the left hand side of your screen.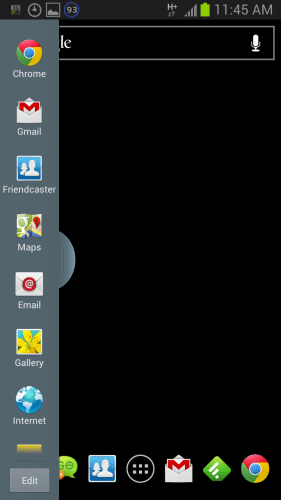 Drag the bar to the right, and you'll get a list of all the Multi Windows-enabled apps on your phone.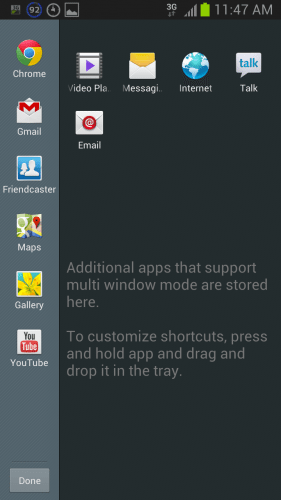 You can customise your menu bar to only include the apps you want by dragging and dropping between your Multi Window enabled and disabled areas.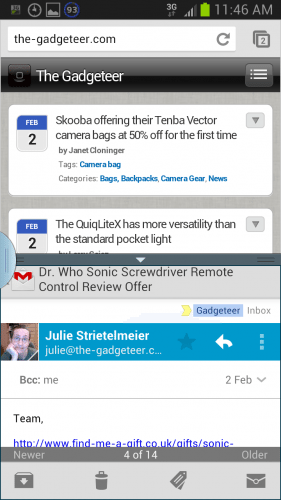 Click on your first app, and it will appear in full screen.  Click and hold and drag your next app either to the top of the screen or bottom of the screen, and you'll get both windows in 1/2 the screen.  From there, tap to make an app active, and you can do everything you'd normally do.  Want to work on the other app?  Just tap that app and away you go.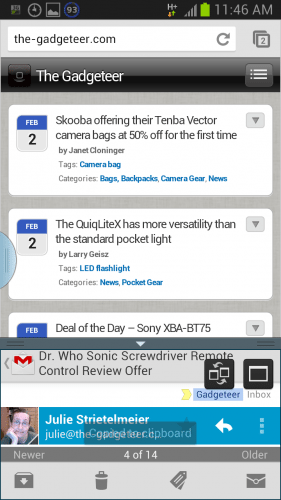 You can drag the divider up and down to resize your apps, and you'll see there are also buttons to swap the two app Windows or to make the current app full screen. It's quite neat and natty.
Conclusion:
But how usable is the utility ? It definitely performs well with my International version S3 with its quad-core processor (the US version is only dual-core); there's no lag or stuttering whatsoever.
The screen is quite small on the S3 (well, comparatively 🙂 ), and while you can still zoom and un-zoom in a windows app, there's not sufficient real estate on the 4.8″ screen to make the most of this utility and the two panes. I find myself using it only on occasion, so it's manually activated and deactivated.  An example is when Julie sends us multiple review offers  in separate emails.  Now rather than having to go between Gmail and Chrome, I just open the two windows up and can easily swap between the two. The other time I find this useful is if I want to compare information between two web pages.
A nice feature, but only for certain circumstances and not everyday use. 🙂
Product Information
Price:
Free
Manufacturer:
Samsung
Requirements:
Pros:

Easy to enable or disable
Nice split screen mode
Split screen sizes adjustable
Fast

Cons:

Have to wait for the 4.1.2 OTA update if you're on stock ROM
Screen and hence the text a little bit too small sometimes to support the two windows