We use affiliate links. If you buy something through the links on this page, we may earn a commission at no cost to you. Learn more.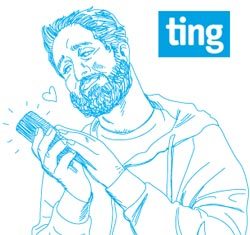 The major cellular providers continue to force their customers into bigger, bolder, more expensive plans that many folks do not need. I admit that I moved our family to Verizon's Family Share Plan, where we pay a premium price for unlimited talk, text, and 6GB of data. However, there are many people that are not power or even marginal users. There are those who do not spend 1000's of minutes talking, constantly texting, or streaming the latest viral YouTube videos. For those who do not want to pay $100+ per month to have a smartphone on a major carrier, there are other options. Ting is a small cellular provider who wants to provide you with the option of paying for what you use in a smart, easy to use/manage, customer-friendly way. I have been and will continue reviewing their service for a couple of months to see how they compare to the Big Boys on the block.

Ting has provided me with a Samsung Galaxy S III and several months worth of service for this review. My review will focus on their business model, customer service, and cellular quality. My review will not discuss the device or Android experience unless it enhances my commentary.
Picking a Cellphone:

Like most other cell services, the first step is to select a cellphone. Until recently, you had to purchase a phone directly from Ting to use their service, but they have worked out a solution that allows you to be able to "bring your own (selected Sprint) phone". Ting is limited to Android smartphones only; that is correct – no iPhones, BlackBerrys, or Windows 8. But there are rumors that Ting will someday enable iPhones and potentially Windows 8 on their service/network.

Even without the other major OSs, Ting's smartphone selection is surprisingly worthy and includes several top-end Android phones, like the Samsung Galaxy S III and Note II.  Ting also has a full spectrum of phones from a $50 dollar flip phone to many $100 – $400 Android devices as well. You are purchasing these Sprint phones at the non-subsidized price, so you have no long-term commitment/contract with Ting, a definite perk for many. In additions to phones, Ting also has the  Huawei Express Mobile Hotspot, Sprint Home Connect, and Sprint Airave devices.
Ting's Service: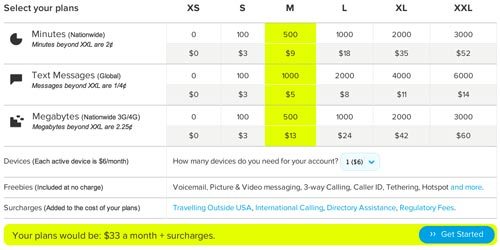 Ting's business model and promise is that you only have to pay for what you use. Their premise is that most cellphone users are forced to eat at the all-you-can-eat buffet when folks only need a $1.49 powerbar. Their tiered, ala cart service enables you to pick how many minutes, texts, and gigabits you actually need. If you use less in any or all of their services (voice/text/data), they will drop you down to the tier that you used – without penalty.  If you go over in any or all of the categories, they will bump you up to the higher tier for that month – without penalty. Crazy I know.
Ting phones and service are not sold in brick-and-mortar stores. The only place you can currently sign up for service and purchase a phone is ting.com. But Ting does its best to make the process quick and easy; it took me little to no time to sign up and get operational.  If you have an issue or question, Ting offers free geek-support through its highly trained operators who actually answer the phone when you call.
Here is Ting explaining their pricing structure in a video:
[youtube http://www.youtube.com/watch?v=Nky9omXFZD4]
Ting makes it extremely easy to monitor and manage your usage via your web-based dashboard.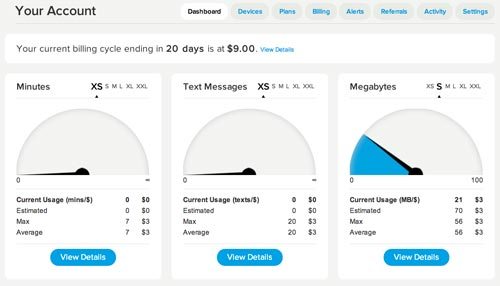 Features (aka Why Choose Ting….):
Coverage & Call Quality: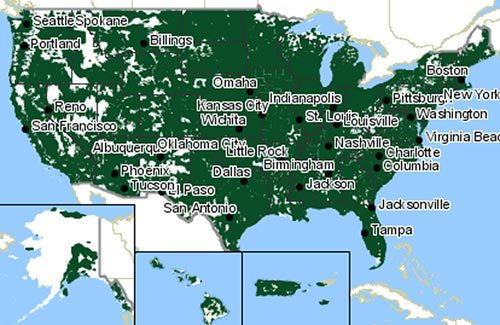 Ting's coverage area and call quality are 100% dependent on the Sprint network. Ting is a MVNO (Mobile Virtual Network Operator) which piggybacks its service off Sprint, so you'll get coverage anywhere that Sprint has signal. Which for some is a completely fine and is not an issue. For those of us in the greater Seattle area, Sprint coverage is marginal at best. At the time of writing this review, Sprint did not have 4G/LTE in Seattle or its outlying areas. This is a major negative for me; I have great Verizon LTE coverage nearly everywhere I go around the Puget Sound, and it is VERY rough going back to 3G. Signal strength in the cities and downtown areas is good/great, but there are many locations off the beaten path that have lousy coverage.

Sadly, I only get 0-1 bars (maybe two on a good day) at my home, where I regularly get 4-5 bars on my Verizon iPhone 5. Obviously, if you have good/great Sprint coverage in your area, then this should not be an issue for you.
Great Customer Service: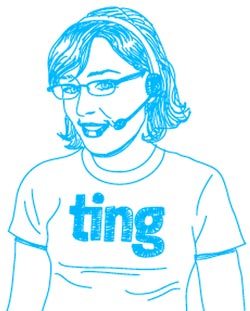 Ting believes in no-hold customer support, and that is a great and extremely refreshing thing. The company has human operators that answer the phone Monday through Friday, 8am – 8pm ET. They do not have phone-trees or voicemail; the phone continues to ring until one of their technical experts is available to assist you. Over the course of two months, I have contacted them several times by phone and email. They picked up and responded very quickly and were helpful each and every time. For those moments you need assistance while they are not available, Ting has a relatively robust Help & Support page.
As Promised:

Ting, as promised, reduced and refunded a portion of my first month's bill based on usage, dropping me from the 'medium' tiers I had signed up for to the 'small' tier, saving me $18 the first month. My grand total was $18.83. Based on my typical (Verizon iPhone) usage I see my bill being $30/month, averaged out annually, a substantial savings over what I pay monthly to Verizon.  Unfortunately, Sprint's coverage and lack of LTE in our area are deal-killers for me, thus making Ting not an option.
Who Might Want To Give Ting a Try:
I hate to admit it, but I dislike having to think about limits, overages, or how close I am to an arbitrary tier, even if there is no penalty for having to bump up to the next level of service. I really do prefer unlimited plans.  I like not having to worry about number of minutes, texts, or megabytes I have used over the course of a month. So, my family and I are not likely candidates for Ting's "pay-for-what-you-use" cellular service (even though it would most likely save us money). That being said, there are many who may want to give it a try as a cost effective alternative to the classical cell-provider. The bottom line is that if you are shopping for the best deal, you are going to have to put in the time to research your options, profile your cell-habits/usage, carrier coverage zones/quality, and do a hardcore analysis of what is best for you. Ting's business model is sound and logical, and if you are in an area where Sprint coverage meets your needs, definitely worth considering.
Product Information
Price:
Pay-For-What-You-Use
Manufacturer:
Ting
Pros:

- Pay-For-What-You-Use service/cost
- Good selection of Android smartphones
- Clear/understandable billing
- Can now BYOD (bring your own device)
- Stellar customer service (no hold, voicemail, phone-tree)
- Great web-based management tool
- Could potentially (greatly) reduce your cellphone bill

Cons:

- Dependent on Sprint coverage
- Android OS only