We use affiliate links. If you buy something through the links on this page, we may earn a commission at no cost to you. Learn more.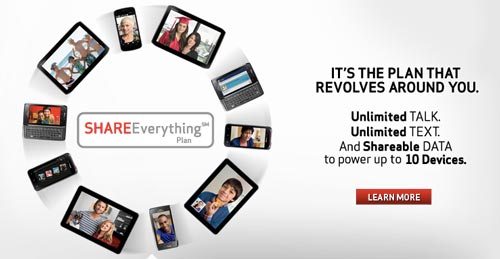 Bryan did a great job discussing the details of Verizon's new Share Everything Plan that was rolled out at the end of last month. He also dove into the fact that Verizon is doing their best to kill off Unlimited Data Plans with their most recent service. He also looked at how this new plan would affect him if he chose to switch from his 'grandfathered in' unlimited data plan to their new shared data plan. Considering all of the negative chatter going on about the new plan, I just wanted to throw in my two cents on why I switched to Verizon's new Plan.
Verizon's new Plan is certainly receiving a great deal of scorn throughout the media (to include, many of the comments Bryan received on his write up). But I agree with Bryan, whether we like it or not, tiered data plans are here to stay and the (magical, someday I am sure they will be mythical) unlimited data plans are quickly going the way of the dinosaurs. However I would argue that, while it is nice to have, few people actually use the true perk of unlimited data on their smartphones and only a relatively small percentage go over 2gb, much less 10gb a month. That debate not withstanding, the reason I switched my family over to the new Plan came down to, black and white, dollars and cents.
Our old Family Plan included 900 shared minutes for two iPhones both with 2gb of data. That plan also included unlimited texts but no tethering. In addition, I had the $30/month pay as you go data service for my 4G iPad3. From a data perspective, those smartphones together, rarely exceeded 1gb of data and my iPad consumed about the same. Now I grant you, we do our best to not stream video on the cellular network and save that for while on WiFi. But we freely use data for dancing the net, receiving emails, play games, etc.
By switching to the new Share Everything Plan, we get unlimited voice / texts, tethering, and 6gb of data for $50 LESS per month. In my opinion, that is a pretty good reduction in cost for, in our case, greater service. I did my best to compare apples to apples and believe the old and new services mirror each other relatively well. In fact, depending on how much of the 6gb of data we really use, I may ratchet our service down to 4gb, for an even larger saving per month. In addition to that, due to the unlimited voice, we are considering dropping our home phone line to bring our total telecommunication costs down even further.
Now I grant you, we never had the Unlimited Data Plan (and most likely never will) and that the new Verizon Share Everything Plan is tailored for the modern day family (vs an individual). That being said, I am in no way shape or form a 'Shill for Verizon' (like someone accused Bryan of being)…..just calling it like I see it. Take it for what it is worth, do the math (from both a cost and usage standpoint) and decide for yourselves. Even though Verizon is making it more difficult, you still have choices in this arena. 😉