We use affiliate links. If you buy something through the links on this page, we may earn a commission at no cost to you. Learn more.

The i'm Watch from Italian based i'm is not only a wrist watch that will display the time of day, it's actually an Android smartwatch companion for your Bluetooth enabled iPhone or Android based smartphone. In addition to performing as a speakerphone, it can even run its own apps. Let's give it a spin. Note: Images can be clicked to view a larger size.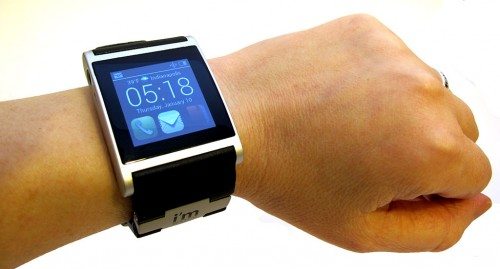 First of all, this watch is not dainty by any stretch of the imagination. It's pretty large and chunky. As you can see it swallows my wrist. It was a little too bulky and uncomfortable to wear for me.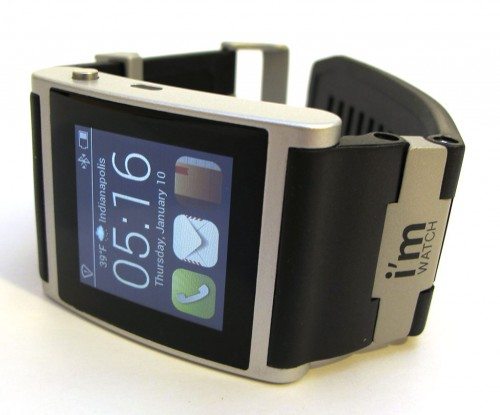 The i'm Watch is available in several versions. The one you see above is offered with a choice of 7 different colored bands. You can also buy the i'm Watch in Titanium and jeweled versions. The prices for the Titanium and Gold versions are insane though – they range from $1049 for Titanium up to a jaw dropping $19990 for the White Gold and Diamond version.
This watch reminds me of the previous version of the Apple iPod nano and one of the many watch bands that were created for it. Even the interface and icons look similar.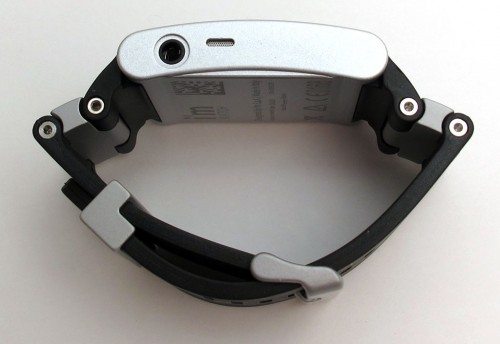 The case of the i'm Watch is made of aluminum with a smooth brushed finish. On the left side you'll find a standard headphone jack / charger port and a speaker. The watch comes with a special USB cable that has a 3.5mm jack on one end and a USB connector on the other. You use this cable to charge the watch and also transfer files with your computer.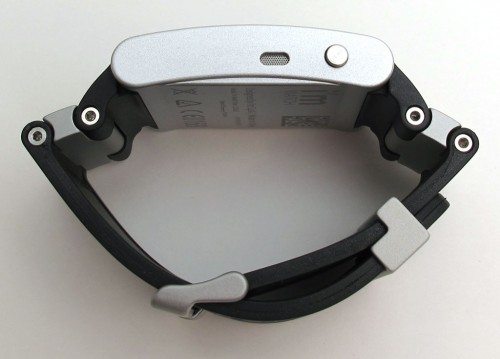 On the right side is another speaker and the command button.
Setting up the watch is pretty easy. You just have to pair it with your Bluetooth enabled smartphone and enable tethering. The watch doesn't have WiFi, so without a smartphone to pair with it, you won't be able to take advantage of any features. After you pair the watch with your phone, you have to register the watch online. The i'm Cloud site allows you to manage  and setup the core apps with access various accounts like your Facebook, Twitter, and email accounts. You can also link the watch with your google calendar.
The 1.54" 240×240 pixel color touch display is clear and bright. To wake it up you have to press the command button on the right side. Continuously pressing the button will take you back through the screens like a back button. When you get to the screen above on the left, you can then swipe the screen left or right with your finger to show the scrolling apps lists. The touch display is capacitive, so you'll not be able to use it with gloves.
The i'm Watch has 128mb of RAM and 4GB of flash. The operating system is a customized version of Android that includes a core set of apps: Appointments, Contacts, Calculator, Compass, Facebook, picture gallery, Twitter, email, MP3 player, Instagram, News, Stocks and Weather. You can also install additional apps from the i'm Market. Right now there are only 27 apps available. Most are free but some have a price.
I was really excited to try this watch because I thought it would be great to be able to leave my phone in my bag or jacket pocket while I drive and be able to see text messages as they come in or even answer/make calls right from my wrist. Unfortunately the i'm Watch experience has not been as good as I hoped. The watch looks better than it performs.  Having the ability to see Facebook, Twitter, SMS and email on your wrist sounds great. But everything left me disappointed. Facebook and the news app just show headlines. You can't tap a headline to see the full story or Facebook post, so what real good is that? Email will allow you to tap a subject line and read the full message,  but the screen is so tiny that it's tough to read it in a 240×240 pixel window.
Then there's the features I really cared about most: SMS and making/receiving calls…
The SMS/text message feature just flat out doesn't work. At all. Bummer… The speakerphone feature doesn't work either. At least not enough to be useful. The watch will come on when a call comes in (image above on the right), but the audio is very choppy or just drops out completely to where you think the phone call was dropped. But if you look at your actual phone, you'll see that you're still connected. It doesn't matter if you are trying to make or receive a call, it just doesn't work.  And forget about trying to scroll through your address book to call someone. Again, the display is too small. What the i'm Watch really needs are voice commands…
I have to complain about one more thing and then I'll be done… Battery life… The web site says that the watch uses "smart tethering" to save power and that you should be able to get up to 2 days of use per charge. I barely did anything with this watch and didn't even get 12hrs…
I came into this review hoping that the i'm Watch smartwatch would be great, but am leaving disappointed. The problem is that this is actually an updated version of their original watch…
What do you guys think? Would you wear a smartwatch?
Sponsored Post

Product Information
Price:
$389.00 - $19990 depending on style
Manufacturer:
i'm
Requirements:

Bluetooth enabled smartphone: Android 4.0 and higher, iOS 4 and higher

Pros:

Can install apps that show data

Cons:

Speakerphone feature doesn't work, choppy audio
SMS app doesn't work
Short battery life
Too expensive for what it can do