We use affiliate links. If you buy something through the links on this page, we may earn a commission at no cost to you. Learn more.
This post brought to you by Arcsoft. All opinions are 100% mine.

Sure, you can email your friends photos or post them on Facebook, but a couple of photos can't really convey everything you want to share about your day or event.  So you could create a photo album and have them printed up, but that takes a lot of time and money – and then you have to mail them to your friends.  Not a very satisfying way to share pictures these days, when everything can happen in an instant on the internet.  Whip offers the modern approach to creating photo albums and sharing them.  With the Whip Social Album app from ArcSoft, you'll have an exciting new way to share your photos and videos.  The app is available for iPad, Android, and Windows 8, so you don't need to feel left out of the fun no matter what mobile device you use.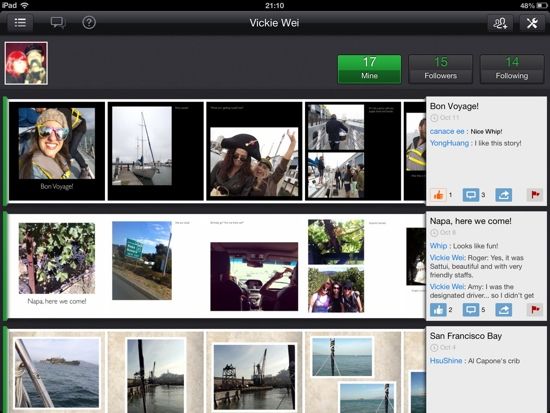 Whip is free, and you'll be able to get started the moment you download it with guidance from the app itself.  Making a Whip takes only three steps.  First you'll select the images you want to include from the photos on your device or from Facebook.  You can even include a video clip (up to 15 seconds).  The Whip app makes it easy to ensure your photos are perfect with a one-touch enhancement tool.  Next, you create pages by arranging your photos just the way you want them.  To convey the mood, you can add music to your Whip from the library of "indie" songs in the application.  And you can add text to your pages to complete the story.  There are even holiday themed styles and music – just in time for this holiday season!  Your Whip will even have a "cover", complete with photo and text.  You'll be able to page through it just as you would a paper photo book, or you can use auto-play to view it as a slideshow.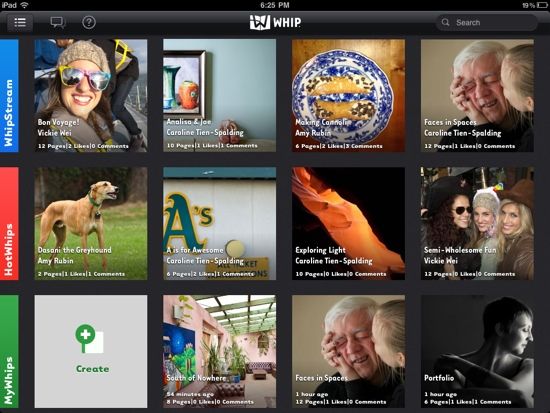 The fun begins when you share your Whip with friends and family.  You can share it on your Facebook page, email it, or you can also share it with Twitter or SMS if you have an Android phone.  You can set your Whip to private before or after you share it.  And you don't have to worry if your friends don't have a device with the Whip app, because your Whips can be viewed on any computer, tablet, or phone.  You can also share your creations on the Whip website, where other Whipsters can admire your work .  You'll be able to "follow" your friends on the Whip site, and you can see what's trending at HotWhips, or search for Whips or Whipsters by keyword.
You have nothing to lose and loads of fun to gain by using Whip to share your photos.  The app is free, and you don't need any special equipment other than your tablet or phone to create great photo albums.  You don't need to wait for publishing photo books or mailing times to share  them with your friends.  They will be impressed with your creativity and think you're smart as a Whip!  Download the free iPad app now, and you'll be ready to share this holiday's memories.
Whip Social Album for iPad from Whip Social Album on Vimeo.