The Gadgeteer is supported by readers like you! If you buy something through links on our site, we may earn an affiliate commission at no cost to you. Thank you! Learn more.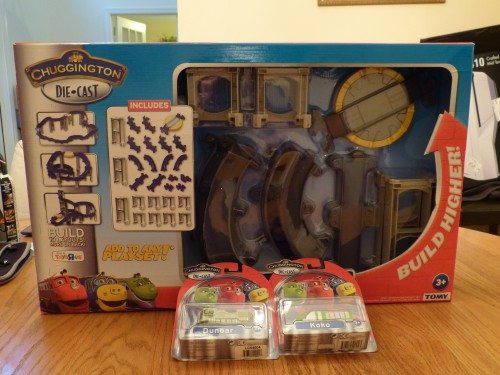 Koko and Dunbar not included.
When I was offered the opportunity to review a toy train set, I thought it would be interesting to try it in conjunction with my expert team of train set testers – my sons, Franklyn (7) and Matthew (4). They willingly agreed to work with me on the project and share their feelings. In the past, they have played with wooden Thomas sets as well as electric train sets.  Trains are in their blood, as their grandfather has been a model railroader for decades and has constructed railroad layouts that have been featured in magazines and videos. When it comes to trains, there's no judge in the land that wouldn't qualify my sons as experts. They are also quite knowledgeable in stress and durability testing of toys.
With my testing team in place, we opened the Chuggington Die-Cast 10-in-1 Layout Track Pack made by Tomy. This is a large track set, not a complete train set, as it does not include any engines or cars. Fortunately, the people at Tomy were kind enough to send a couple of their engines along for my test engineers to utilize. My team found the engines ("Dunbar" and "Koko") to be well-suited for testing and began ripping…err carefully inspecting the contents and preparing to create their first layout.
Before we get to the results of the study, I did a little research on Chuggington and how it related to the champion of toy trains, Thomas the Tank Engine.
For decades, Thomas has chugged along the TV and playroom tracks without much competition. Brought to life in the series of books called "The Railway Series" by Rev. Wilbert Awdry in 1946, Thomas and his friends have been traveling the railway on the Island of Sodor, imparting a series of nice, moral story lines to children.
While the books have proven to be popular (selling over 200 million copies worldwide), the animated TV series has been a spectacular success. The series, produced by Britt Alcroft, hit the airwaves in 1984 and has featured narrators like former Beatles' drummer, Ringo Starr; the late comedian, George Carlin; and star actor, Alec Baldwin. It's now entering its 17th season (400+ episodes) and is viewed around the globe in a plethora of different languages. Like many popular children's shows, Thomas and Friends has spawned movies, software, live theater, amusement park rides and a wide variety of licensed toys. Most popular among the merchandise has been the wooden railroads and models sold under the Learning Curve (RC2 Corp) brand.
While the people and trains on the Island of Sodor always work out their problems and get along the same couldn't be said for the people working at the TV show's distribution company, HiT Entertainment or Learning Curve. Executives from each of these companies came together and a startup called Ludorum, PLC was born. Not long after, the animated TV series Chuggington premiered and has been gaining a large audience as it is syndicated around the world. Along with the TV series have come a slew of merchandise, and unsurprisingly a number of toy train sets have been produced.
Like the Thomas train sets, there are several styles of Chuggington trains, including a wood track and engine set, as well as today's subject, the "Die-Cast" series. The Die-Cast sets (Thomas has one too sold under the "Take and Play" name) include plastic, snap-together tracks and nicely detailed metal (die-cast) engines and cars. All of these trains are push-along and don't incorporate any sort of powered locomotion. There's no official train sizing or "gauge" for these types of sets, but it appears that the Thomas die-cast cars will work on the Chuggington track (and vice versa), but the track connection is not compatible, so you can't combine sets.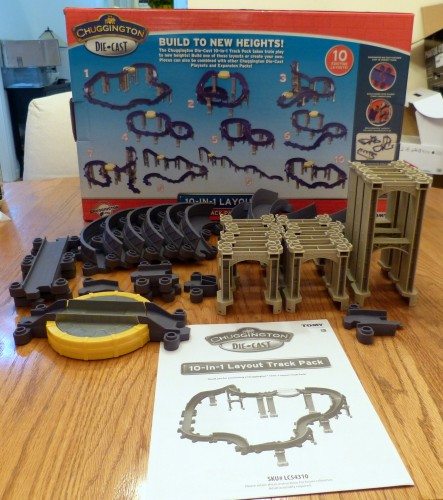 The set we received includes 28 total pieces that include a number of curved tracks, ascending curved tracks, straights, two sizes of risers, a turntable, and most importantly, an instruction manual with detailed pictures of the 10 layouts.
Both of my sons were excited to open the package, but my youngest lost interest relatively quickly because, while the set is listed for ages of 3+, the layouts were just too difficult for him to build. My oldest though took to the challenge and built the primary layout in relatively quick order with only a little help from Dad.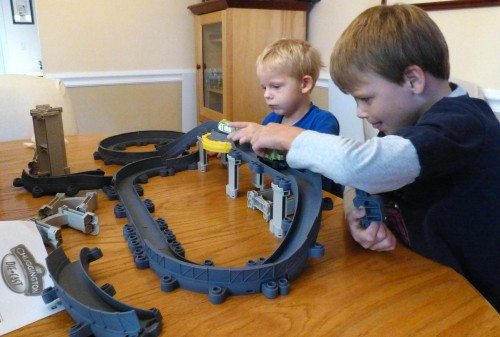 While I wouldn't say he plays with the set constantly, he has pulled it out a number of times over the past few weeks and continues to enjoy the challenge of building the different sets in the manual and some of his own creation. Along the way, he has discovered he can also use his Hot Wheels and Matchbox cars on the tracks.
The tracks and trains appear to be fairly durable. My sons can be very tough on toys, but so far nothing has broken, even after repeated attacks by various super heroes and weapon-laden star ships. The set also doesn't include any overly small pieces that could pose a choking hazard or are easily lost.
One of the features I appreciated was the way the tracks allowed for multilevel layouts. This means a child can build relatively complex setups in far less space than the more-common flat tracks. You'll still need some space, but a dining room table, kid's game table or, of course, the floor will do the job.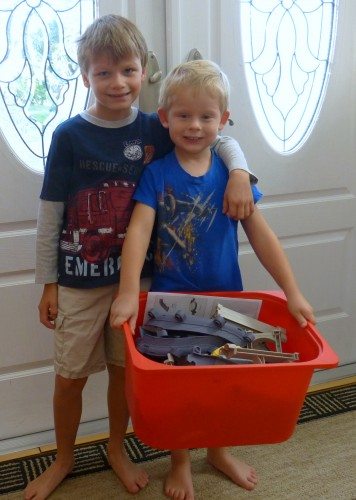 So, after a month of use, my oldest has gotten a fair amount of playtime out of the set. He enjoys designing layouts, and all of the pieces are still intact. For a set that retails at approximately $30, that's not a bad deal, especially if you already own some Chuggington trains or sets. Otherwise be prepared to spend about $10 per individual engine.
The only downside is the incompatibility between the Thomas and Chuggington sets. I was unable to find any third party adapters that would help to combine the two. If you're a DIY-type of guy or gal, you could buy a couple of straight track sections for each set, cut them in half and then glue one of each type together to make your own adapter.