We use affiliate links. If you buy something through the links on this page, we may earn a commission at no cost to you. Learn more.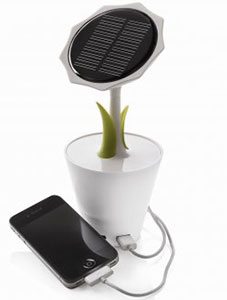 Solar charging devices are a great way to keep your gadgets fully juiced for free. The problem with most of the solar charging products is that they don't really blend in with your decor. The XD Design Solar Sunflower is a fun alternative that will look right at home in your… home. It's shaped like a flowerpot, with the solar cell as the flower. There is a 2500 mAh rechargeable lithium battery (output of 5V/max. 1000mA) built into the pot and on the base is a USB port that you can use to charge your USB enabled devices. The price is 59,50 € which is about $78.50 US.
I love the idea of using solar but I've yet to find a solar gadget that works well for me. Any of you use them on a regular basis?