The Gadgeteer is supported by readers like you! If you buy something through links on our site, we may earn an affiliate commission. Thank you! Learn more.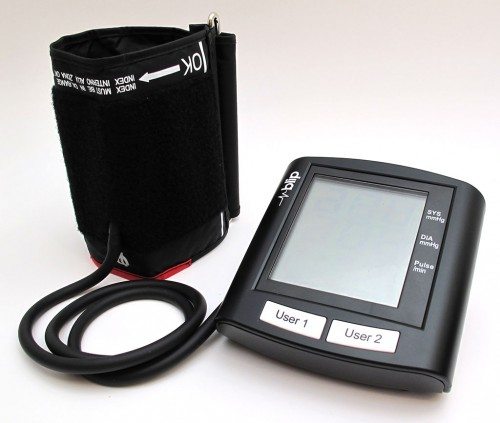 There are all sorts of gadgets on the market today that will help you keep track of your health stats. There are Fitbits and Nike Fuel bands to let you know how active you are, Withings WiFi Scales to let you keep an eye on your weight and now there's the Blip WiFi Blood Pressure Monitor from BlipCare. This device is currently seeking funding through an Indiegogo project, but they sent me a demo unit to test. Let's check it out.
Note: Images can be clicked to view a larger size.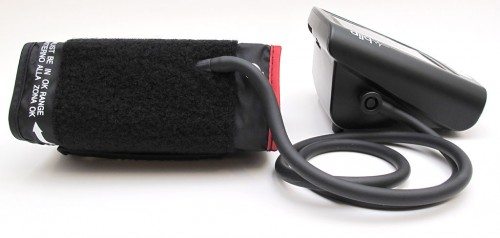 Even if you have not been diagnosed with hypertension (high blood pressure), it's always a good idea to keep an eye on your stats. The Blip BP monitor makes it super simple to track your blood pressure readings. The device runs on 4 AA batteries and has only 2 buttons. Setup takes a couple of minutes and some type of WiFi device such as a smartphone, tablet or laptop. When you put the batteries in the Blip, it will power up in access point mode. From there you type in the provided IP address on your smartphone or laptop and then tell the Blip which SSID to use. That's it. Quick and simple. From there you're ready to start recording your blood pressure readings.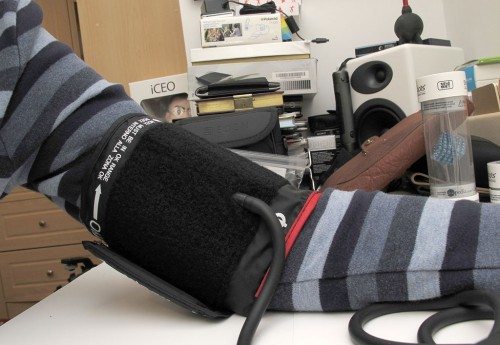 The provided adult sized blood pressure cuff slides over your bicep (it's large enough to accommodate arms from 9 – 13″ in diameter). The other end of the tubing fits into the side of the monitor.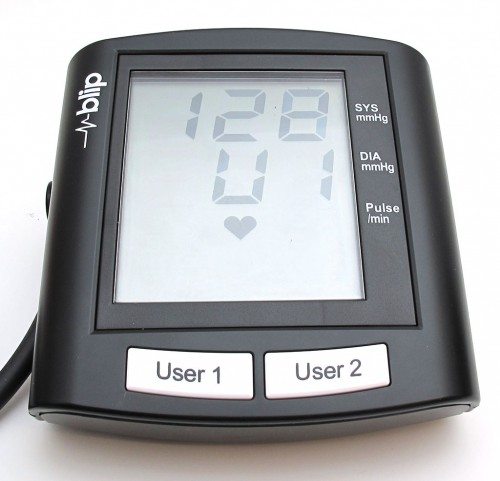 Once the cuff is on your arm, you press one of the User buttons. Two people can share this monitor so that you can track two user's measurements or you could use one setting for all morning readings and one setting for all evening readings.
After you press the button, the display will come on and the cuff will start to inflate. The display will show some numbers as the blood pressure is being measured.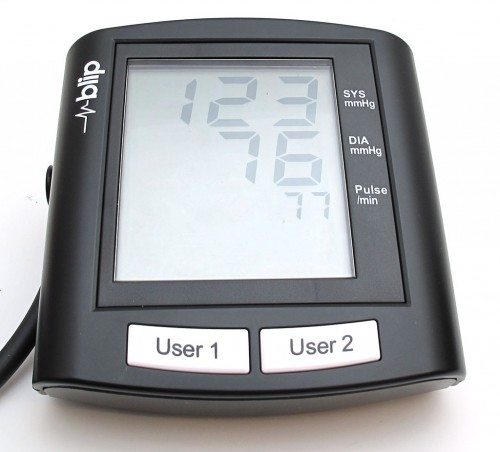 After several seconds the cuff will deflate and the blood pressure reading will be displayed along with the pulse rate. The reading will stay on the screen for a minute or so before the monitor automatically powers off.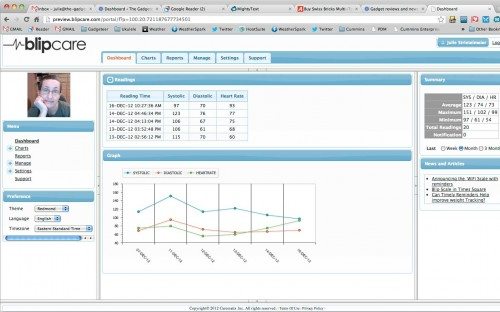 From there you can log in to the BlipCare web portal to view a history of your readings complete with charts and averages. This portal also features notification settings to create daily alarms to remind you to record your bp and also provides the ability to export your reports in PDF form.
Periodic_Summary_161212133141610 – Example report
Being able to print out your latest blood pressure readings is really handy when you need to keep your doctor informed of your condition. You could also use a Blip to monitor the readings of family members so you can keep track of their health stats too.
I've been using the Blip for a couple of days and have not had any problems with it recording my blood pressures. I've had a few issues accessing my stats via their web portal, but I'm not too worried about that because the portal is still in preview mode.
It's also important to note that there will be an iOS and Android app available at some point soon. As is, the Blip is a very easy to use blood pressure monitor that is great for people who need to quickly record blood pressure readings for health or information reasons and then automatically save those results for later viewing.
Support The Gadgeteer
:
The Gadgeteer is supported by readers like you! If you buy something through the links on our site, we may earn a small affiliate commission. Thank you! Learn more.
Product Information
Price:
$149.00
Manufacturer:
BlipCare
Pros:

Simple to setup
Doesn't require a smartphone or Bluetooth
Can track 2 users

Cons:

Smartphone apps not yet available