We use affiliate links. If you buy something through the links on this page, we may earn a commission at no cost to you. Learn more.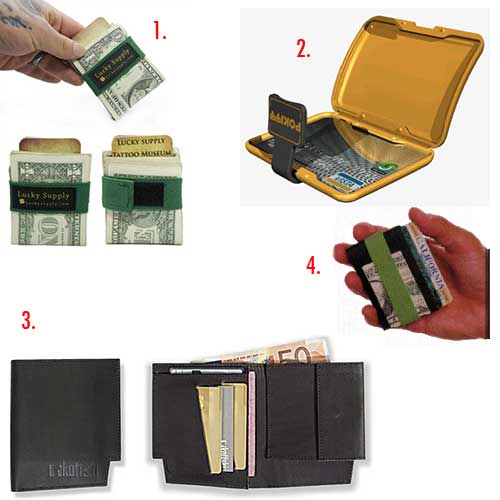 Earlier in the week I published a quick post about 4 minimalist wallets which I had received news about from various sources. I've continued cleaning out my inbox and found 4 more wallets that I knew you guys would also want to know about. So here goes:
1. Wag Wallet – This one reminds me a little of the Bandit Wallet I reviewed except that the Wag also has a slot for a key and a coin. It will definitely cut down on pocket bulging problem, but I don't know how convenient it is to get access your cards and cash. From the demo video on the site, it looks to be more trouble than it's worth. At least in my opinion. Price: $9.95
2. Pokitt – This one is available in 6 colors and is made of a flexible polymer so that it conforms to your body (I think they mean buns). It is designed to hold 2 credit cards, a couple folded dollars and a key. Now that's minimal. It's also RFID friendly which means it doesn't block RFID and it allows you to scan your cards without opening the Pokitt. Price: $20.80
3. Koffski Slim Wallet – Made in Germany of calfskin, this wallet really doesn't belong in the skinny/minimal category, but I'm including it mainly because they are calling it a "slim" wallet and I need 4 wallets to talk about 🙂 I say it's not slim because it has room for 10 credit cards, personal ID, a driver's licence, has a coin and a dollar compartment. It comes in grey-brown and black. Price: € 100,00 ($130.86 US)
4. Swallet Surfer's Wallet – This one is basically a wide rubberband that wraps around a neoprene pocket which holds your cards. It's available in several colors and has the added ability of being able to float in the water. Gnarly dude… Price: $10.00
Thanks to Griffon B. for these links and keep sending them guys!