We use affiliate links. If you buy something through the links on this page, we may earn a commission at no cost to you. Learn more.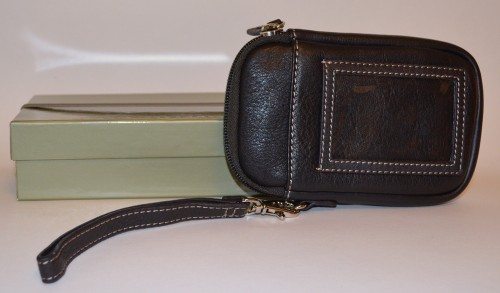 I upgraded my iPhone when the iPhone 5 was released.  Of course, new phones mean new cases and covers, and usually there's a delay between the iPhone release and the availability of cases for it.  Levenger searched their inventory of phone pouches and found that they had several in their inventory that would accommodate the iPhone 5, including the Bomber Jacket Electronics Phone / Note Case.  I've been a fan of Levenger's products in general, and their Bomber leather in particular, for many years now.  I was very pleased to be selected to review the Bomber Jacket phone pouch they sent to The Gadgeteer.  Let's give it a look.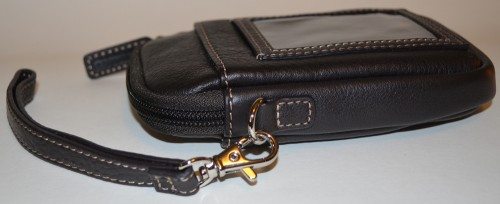 Levenger says the Bomber Leather line of bags, notebooks, desk accessories, and other accessories appeal to men.  I know they do, because my husband loves his Bomber Leather accessories.  However, I don't find the line to be too masculine for women, and I love the look and smell of the rich leather.  I have several Bomber pieces – two Circa notebooks, an index card organizer, and a pouch that holds all my cords and cables.
The leather is a deep, dark brown.  I noticed the phone pouch doesn't have a surface texture that's as grainy as some of the other Bomber pieces I own.  The leather is very supple, and it's thick enough that I'm sure I'll get years of use from any Bomber piece I own, and this Phone / Note Case is no exception.  The stitching is even and straight, and some of it is done in a contrast thread.  There's a wrist strap with a brass-toned lobster claw hook that attaches to a brass-toned D-ring sewn to the pouch.  The strap is easily removed if you don't want to use it.  The pouch measures 3.5″ W x 1″ D x 6″ H and weighs 3.7 ounces on my digital kitchen scale.
The pouch arrived in a sturdy green box with elastic closure.  There's a felt wrap inside to protect the pouch from scratches and dust.  The packaging makes for a nice gift presentation or a sturdy storage solution for when you aren't using the pouch.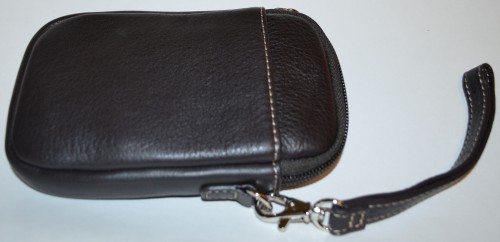 The back has an open pocket that can hold note cards.  Again, note the contrast stitching.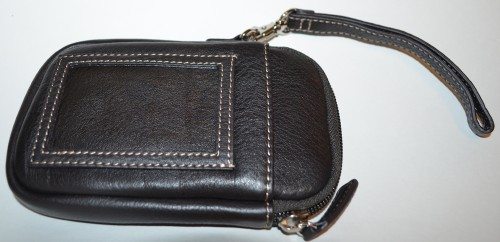 The front has another open note card pocket and an ID pocket with a clear plastic cover to protect the card inside.  The ID pocket is also open, and I'm paranoid about my driver's license somehow jumping out of open pockets like this.  The plastic lining is "grippy" enough that the card should be held securely, though.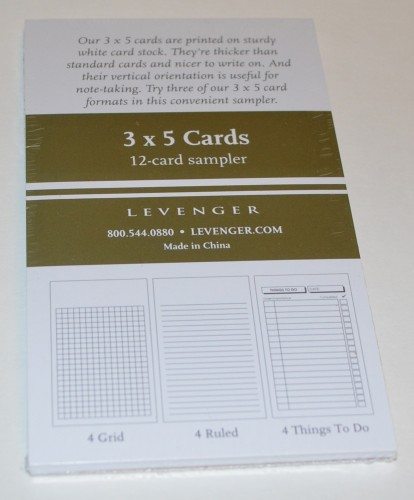 Levenger includes a sample pack of their 3X5 note cards.  The cards are much thicker than cheap index cards you find at most office supply stores, and they are available as to-do, gridded, or ruled cards.  You should check Levenger for other note card styles and for custom-printed cards with your name or initials on them.  These cards fit in the external note card pockets.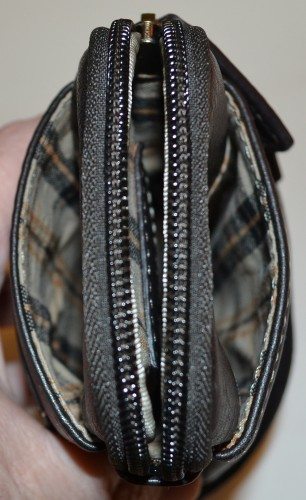 Here, you can see the two external pockets.  Both they and the main compartment are lined with the cotton twill fabric Levenger always uses with their Bomber leather.  The fabric has held up well in the accessories I've owned for years.
The main compartment closes with a plastic zipper, so you don't have to worry about scratching your phone as you take it in and out of the pouch.  The zipper has a brass-toned metal zipper head with a leather tab pull.  It operates smoothly and easily.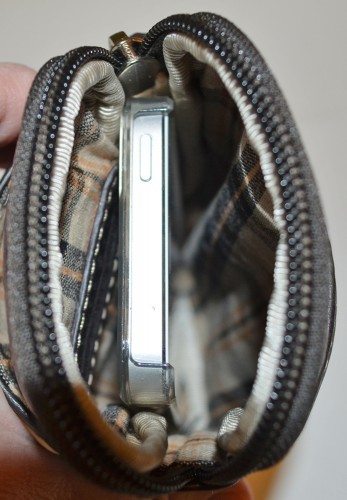 The interior compartment is empty, save for a leather badge embossed with the Levenger logo sewn inside.  You can see there is room to spare with my iPhone 5 inside.  The height of the compartment is more than sufficient for the height of the longer iPhone 5, too.  If you don't have an iPhone 5, there should be plenty of room for most smartphones inside.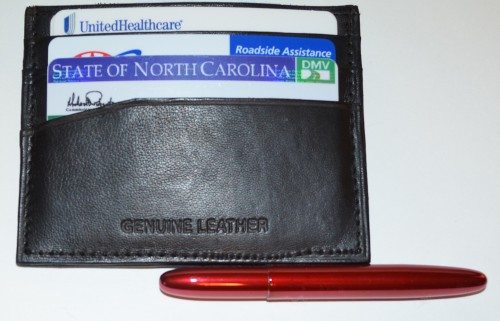 I mentioned that I don't like stowing my driver's license in unsecured outside pockets, but I wanted to use the Phone / Note case as my "go to lunch and do errands" bag.  I wanted to keep my driver's license, a couple of credit cards, insurance cards, and even a little currency inside.  Since I had plenty of room, I just bought one of the little minimal card wallets I see everywhere with room for six cards (three on the other side) and stuck it in my Phone / Note Case.  I have everything I need in the pouch, but when I need to take a bigger bag with other things, the Phone / Note Case fits easily inside my purse or laptop bag.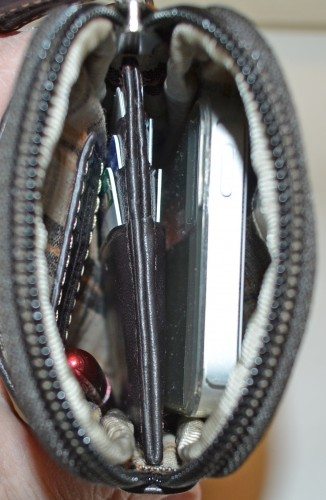 You can see there's room inside for the iPhone 5, the little card wallet, and my Fisher Space Pen.
The Bomber Jacket Electronics Phone / Note Case works very well for my needs.  It fits my iPhone 5, the card wallet, and pen with even a little room to spare.  I have room in the outside pockets for plenty of note cards, or I could even stick my charging cable in one external pocket.  I love the look and the smell of the rich leather, and the quality construction means I'll have years of use with it.  The generous size of the interior pocket means that I'll have room for bigger phones as they evolve – so long as they don't decide to replace the iPhone with a tablet-sized device.  There's no planned obsolescence with Levenger goods.  Everyone – male or female, casual or business user – should find the Bomber Jacket Electronics Phone / Note Case to be just right for their phone.