We use affiliate links. If you buy something through the links on this page, we may earn a commission at no cost to you. Learn more.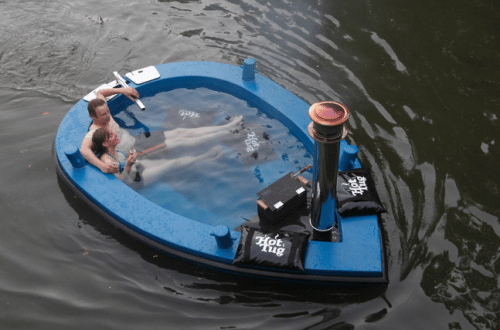 Like boating? Like relaxing in the hot tub?  Why not combine the two?  From the Nederlands company Hot Tug, the Hot Tug is a boat and a hot tub all in one.  It's a stable boat capable of  taking six to eight people, but it can also be filled with water and turned into a wood-fired hot tub boat.  In 2.5 hours you can be soaking in water at 38 degree Celsius (100 degrees F.) while boating around that lake or canal.
It's constructed of wood and glass fibre-reinforced polyester; options include a stainless steel wood burning heater and electric motor.
Prices start at € 8.950 ($11,620) for the boat alone, or add the wood heater and 400Ah electric motor for € 16.450 ($21,360)