We use affiliate links. If you buy something through the links on this page, we may earn a commission at no cost to you. Learn more.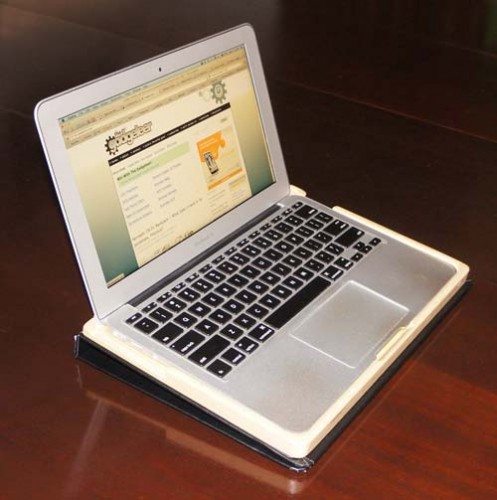 The way we protect our portable technology these days comes in every shape, size and color constructed from every material imaginable; from a thin plastic film to platinum encrusted with diamonds. Well, the folks at Pad & Quill create cases that look like old leather bound books from days gone by. Historically, they have focused on the iPhones, iPods, iPads and a few better known eReaders.  However, recently, they have started creating similar cases for the MacBook Air.  They sent me one of their new Cartella Cases to tryout with my 11″ MBAir.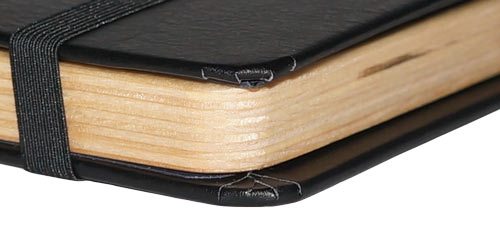 All of the cases Pad & Quill makes are handmade in Minneapolis, USA, from fine Italian leather and Russian baltic birch. The entire case is eco-friendly, from the Russian Baltic birch (a fast growing, renewable species of hardwood) to the water-based urethane wood finish they use.
Features:
Onyx Black Italian bonded leather cover
Beautifully satin finished Baltic Birch wood frame
Wraps back (paperback style) to provide a perfect laptop stand
Pocket included that holds full 8 1/2 by 11 documents
Handmade in Minneapolis, USA
Rugged design to protect your Macbook Air 11″
3 Internal color options – Cranberry, Deep Sea Blue or Forest Green
Access to ALL ports
Secure bumper/wood system to hold your laptop
Classic journal/moleskin elastic closure
Dimensions: 8.6 wide x 12.5 long x 1.0 deep (in inches)
According to P&Q, they "secure the MacBook Air within 1/4,000ths of an inch". The Cartella 11″ and 13″ fit all 2010 – 2012 model MacBook Airs. My MBAir slides into place with little effort; the perfectly fitted cut-out holds the laptop securely in place.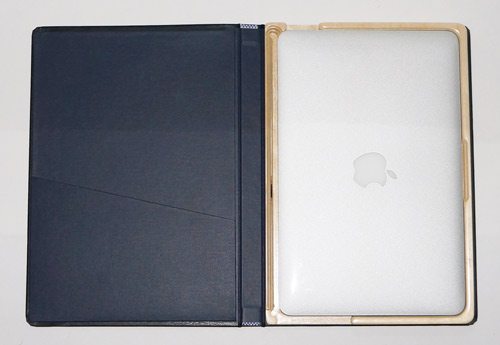 The front cover has a built in slipper pocket that can hold up to 8 1/2 by 11 documents.

Due to P&Q's precision engineering and design, the inside of the Cartella is perfectly fitted for the MBAir. The interior sides and front of the case have a thin rubber bumper attached to the wood to give a bit better grip on the laptop and protection from drops or falls.

The wood frame is routered in the back to allow full movement of MBAir's screen.

The front of the frame is also routered to enable you to easily lift the screen to open the MBAir.


P&Q has designed the Cartella case access points for the all MBAir's ports.

The case is held closed by a "classic journal/Moleskine elastic closure" strap.
When closed the Cartella case looks and feels just like an old leather bound book as you are carrying it. If for whatever reason you want/need to leave your MBAir at home or the office, you easily could slide it into a bookshelf and no one would ever know it was there.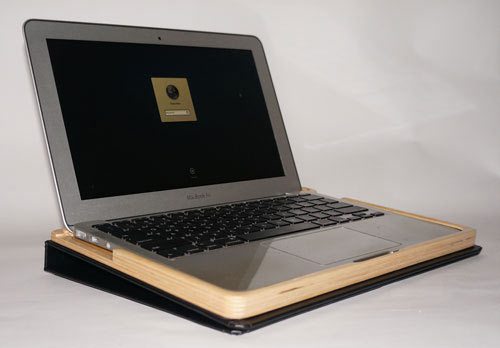 The top cover wraps underneath to provide a nicely angled laptop stand for the MBAir. The case itself is not in the way while using the MBAir.  Overall, the Cartella case provides good, solid protection. The wood construction and rubber bumper system combine to protect your MBAir and securely hold your laptop better than many other cases on the market. This protection, however, does adds bulk and weight to the sleek and slim MBAir.
Best I can recall, I have never tried a laptop (or smartphone) case that was partially made of wood, and I am impressed with just how well the Cartella case gets the job done – protecting your MacBook Air while out in the wild. Its quality earth-friendly materials, handmade craftsmanship, and old world charm make for a great product that should stand the test of time. Its fold back design adds even greater functionality transforming the Cartella from case to laptop stand in the blink of an eye. The 11″ case is $80 and the 13″ version is $90, both of which can be order directly from the Pad & Quill website.

Product Information
Price:
11
Manufacturer:
Pad & Quill
Requirements:
Pros:

- Handmade quality/construction
- Excellent earth-friendly materials
- Perfectly fitted for the MBAir
- Provides good/great protection
- Transforms from case to laptop stand

Cons: