We use affiliate links. If you buy something through the links on this page, we may earn a commission at no cost to you. Learn more.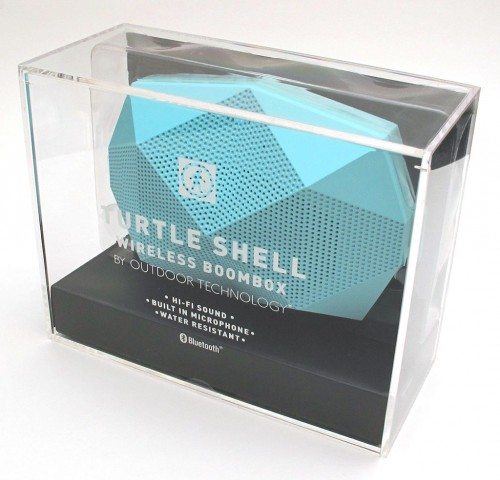 The Turtle Shell from Outdoor Technology is a rugged water resistant wireless boombox that has been designed for indoors, outdoors and everywhere in between. This portable Bluetooth speaker is currently seeking funding via Kickstarter, but with only 10 days to go, they are already over their goal and will be shipping units next month. They sent me one of their production speakers for a quick review. Let's take a look (and listen).
Note: Images can be clicked to view a larger size.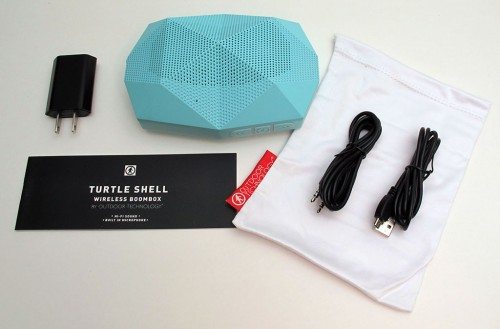 Package Contents
Turtle Shell Wireless Boombox
Drawstring Pouch
USB cable and AC adapter
3.5mm patch cord
Instructions
Technical Info
Range of up to 33 feet from device
Pairs with any Bluetooth device
Bluetooth A2DP V2.1
Volume/Track/Call control
Standard Threading on base
3.5mm jack for plug-in functionality
Built in mic for call functionality
Hardware Specs
IPX-5 Dust & Weatherproof Standard
Rechargeable Lithium-ion battery
9-10 hours of hi-fi sound or talk time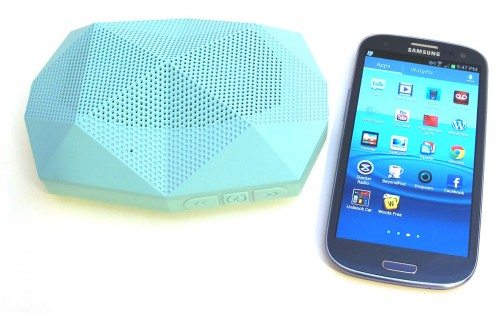 The oval shape and angular surfaces make this speaker resemble a turtle shell. Which of course is where the name comes from. Available in an assortment of colors, the shell itself has a rubberized coating that can be easily cleaned if you drop it in a mud puddle or spill your morning cup of coffee on it. It's water resistant, which means you can rinse it off in the sink and / or use it outdoors in the rain.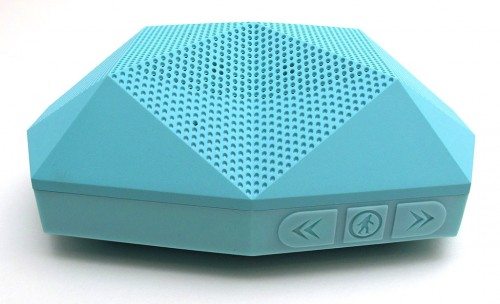 The small size of the Turtle Shell isn't quite pocket friendly – unless you have large cargo pockets. It won't take up that much room in your gear bag though.
Extending the water, dirt and dust resistant features, the controls for the speaker are molded into the shell covering. There are 3 buttons that control music play back and call answering, as well as Bluetooth pairing. The two outer buttons control volume and when held down will also move forwards and backwards through your tunes. The center button allows you to play, pause, answer and end calls.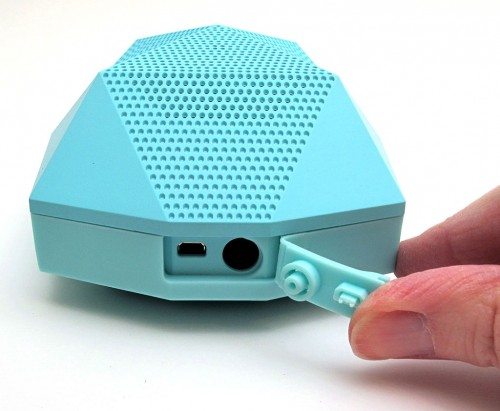 On one end you'll find a rubber flap which protects a proprietary USB charging connector and the 3.5mm headphone jack. I am not sure why a micro USB connector wasn't used for this product. As is, you'll have to make sure not to lose the cable that is included with this device or you'll not be able to charge the internal lithium ion batteries.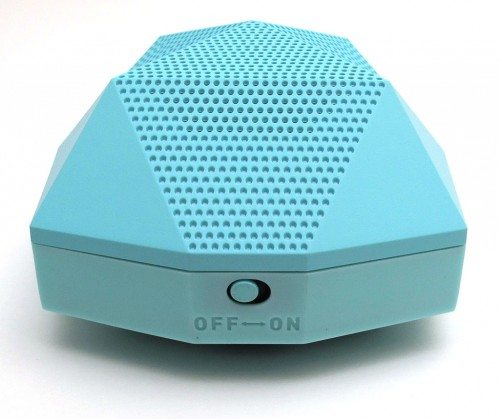 On the opposite side you'll find the On / Off switch, which also has a status LED built into it. The LED will glow Red while charging and will blink Blue while powered on.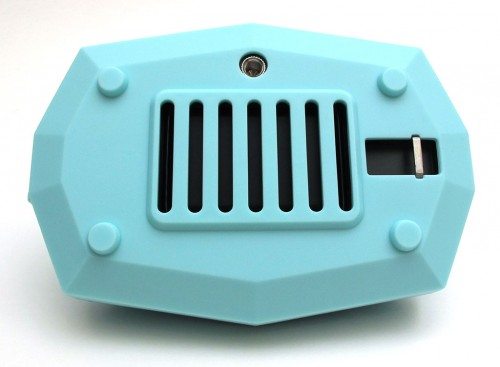 The bottom of the speaker has a metal loop which can be used with a carabiner to attach the speaker to a bag or something else. The Turtle Shell speaker also features a standard tripod mount sized threaded socket. With this socket, you can attach the Turtle Shell to all kinds of mounts like Joby Gorilla Pod tripods.
You can also use Outdoor Technology's own Turtle Claw accessory (optional purchase of $19.95). It provides an adjustable handle bar type clamp which can be used to mount the speaker on bicycles, strollers, or anything else you can think of.
I tested the Turtle Shell with my Samsung Galaxy S 3 paired via Bluetooth. Pairing was easy and did not require me to type in a 4 digit code, which was nice. Once paired, I was able to stream music from the phone to the speaker. Sound quality is very good. Much better than I had anticipated. I was very surprised with the bass response for such a small speaker. It really thumps! Even with the volume turned up, the audio quality is clear and doesn't distort. This speaker will easily fill a small to medium sized room with sound.
The best thing about Bluetooth is that it's wireless. I left my phone in the basement and carried the Turtle Shell upstairs to the kitchen while I prepared dinner. The streaming from the phone didn't cut out even once. It even alerted me when a call came in to my phone. I clicked the center button to answer the call and used the built in speaker phone feature. The person on the other end knew I was on a speaker phone, but it was just convenient to answer that way. After I hung up, the streaming music resumed.
By the way, if you don't have a Bluetooth device, you can also attach an audio player using the 3.5mm input jack. Connect the included patch cable between the speaker and your device and you're all set.
The Turtle Shell Wireless Boombox is a rugged little wireless speaker that is easy to use, looks great and should stand up to almost any abuse that you can dish out. If you want one, I suggest you go to their Kickstarter project in the next 10 days so that you can get one for the $99 price. Once they start selling normally, the price is going to go up to $149.95.
Product Information
Price:
$99.00
Manufacturer:
Outdoor Technology
Pros:

Great sound and bass
Wireless
Threaded tripod / accessory mount
Rugged and water resistant

Cons:

Requires a proprietary charging cable