We use affiliate links. If you buy something through the links on this page, we may earn a commission at no cost to you. Learn more.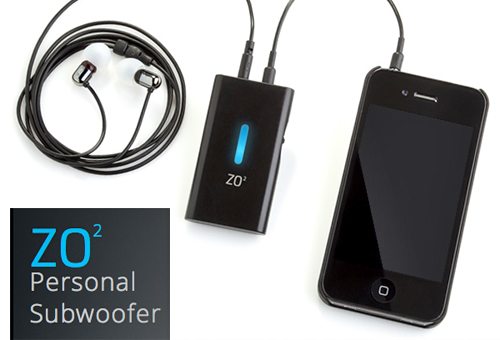 Do you love bass – the deeper and thumping-er, the better?  If so, you'll need the ZO2 Personal Subwoofer from digiZoid to give your music the punch you've been missing.  The ZO2 uses "digiZoid's patent-pending SmartVektor™ technology to deliver 5X more bass at sub-low frequencies, which outperforms bass boost and EQs."  The ZO2 plugs into the 3.5mm audio jack of any audio device – MP3 player, smartphone, tablet, computer, gaming console, etc – and into any headphones or speakers.  It uses "purely analog signal conditioning to produce listening benefits that are remarkably superior to the digitally-synthesized effects used in current sound enhancement methods."
You choose from 32 Sound Signature Tuning (SST) profiles and 32 pre-defined volume levels to find the sound you like best.  The ZO2 is made of high-impact resistant polycarbonate, measures 2.75″ X 1.5″ X 0.38″, and weighs about 1 ounce.  The built-in lithium polymer battery recharges via USB and delivers about 17 hours of playback between charges. You'll get a carrying case so you can take the ZO2 with you, so you can pump up your music's bottom end everywhere you go.
The ZO2 Personal Subwoofer is available for $119.95 from digiZoid.