We use affiliate links. If you buy something through the links on this page, we may earn a commission at no cost to you. Learn more.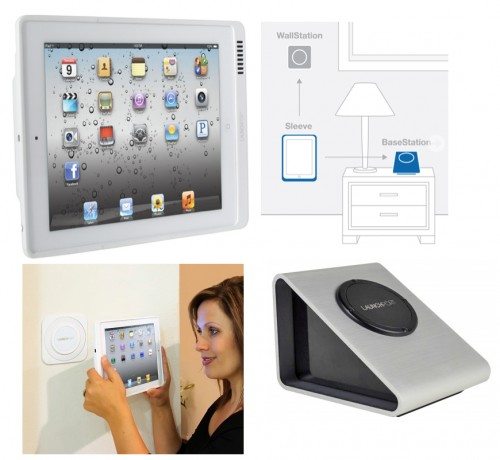 With the introduction of the new AP.3 Sleeve, LaunchPort brings cable-free, inductive charging to the new iPad and the iPad 2.  The LaunchPort System consists of a Sleeve and one or more Stations.  The new AP.3 sleeve is available in gloss white or black, and it has a miniUSB port for syncing the iPad and a "Wave Guide" that channels the sound from the back speaker to the front of the iPad.  It's contoured sides make holding the iPad more comfortable.  It also has a neodymium magnet ring with eight N42 shielded magnets on the back.
The System also has BaseStations for tabletop use and WallStations to mount your iPad on the wall.  Both of these Stations use magnets to securely hold your iPad, and they allow the iPad to be rotated through 360-degrees for horizontal and vertical orientations.  As soon as the Sleeve connects to a Station, the inductive charging system begins recharging your iPad while keeping it available for use or display.
The AP.3 Sleeve is $149, and the BaseStations and WallStations are $199 each.  All are available now at LaunchPort.