We use affiliate links. If you buy something through the links on this page, we may earn a commission at no cost to you. Learn more.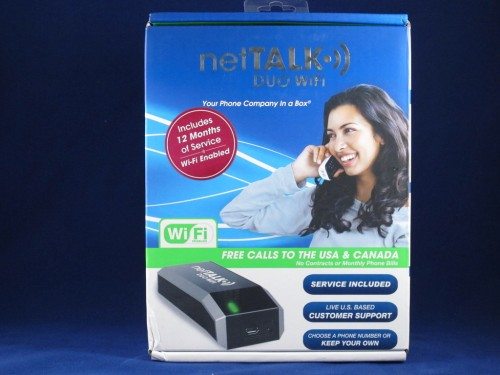 About two years ago, I reviewed the netTALK DUO.  Since then the people at netTALK have been keeping themselves busy by coming out with a new version, the netTALK DUO WiFi, which allows you to place the device anywhere there's power and a WiFi signal.  You're no longer tethered to either the computer or a router.  They've also added some other features.Before I go into the details of the netTALK DUO WiFi, I'd like to point out that switching to a VOIP solution for a phone service is not for everyone.  This has become very clear to me based upon the numerous comments in a review I did for another VOIP device here on The Gadgeteer.  Although you can save a bunch of money making the switch from the Telephone Company, there are trade offs.  Personally, I went from paying over $30/ month 8 years ago for a local line without any features or long distance service, to less than $5/ month today with unlimited service to the USA and Canada, and I have a slew of features like caller ID, etc.  Here's a couple of tips to help you make your decision:
You will need a broadband Internet connection.  This does NOT include dialup.  For the most part this means either cable or DSL, but not satellite.  (Although some people have had success with satellite, it is not supported.)  There are minimum required upload and download speeds.  In the case of netTALK, they require at least 128 kbps in both directions.  If you're at the minimum, I'd suggest you upgrade your service to a higher speed.  Speed isn't the only factor affecting VOIP calls.  You have jitter and delay.  You can have your broadband supplier check out your line and make corrections if necessary.  I had to do this at 2 different houses.
Assuming you will use the netTALK either on WiFi or plugged into your LAN, you'll need a router.  I've learned the hard way that not all routers are created equal.  Stick with the name brands, and if you haven't upgraded in a couple of years, maybe you should buy a new one.  At least make sure your router has the latest firmware installed.
Understand that from time to time unexplained things happen and your phone won't work.  Most of the time this can be cleared up by power cycling your modem, router and DUO.  If you don't know how to do this, ask one of your kids 🙂
Be advised that if you lose power or the Internet, you'll lose your phone service.  I've addressed the loss of power issue by having a battery backup on my modem, router and VOIP adapter.
Ditch the 2.4Ghz cordless phones.  They interfere with WiFi signals and cause all sorts of grief.  Either use a wired phone or upgrade to DECT 6.0.
Don't port your telephone number to the VOIP service immediately.  I'm surprised at the number of people who do this and then find out they didn't have the minimum requirements for VOIP.   Now they complain about losing a telephone number they've had since the dawn of time.  Please wait and test out the new service and make sure it works for you.  netTALK offers a 30  money back guarantee.  Take advantage of it.
Have patience.  Again you have 30 days to check everything out.  Make all your outgoing calls on the VOIP device and if you can, call forward your incoming calls from the telephone company line.  I've found that sometimes it takes several days for a new activation to propagate through the net before I'm able to call certain numbers.
There's probably other tips that are useful and readers are encouraged to chime in.  Now back to the review!
Features:
Call Blocking (block annoying calls)
Call ID Blocking (protect your privacy)
One year of service included
30 Day Money Back Guarantee
WiFi enabled
Choose a phone number or keep your own
Free local and long distance calling to the U.S. and Canada
Live technical support, 7 days a week
Flat-rate, ultra low-cost international call plans
Free DUO-to-DUO-calls anywhere in the world
Plugs directly into your router or computer
Landline goes anywhere there is internet
411 directory assistance
Call waiting / caller ID / call forwarding
3-way calling / conference calling
Visual voicemail
Enhanced 911
Fax-friendly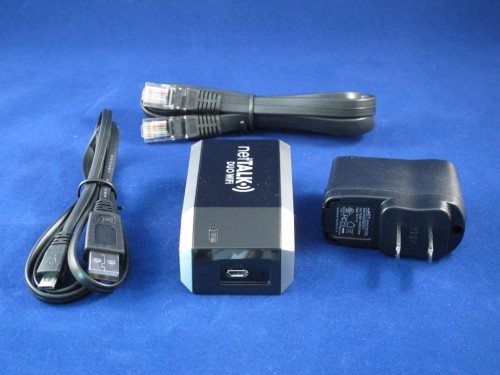 Here's what you get, plus a small setup guide.  The AC adapter is rated at 110/220 volts and 50/60 hz.  The Ethernet cable is superfluous if you're not plugging into the wired LAN.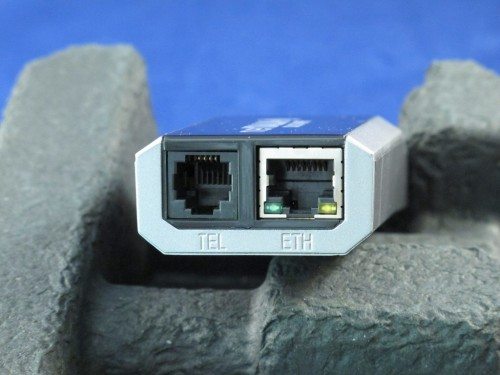 I'm not sure if this is the back or front, but it houses the cable connectors and indicator lights.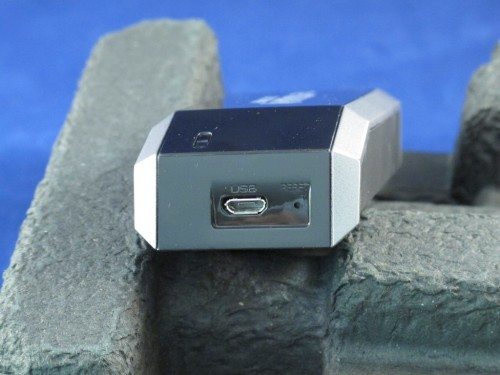 Here's the other side.  Notice that there's a reset button.  I haven't had the need to use it yet.
Installing the device is a multi-step process that should need only be done once.  First, you'll have to use your computer to activate the netTALK DUO WiFi  using the username and password that came with the package.  At this time you'll also pick a phone number.  I was impressed that netTALK had numbers available in my city.  Other devices I reviewed forced me to use numbers that were toll calls for my neighbors.
Next I downloaded the software and drivers for the device.  If you have old drivers in your system, the instructions show you how to remove them.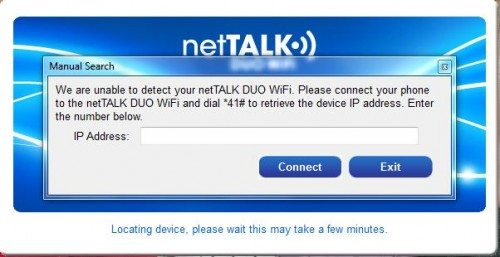 After plugging the DUO into a USB port on the computer and firing up the DUO WiFi management tool, the above screen popped up.  Allegedly,  the software is supposed to find the DUO automatically, but it never worked for me after several tries.  This wasn't a problem as I did as instructed and dialled *41# and retrieved the IP address of the device and entered it into the above form.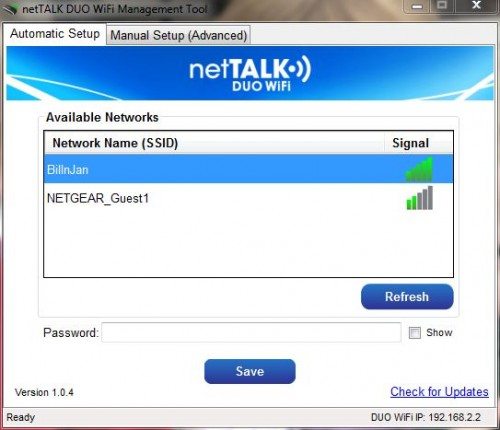 I was then presented with the networks available window and selected my home network.  After entering my password and clicking save, I was advised that I was setup for WiFi use and could remove the device from the computer and position it anywhere I had my WiFi network access.  At his point the DUO WiFi management tool is no longer needed unless you want to use another network.
I did bring the DUO WiFi with me when I visited my brother in New York.  Using my laptop and the DUO WiFi management tool, I was able to connect to his network and use the DUO at his house.  This wasn't a problem because he gave me his password.  The DUO will work on open WiFi networks, but not at places that require your input before providing a connection, such as McDonald's.
When I returned, I expected that I could just plug the DUO into a power outlet and it would find my network and work.  Unfortunately that didn't happen.  I had to use the DUO management application to reconnect.  This is not the way it's supposed to work according to netTALK's FAQs.  The DUO WiFi is supposed to remember up to 12 networks.  I don't consider this a big issue and it may have been something I missed.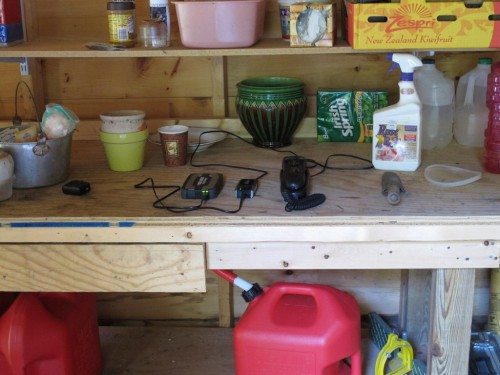 The purpose of this photo is illustrative of the flexibility of the device.  I was able to bring it out to our potting shed and using a 5v battery supply, I could use the phone at the extreme end of my WiFi coverage.  Of course in actuality I can use a cordless handset to the same effect.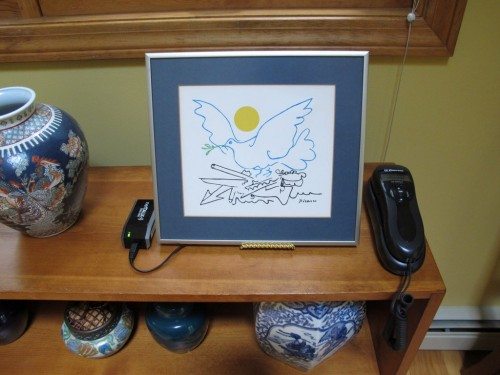 Here's a more realistic setup.  The DUO device could easily be put behind the photo and only the phone would be visible.  By the way, I used a corded phone for the tests to eliminate any possibility  that a cordless phone might cause interference.  It will work fine with a DECT 6.0 cordless phone.
The WiFi capability of the netTALK DUO makes this a very flexible device.  It can be situated anywhere there's a power outlet within the range of your WiFi.  The call quality is on a par with other VOIP offerings I've reviewed or use.  Being able block (blacklist) unwanted callers individually or by group ("unknown" or "anonymous") is definitely a plus.  I've used the device in all 3 modes; connected to the computer, plugged into the router, and over WiFi and have experienced no issues.  The web portal is minimalist, but gets the job done.  There you can listen to voice mail, block callers, change your number, port your number, forward your number, check your call history and more.
Lastly, as a test, I called their technical support line, and after navigating a one step tree, I was informed that I was caller number 15 and the hold time would be about 55 minutes.  This was done at 3 pm EDT on a Friday.  Actually, the hold time doesn't bother me because I doubt that most tech savvy people will need to call technical support.  As an alternative, you can send an email with your question.  Compared to many VOIP services that don't even offer live customer support, I find having it a plus.
Product Information
Price:
64.95 includes 1 year service
Manufacturer:
netTALK
Retailer:
Many - check website
Requirements:

Broadband Internet
Telephone
Computer for activation and web portal

Pros:

Flexible installation options
Unwanted caller blacklists
Free local and LD calling

Cons:

Remembering of WiFi networks didn't work