We use affiliate links. If you buy something through the links on this page, we may earn a commission at no cost to you. Learn more.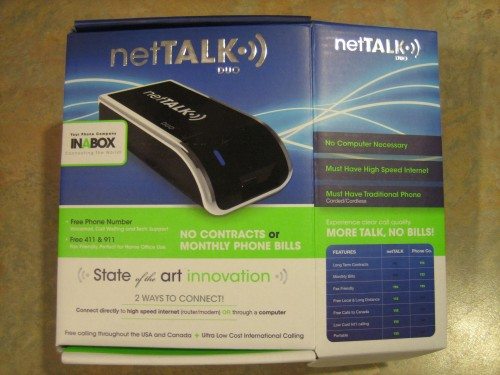 It's my belief that if you have a broadband Internet connection, you should dump your legacy phone service and join the growing number of people who embrace VOIP.  There are many products and providers to choose from and now netTALK has come out with a convertible product which can be used with or without a computer.I switched to VOIP about 5 years ago having become frustrated with the ever increasing fees and nickel and dime charges from THE PHONE COMPANY.   I finally threw off the yoke of Ma Bell when they wanted to charge me $3 a month for caller id and my monthly charges were almost $30/ month for a toll-free calling radius of 10 miles!  Today I pay my VOIP provider $20 month for unlimited (actually 5,000) outgoing minutes to the USA and I have all the features offered by the phone company, included!  Today I'm considering the netTALK product in an effort to reduce my costs further.      
Features:      
Free U.S. Phone Number
Call Waiting, 3 Way Calling and Caller ID
Voicemail to Email
411 Directory Assistance
Enhanced 911 Service
Priority Call Forwarding
Customer Portal
Technical Support
Fax Friendly/Compatible
Free nationwide calling throughout the U.S. and Canada
Free calling to any other netTALK device worldwide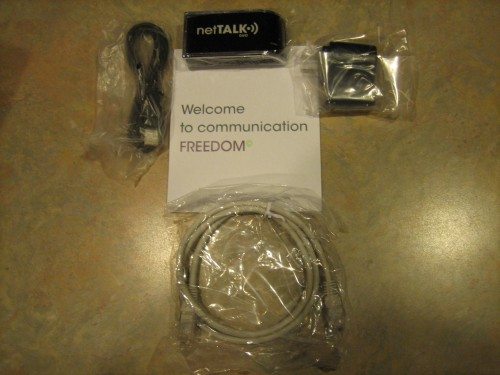 In the box you'll find:      
One netTALK DUO (CE and FCC approved)
Power adapter with regionally appropriate connector
3-foot USB to Mini A connector used to connect to power adapter or to computer USB port
3-foot Ethernet cable to connect to modem or router
Quickstart Guide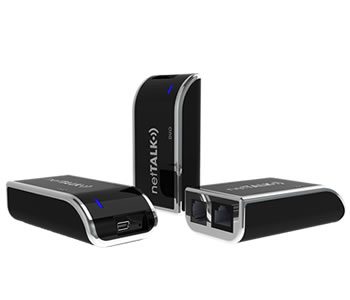 The DUO device has 3 connectors; a mini usb on one end and an ethernet port and RJ45 socket for the telephone on the other.  There are several LEDs that indicate the status of the DUO.      
Before making your first call, you have to register and activate the DUO.  I logged on to the netTALK web site and accessed the customer portal using a temporary username and password that came in the box with the hardware.  The process of activation entails choosing a telephone number and setting up e911 service for your physical location.  There were phone numbers available in the area code I wanted, but I couldn't get a number in my local exchange.  I didn't consider this much of an issue, so I picked a number from an adjoining town.  Also, at this time you select your permanent username and password to allow access to the portal.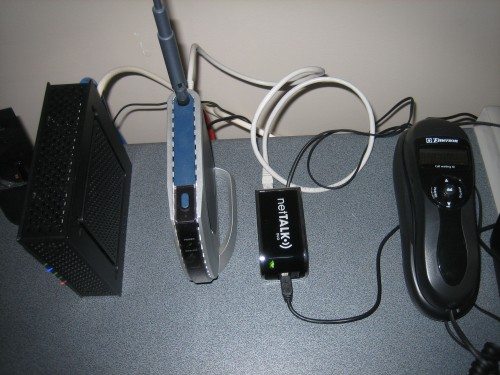 The next step is to connect the hardware.  There are two options; connecting to a router or via a computer.  The router setup is recommended so I took that path.  Using the router was simply a matter of connecting the phone, ethernet and power cables in a certain order and waiting until the phone rings once, which indicates success and you should now have dial tone.  When connected to the router, the usb cable is plugged into a supplied wall wart and powers the device.  When plugged into a computer the usb cable connects the device and is powered by the usb port of the PC.      
Never miss one of our posts again. Sent MON, WED, and FRI with the latest gadget reviews and news!
I was ready for my first call and dialled my home number.  Oops, I received a number not available message.  I called another number without problem and was also able to ring my home phone by calling my google voice number which is forwarded to my home phone.  I was also able to call other numbers in the same local exchange so I guess it has something to do with the fact that both the DUO and my home VOIP telephone adapter are on the same LAN.  That issue aside I was able to call friends around the US without any problem.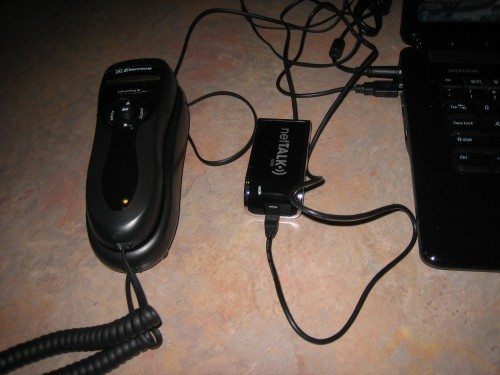 I then removed the DUO device from the router and installed it on my Windows 7 laptop.  This was more involved and it first required that I download a USB driver from netTALK.  Unfortunately, the 64 bit driver I needed was a beta release and could only be run in Windows 7 "testing mode".  The accompanying release notes warned that there could be unresolved problems.  I gave it a shot and after starting the driver I plugged in the DUO and made a couple of calls.  I had the same problem calling my home number, but other than some transient error messages and warnings popping up on the screen, it seemed to work.  However, I decided that the 64 bit driver isn't ready for prime time and didn't want to chance corrupting my laptop, so I installed a full release 32 bit driver on a Windows XP laptop and all was well.      
The ability to use the device via the router and also with a computer is very useful.  While at home, I keep it plugged into the router and I don't need the computer on to make phone calls.  When I leave the house, I can take the device and my laptop with me and if there's broadband access I have my home phone.  For example, when watching the grandkids at my daughter's house, I can bring the DUO and the laptop and connect via their WiFi.      
The feature set of the netTALK DUO is not as extensive as my VOIP service provided.  Actually I consider it a rough draft.  The voice mail function is rather rudimentary.  You cannot select the number of rings before it goes to voicemail and when a message is left you get an email with a .wav file attached.  You can also listen via the portal, but again it just downloads a .wav file.  There is no access to your vopicemail by dialling in.  Call forwarding is all or nothing.  There is no conditional forwarding.  There are really no instructions easily found for any of the features.  I had to dig through the FAQs and even then the speed dial instructions don't work.  I would have called customer service, but they are a 9-5 operation and I was outside their window.     
 Sound quality was good, but then again I am used to VOIP phone calls.  Sometimes the quality can get as bad as a poor cell connection, but that's very rare.  I've decided that the netTALK DUO won't replace my current VOIP provider,  but will complement it.  My current provider has more features that I use and provides 24/7 customer support.  Sometimes though support can't resolve the issue and then it would be good to have a backup.  Just last week I couldn't call any numbers in the 518 area code for several days and just as mysteriously as it appeared it disappeared.  The support people had no idea what the problem was.  The DUO is cheap enough to justify and worth it for the insurance.  I also use google voice,  Gmail phone, Skype and other call applications, but they're very geeky and require a computer to work.  I like the DUO because it gives me flexibility and at less than$3/ month it's affordable and given time I hope netTALK will spruce up the portal,  and come out with more features.  When that happens, I may switch providers.  Right now it's more of a work in progress.
Product Information
| | |
| --- | --- |
| Price: | $69.99 includes 1 year of service then $29.95 a year thereafter |
| Manufacturer: | netTALK |
| Requirements: | Broadband, telephone and if using computer PC only. |
| Pros: | Works with and without a PC, inexpensive, simple to set up |
| Cons: | 11 digit dialing, short usb cord when used for power, limited feature set with confusing instructions |