We use affiliate links. If you buy something through the links on this page, we may earn a commission at no cost to you. Learn more.

I am extremely skeptical of the "as seen on TV" items you find in the stores these days. But I was in need of something to help me carry and install many very heavy and awkward sheets of glass. The professionals use specially designed, relatively expensive suction cups to lift glass panels and stone slabs. As I was searching the internet for a couple of those, I came across the Handle on Demand from FastCap, designed to do the exact same thing but for a fraction of the cost. While not a tech-toy or accessory, the HoD does qualify as a useful and well done gadget.  I was impressed and thought I would pass on my positive experience to you all. 🙂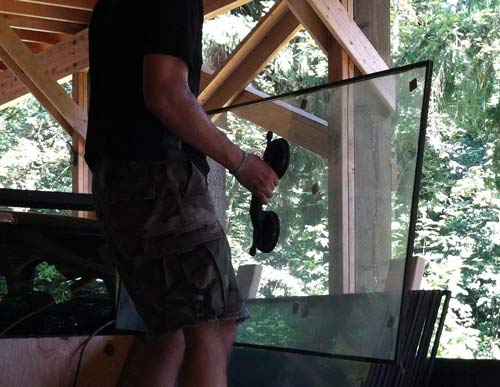 The Handle on Demand is designed to assist you lifting items with non-porous surfaces (cabinets, stone, glass, etc). HoD's is available in single and double suction cup models. The single HoD can lift up to 100 pounds and the double up to 200. As you can see, I went with the double Handle on Demand due to the weight of the glass I needed to move.

The Handle on Demand is made of hard, strong, rigid plastic with thick rubber suction cups on either end. Each suction cups has a "lever lock" that enables and releases the suction/vacuum.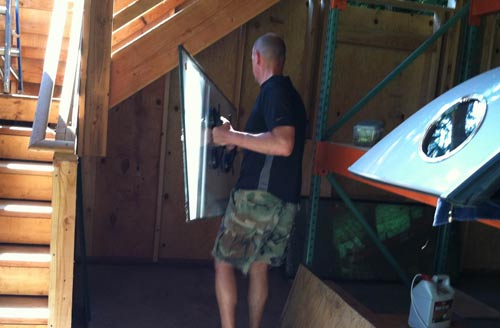 As I said at the beginning of this review, they impressed me. The HoDs enabled me to lift these heavy pieces of glass much more securely and safely than just by hand.

One of the Handle on Demand's suction cups was flawed. It had a crack in the rubber which kept that suction cup from creating a vacuum, thus not working at all. But fortunately, the single cup on that HoD was able to get the job done. I was a little worried and careful when lifting, but was able to lift and install all 16 sheets of heavy, tempered glass without incident.
The Handle on Demand is a very cost-effective/inexpensive tool-gadget – one eighth the cost of the suction cups the pros use. While they are not nearly the quality or strength of the professional quality suction cups, the HoDs are well made and get the job done, perfect for the occasional home use. At $8 for a single or $11 for the double HoDs, it is definitely a great tool for lifting awkward slick-sided items.
Product Information
Price:
$10.95 (single is $7.95)
Manufacturer:
FastCap
Requirements:
Pros:

- Cost effective tool
- Makes large, cumbersome items easier to lift
- Well constructed
- Can lift up to 200 pounds
- 'Lever lock' that enables and releases the suction/vacuum

Cons:

- Only works on non-porous surfaces