We use affiliate links. If you buy something through the links on this page, we may earn a commission at no cost to you. Learn more.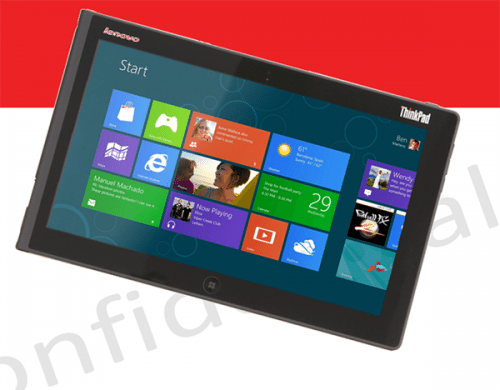 With the announcement of the Microsoft Surface Tablet and with  Windows 8 ready to release soon, Techin5 has some leaked specs for the Lenovo Windows 8 Thinkpad Tablet 2.  Those of you who follow my posts here will know that I love my Thinkpad Tablet running Android ( see links below), so I'll be watching this one closely.
The Thinkpad Tablet 2 will have a 10.1 IPS screen running 1377 x 768 (720p), Intel Cloveview Dual Core Atom CPU, 2GB of memory , 64 GB of storage, stereo speakers, a 2MP and 8MP camera, mini HDMI, a microSD slot, USB 2.0 connector, and optional fingerprint reader.  All in a  262.6 x 164 x 9.8mm package and weighing 650g.
Like their Android Tablet, they'll have the optional active stylus and an attachable keyboard that looks very  similar to the Android Folio one (see links below).
Will the Thinkpad be better than the Surface?  Will Windows 8 be good enough to lure people away from Android or iOS?
Update: See Lenovo's Sneak Peak Video here
Update:  A press release from Lenovo now indicates that the tablet will be released in October  to coincide with the release of Windows 8. No pricing from has been confirmed yet, but you can read the press release after the break.
Lenovo Announces New ThinkPad Tablet 2 for Windows 8
Debuts premier table built for professionals and designed for life
RESEARCH TRIANGLE PARK, N.C. – AUGUST 9, 2012: Lenovo (HKSE: 992) (ADR: LNVGY) today unveiled its first tablet specifically designed for Windows 8, the ThinkPad Tablet 2. The multi-use tablet boasts differentiators that matter, including an optional digitizer and pen for precision input, 3G wireless with Lenovo Mobile Access pay-as-you-go plans and 4G models, along with security features like a Fingerprint Reader, IT manageability technologies, and corporate-level service and support.
"Customers want a versatile device that fits their lifestyle and the many ways they use technology," said Dilip Bhatia, vice president and general manager, ThinkPad Business Unit. "Our new ThinkPad Tablet 2 marries incredible hardware and software to give consumers a great device for office, home or travel while also offering companies and IT managers the oversight they need to help secure and manage their company's networks and data. "For the next generation of Lenovo PCs, designed to be great with Windows 8, we're working closer than ever with Microsoft Corp. and our silicon partners. Today we are excited to reveal the fruit of this collaborative co-engineering, the ThinkPad Tablet 2, a joint effort between Lenovo, Microsoft and Intel."
ThinkPad Tablet 2: New Power to Create
Technology like the multi-use ThinkPad Tablet 2 helps manage the increasing overlap between personal and work life today. Based on the upcoming Intel® Atom Processor-based mobile platform and Windows 8 Pro, the ThinkPad Tablet 2 works the way users do across their varied environments. It has an exceptionally thin and light design measuring 9.8 mm thin and weighing less than 600 grams (1.3 pounds), all in a 10.1-inch screen. The versatile tablet supports multiple input methods: multi-finger touch and an optional digitizer and pen, especially good for note taking, capturing signatures and completing forms. The optional ThinkPad Tablet 2 keyboard and dock can be paired with the tablet for more PC-like computing in the office. With an array of ports including a full-size USB port, workers easily can attach existing devices like monitors and printers.
Suited for commuting and in field scenarios, the tablet offers virtually anywhere connectivity and productivity with 3G and 4G wireless models. The tablet serves lifestyle computing uses just as well as business tasks with its package of communications and entertainment features: HD display, front and rear-facing cameras for video conferencing and uploading photos, noise canceling microphones, HDMI port and wireless video streaming.
While users will like the tablet for its aesthetics and powerful features, IT managers will particularly enjoy its security-enhanced and manageability technologies. With the optional Fingerprint Reader, passwords are biometrically stored. The encrypted internal and external storage meet the highest levels of security requirements. Using Windows 8 Pro and the Intel x86 architecture, IT managers can provide for VPN access, utilize existing Windows management tools, manage application deployment and block users from installing certain apps. In addition, Lenovo Services offer a complete suite of packages, including sealed battery warranties, accidental damage protection and custom imaging.
Availability
The ThinkPad Tablet 2 will be available when Windows 8 launches in October.