We use affiliate links. If you buy something through the links on this page, we may earn a commission at no cost to you. Learn more.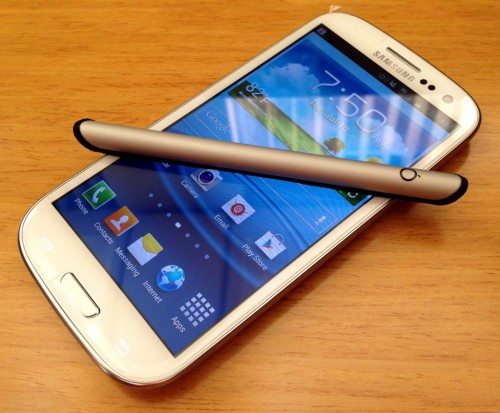 The Styló capacitive stylus from Just Think Design has a unique two-tipped design that caught my eye. I ordered one to add to my growing collection of styluses and received it yesterday. I know that posting a review with only one day of testing is typically not a good idea, but styluses aren't that complex of a gadget. You know pretty quickly if they are good, bad or mediocre. Let's see which one of these categories that the Styló falls into for me.
Note: Click images for an enlarged view.

The Styló is made of anodized aluminum and is available in Silver or Black and is 4.5 inches long. It's shaped unlike other styluses I've used because it has two angled flat tips on either end.

The tips are made of a conductive Black foam which extends the length of the stylus and feels sort of similar to neoprene or felt. I don't think I have used a foam tipped capacitive stylus since some of the very early ones of years ago. This foam is soft and has tiny holes which can collect dirt and grit, which would then transfer to your display for a potential to scratch it.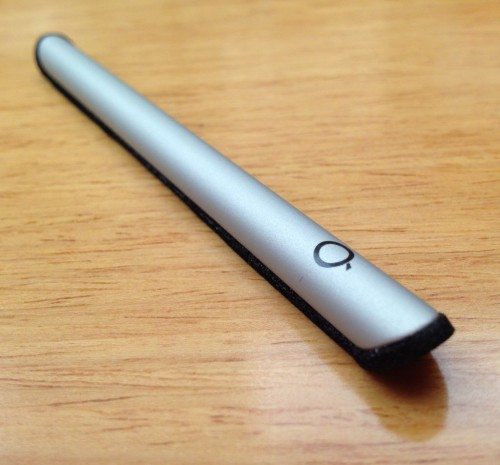 The stylus also features an embedded neobdymium magnet that will allow it to stick to the bezel of the iPad or Smart cover.
When I first saw the stylus online, the angled tip design had me interested. I hoped that it would allow me to draw precise lines and write small text. You can do this with any stylus of course… but the shape and style of the capacitive tip will either make things easier or more difficult. The Styló doesn't make drawing and writing horribly difficult, but it doesn't make things easier either. The tip is wide and like the majority of styluses, it blocks your view when you're trying write small or draw small figures close together.
Another thing I noticed about the Styló is that the foam tip felt like it dragged and skipped on my iPad's display instead of gliding smoothly. I don't use a screen protector and my screen was clean, so I think it's just that foam tip has a slightly "sticky" aspect to it. This is the main thing I don't like about it and is the reason it will go into my cast off stylus bin. That and the fact that you can't replace the tip if it gets damaged or worn.
The Styló has a unique look that will probably cause people to buy it. But my recommendation is to skip it. There are much better styluses on the market for both writing and drawing. Check out some links to some of our other stylus reviews listed below.

Product Information
Price:
$19.99
Manufacturer:
Just Think Design
Pros:

Two tips
Magnet allows you to stick it to the iPad

Cons:

Tip not replaceable
Doesn't glide smoothly across screen