We use affiliate links. If you buy something through the links on this page, we may earn a commission at no cost to you. Learn more.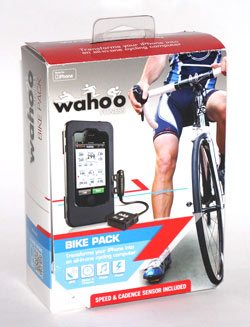 With the winter nearly behind us (we live in the Pacific Northwest and the rain and bad weather really do not go away until after the 4th of July) and summer knocking on the door, it's time for me to focus my exercise outdoors. With that hopefully comes fun new training technology to better enable my aging body to stay in shape more effectively and efficiently. I have been cross-training more and more and have begun biking as a way to not only stay lean and mean but save on gas and parking as well. When Julie offered up the Bike Pack for the iPhone from Wahoo Fitness, I raised my hand to hopefully give it a try and kick start my 2012 outdoor exercise season.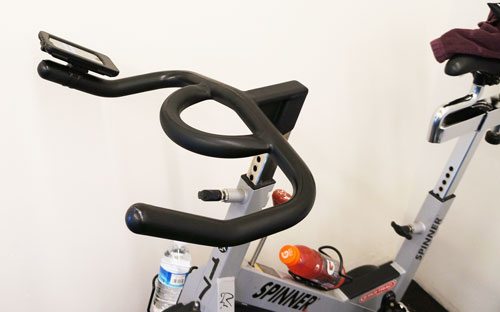 As I was debating on which road bicycle I wanted to purchased, I used the Wahoo Bike Pack during spinning class (think inside warm/dry, outside dumping rain/monsoon). It worked very well in conjunction with their soft heart rate strap (not included in the Bike Pack). It took a bit of Macgyvering to get the cadence and speed sensors attached and operational. Overall the hardware and iOS application worked great, giving me moment by moment performance data (heart rate, cadence, and calories burned) indoors, during class. Although, I would suggest Wahoo create a Spinning (specific) Pack for those who spin, want cold hard fitness data, and have their iPhone with them to boot.
But I digress….onto the review :).
Package Contents: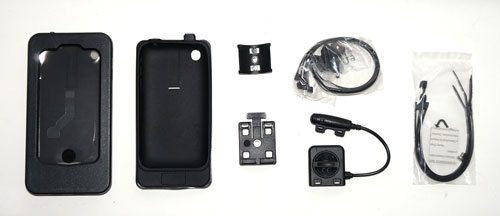 1 Wahoo Bike Case for iPhone
1 Premium Speed and Cadence Bike Sensor and magnets
Handlebar mount
Zip ties for mounting
The Wahoo Bike Pack consists of a hardened, water-resistant case for the iPhone (3G, 3GS, 4, 4S), a handlebar mount and a wireless speed and cadence sensor package. The case has built-in wireless connectivity that enables the iPhone to communicate with any ANT+ wireless sensors, so riders can add additional sensors like a heart rate monitor or power meter if so desired.
Features:
Built in ANT+ radio transceiver
with support for all current and future ANT+ sensors
Fits iPhone 3G, 3GS, 4, 4S from all carriers!
ships with custom rubber liners to easily adapt between phone types
Wahoo Fitness Powered
supported by most of the leading iPhone fitness Apps
Water and shock resistant
Bike mount
with quick release for Case/semi-permanent mount attachment to bike. Adjustable portrait or landscape orientation
microUSB port
microUSB port for charging/data connection with tethered rubber plug when not in use
Fully accessible/functional touch screen access
Universal mounting rail
for bicycle mount and auxiliary battery
Optional auxiliary battery
Wahoo Fitness rail mounted 2.3 AmpHour battery (1.5x that of the iPhone battery) or any auxiliary battery with microUSB plug compatible (sold separately)
Sends and receives signals up to 10 feet
unobstructed
Software:
The first step to getting everything operational is downloading the Wahoo Fitness app (or other biking app) from the AppStore. The Wahoo app first profiles you (gender, age, weight etc), then your bike (wheel size for speed telemetry). The Wahoo application can be used for both biking and running. The initial setup was relatively quick. Overall usability is easy, intuitive, customizable.

Along with the Wahoo fitness app, the Bike Pack iPhone case and sensors communicate/work with a multitude of fitness apps available for the iPhone.
Installation: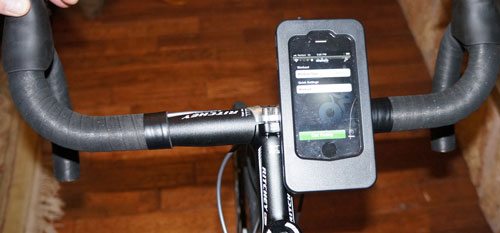 Now I grant you, using an iPhone in a large weatherproof case as a biking computer is a HUGE attachment to your handle bars. But depending on where you place it, the setup was not in the way. I would have preferred it directly in the middle but my stem would not allow for it. The bike mount is designed for placement anywhere your bike handle allows and securely holds the iPhone case in place.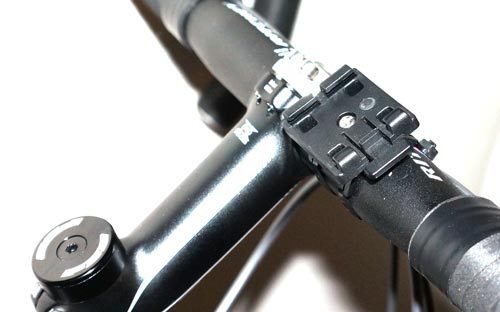 There is a quick release on the side of the mount that allows you to easily slip the case into and out of the holder. I have to say, that if any piece of the Bike Pack could potentially fail, it would be the mount. It just seems to be the most fragile piece to the entire setup. That is just my opinion; my mount is holding up well and has been reinstalled several times.
The included instructions for installing the cadence/speed sensor are not good. Luckily, Wahoo does have a detailed set of color instructions and a YouTube video available on their website to help you get the sensors dialed in. Wahoo really needs to add a basic diagram to the instructions showing how the crank arm and spoke magnets align with the sensors.

Once you figure out just where the sensors are meant to be, installing them with the included zip-ties is a quick and easy process.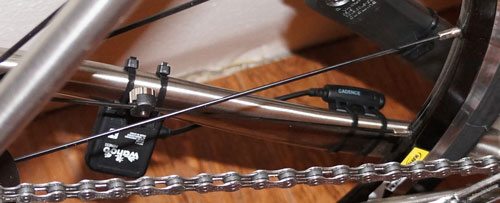 The only critical step is confirming that the sensors and their corresponding magnets are positioned close enough together to see each other when in use.
Wahoo Bike Case for iPhone
At the heart of the Wahoo Bike Pack is the water/sweat/shock-resistant, ANT+ enabled iPhone case.

Within the rigid plastic exterior, there is a form-fitted, rubber inner lining that snugly holds the iPhone 4 in place. Wahoo also includes a liner to hold an iPhone 3GS as well.

It is a pretty tight fit, but the iPhone slides in easily enough. The case does not allow access to the iPhone's mute and volume buttons.

There is a clear plastic tab for removing your iPhone.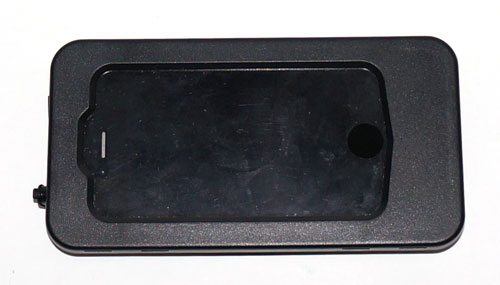 As you can see, the Wahoo bike case is big but protective, water-resistant, and functional. And when I say 'functional', I mean the iPhone is very useable while residing safely within the case. The home button and screen input are more than operational (although you do have to push/touch a bit more firmly that usual).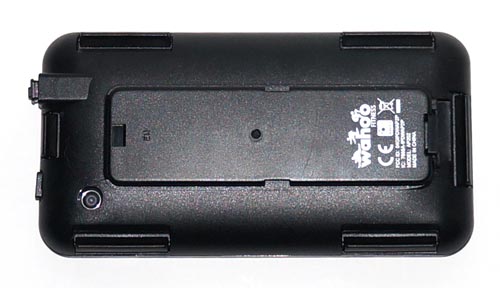 On the back of the case, there is the rail that slides into the mount. Also engineered into the back is a clear port so that the iPhone's camera lens is functional. There are six clamp-like closures that snap/lock the front onto the base, sealing the case.

There are two on each side.

Plus one clamp on each the top and bottom of the case. On the top are a push through power button and earphone plug port so you can listen to your music while you ride.

The base of the case has a microUSB port that enables the iPhone to be charged without the need of removing the iPhone from the case.
Overall, the case works splendidly from not only a connectivity stand point (ANT+), but a survivability one as well. It protects my iPhone from sweat and rain. At least while spinning, not only has it survived me dripping onto it but I am able to use my iPhone during our breaks and cool downs. While riding, out of all the cases I have to choose from, this one definitely has the highest likelihood of protecting my smartphone from a premature death.
Operational Functionality:
Pairing the iPhone with the various sensors was quick and easy. Each sensor has a unique identifier that the software remembers for both biking/spinning and running. The Wahoo Bike Pack uses the GPS signal of your iPhone to track your distance and plot your route on a map.
Using your iPhone as a bike computer is much more versatile than your classic biking computer.  Not only do you get all the data you did before but a comparably huge, color HD display, mapping, music, the ability to call for help or look up a worthy lunch or smoothy stop on the fly while biking, etc.  According to Wahoo Fitness, starting from a full charge and running the screen, GPS and telemetry, you should be able to get about 3 – 3.5 hours out of iPhone's battery. For those of you who go on longer biking pilgrimages, Wahoo also has an add-on battery pack ($59.99) that slides onto the back of the case and adds six hours of extra ride time.
Bottom Line:
The Wahoo Bike Pack does a really great job of transforming your iPhone into a powerful and comprehensive bike computer. The designers and engineers at Wahoo Fitness have included everything, except a heart rate monitor, in their Bike Pack to conveniently capture and upload your ride data; including GPS (route), power, speed, ANT+ heart rate, and cadence, with a simple, push of a button-process. The Wahoo Bike Pack is $150 MSRP and worth considering if you are a biking iPhone owner who wants to get more out of both.
Product Information
Price:
$149.99
Manufacturer:
Wahoo Fitness
Requirements:
Pros:

- Well built case and sensors
- Water- & shock-resistant case
- Great (free) software
- Works with any ANT+ enabled device
- Works with a multitude of iOS biking, running, and fitness applications
- Built in microUSB charging built into the case

Cons:

- Installation instructions should be better/include a diagram
- Does not include a heart rate monitor