We use affiliate links. If you buy something through the links on this page, we may earn a commission at no cost to you. Learn more.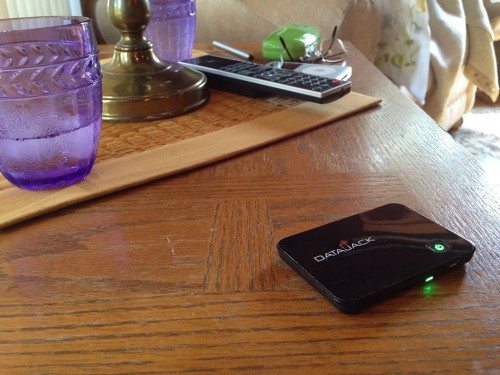 Staying connected at all times is something I obsess about. I live in the woods with no cable or DSL. My only choice for broadband was a  HughesNet satellite or a T1 line. I was happy with HughesNet for awhile, but a few years later I started getting fed up with traffic caps and overall slow service,  so I ended up putting in a T1 line. Since I do live in the woods, it's not unusual for the power to go out or the T1 line to go down a couple times a year from weather or critter related issues. Having a backup broadband solution is important to me, so I was happy to accept the task to review the DataJack MiFi 2200 Mobile Hotspot when it was offered to me.
DataJack offers 3 different broadband options. A USB modem, a broadband router and the MiFi 2200. I wanted total portability and ease of use with multiple devices, so I opted to review the MiFi 2200. It's a small plastic device about the size of a deck of cards, with a power button, status LED and a USB connector for charging.
With the MiFi, you can connect up to 5 devices and share 3G broadband between them. Setup is simple. Just charge the removable Lithium Ion battery using the included USB / AC adapter, then press the power button to turn it on.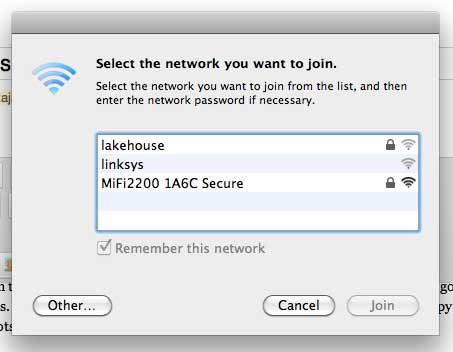 When you check your laptop, tablet or other WiFi device, you should see the MiFi listed in the available networks. When you choose it, you'll be asked to type in a password.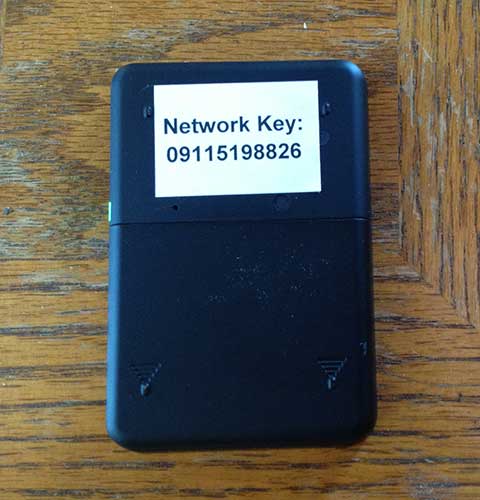 The password is conveniently printed on the back of the MiFi.
Never miss one of our posts again. Sent MON, WED, and FRI with the latest gadget reviews and news!
I tested the DajaJack with my iPad and Macbook Air. Both were easy to setup.
Hooking up the DataJack is the easy part. The hard part for me was finding a location where it worked well. The problem for me is that DataJack uses Sprint as their carrier. If you have spotty Sprint coverage in your location or a location where you'd like to use the DataJack, then your experience with it will not be a happy one. I tested the DataJack in Columbus, IN and it worked very well. Trying it at my house 12 miles away was another story because Sprint coverage doesn't extend that far out. I brought the DataJack with me on my vacation to Saugatuck, Michigan and found the performance to be inconsistant. I'm actually using it right now as I'm typing this and it's working pretty well for the moment.


A couple quick tests on Speedtest.net shows that it's not exactly blazing fast. But for reading/responding to emails, some basic blogging, posting a few pics on Facebook and surfing, it works pretty well. However, watching videos on YouTube was pretty annoying due to a lot of starting and stopping. I wouldn't want to use the DataJack as my primary broadband choice, but it's a nice backup when a faster method is not available.
What I like best about the DataJack is that there are no commitments to use it. You don't have to sign a 2 yr contract like with Verizon, Tmobile or AT&T's MiFi solutions. DataJack doesn't even do a credit check. You just buy the device; USB modem, MiFi 2200 or the router and then pay month to month depending on the plan you choose:
$9.99 – 200 MB Plan
$19.99 – 500 MB Plan
$29.99 – 1 GB Plan
$49.99 – 5 GB Plan

The 5GB plan price is on par with Verizon's, TMobile and AT&T's 5GB plans, which are $50. The advantage to going with one of the big boys is that their service covers 4G as well as 3G. DataJack is only 3G. Of course, they also make you commit to playing $50 a month for 2yrs and will charge you an early termination fee if you break the contract.
I was able to give the DataJack some real-world use the past few days when the cabin we rented for vacation did not have any internet access. Although Sprint coverage here isn't the best, the DataJack has allowed me to do a little work and see how it performs with normal day-to-day tasks. I couple of times the connection failed, but all in all, as long as I used it for simple things, it worked fine. Battery life was pretty good too. I used it for several hours on one charge.
My Verizon iPad was a bit snappier, but that's because Verizon coverage here is a little stronger. So my opinion of the DataJack is that it's a worthy addition to your broadband toolbox IF you have good Sprint coverage AND you don't already have a smartphone that can be turned into a mobile hotspot. For example, if you have an iPhone, you can turn on the mobile hotspot feature ($20 for 2GB/month on Verizon) and use it to provide broadband to your laptop.
I'd definitely go for either the DataJack or just use my existing smartphone before I'd buy another mobile hotspot device from Verizon, AT&T or TMobile and be locked into a 2yr agreement.
Product Information
Price:
$89.99
Manufacturer:
DataJack
Pros:

No contract, credit checks, commitments
Easy to use
Small

Cons:

Uses Sprint network, so you'll need coverage to use it