We use affiliate links. If you buy something through the links on this page, we may earn a commission at no cost to you. Learn more.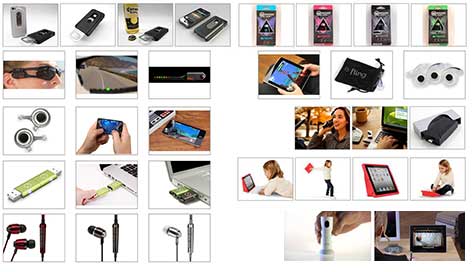 Hello Gadgeteers! To show how much I appreciate all of you for visiting the site, I want to give one lucky reader a giant grab bag full of gadgets worth over $720! There's something in the prize pack for just about everyone. There are iPhone accessories, smartphone accessories, iPad accessories, computer accessories, earbuds (2 different kind), and even some cool sunglasses that offer a heads up display for your workouts! Full prize info and how to enter after the jump. Don't miss this one!
Prizes:
One of each item listed below for a total of 10 different items.

Opena: Opena iPhone 4 Case – Stylish iPhone 4 Case with a slide out bottle opener
Durable and Protective Polycarbonate Hard Case
Integrated slide out stainless steel bottle opener
Works with all iPhone 4 models
Colors include Black and White
Perfect companion for parties, BBQ's and pretty much anytime you need a bottle opener
1 year Warranty
Available at: Openacase.com
Price: $ 39.95


X-Doria: Widge for iPad  – A squishy iPad case that is fun for kids and protects the device from mishaps
Designed with children's ergonomics in mind- fat corners are easy to grab and a carrying handle makes it easy to hold
Squishy and protective with two ergonomic stand angles
Rubberized surface allows for easy clean up from spills
Provides access to all ports while in case, including iPad's rear facing camera
Available in Red
Available at: shop.x-doria.com
Price: $39.99


USB Cell Drive: Cell Link – Portable backup battery, USB charger, micro SD card reader, and data transfer device
Cellink I (iPhone/Ipod devices) and Cellink U (micro USB mobile devices)
600 mAh rechargeable back up battery restores and extends battery life for mobile devices
Provides USB charging capability for all mobile devices
Provides data storage using card reader, supporting general micro SD/SDHC memory cards
Supports data and media transfer between cell/smart phone and computer
Patented technology makes it the most complete mobile battery accessory available today
Available at: usbcelldrive.com
Price: $ 54.95


iTwin – A 'limitless' USB device that enables users  to simply & safely access, edit & share files & media between any two computers anywhere in the world without the security and privacy risks of the cloud
Compatible and interchangeable with both Mac (Snow Leopard and Lion) and PC  (Windows® XP, Windows® Vista, Windows® 7)
Securely edit and share files –  the remote data can only be accessed if the you physically have the matching iTwin with you and the correct password
Edit remote files directly, with no additional copies created. No need to worry about version control
Using a disable code, if one half of the iTwin is lost or stolen it can be disabled remotely
New Features, fixes and enhancements are rolled out regularly and all the automatic updates are free
iTwin Multi functionality enables multiple users and workgroups to connect multiple iTwins to the same computer to remotely access, edit and share files without the headache associated with email, VPN or remote access software
Popular Science 2011 'Best of What's New', CES 2012 Design & Innovation Honoree, Red Dot 2011 Award Winner
Available at: iTwin.com, BestBuy.com, Staples.com and Amazon.com
Price: $99

Stem Innovation: iZON Remote Room Monitor – App-controlled video camera streams audio and video to iPod touch, iPhone and iPad, anywhere in the world
iZON is peace of mind, connecting you to the most important people, places and things in your life
It will watch and listen for you, alert you via push notifications when there is motion or noise and even record to a free, private YouTube account
Can be placed on any horizontal surface or mounted to a ceiling. It tilts and swivels easily on its unique magnetic base
Sets up in less than 10 minutes and doesn't require a computer
Available at: Best Buy, Apple Stores, StemInnovation.com
Price: $129.95


V-MODA: Remix Remote – Headphones with superior audio clarity, luxurious design and supreme ergonomics for your active lifestyle
Features V-MASQUE high-definition drivers for audio precision and powerful bass
Built in three-button remote with high-fidelity microphone for taking phone calls
Made with premium materials, including the redesigned V-MODA BLISS (Bass Level Isolating Soft Silicone) ear tips for comfort
Includes detachable sport earhooks, deluxe black carrying pouch, and four pairs of silicone ear tips in different sizes
Available in 4 colors: Nero, Blush, Chrome, Blush
Available at: V-Moda
Price: $99.99


Ten One Design: Fling mini – Tactile game controllers for iPhone, iPod touch and other smartphones enhances mobile gaming
Unique spiral design creates physical resistance to give gamers greater directional control
Works with any game with a directional pad, or virtual joystick, including Meteor Blitz, Super Mega Worm, Robokill and more
Suction cups allow simple attachment and detachment for spontaneous gaming sessions
Included microfiber bag is ideal for on-the-go storage and doubles as a screen cleaning cloth
Available at:  TenOneDesign.com
Price: $24.95 (2-pack)

Ten One Design: Fling – Tactile game controller for iPad offers ultimate control over any game with virtual joystick
Unique spiral design creates physical resistance to give gamers greater directional control
Works with any iPad game with a directional pad, or virtual joystick
Transparent and flexible design provides an unrestricted view of all on-screen action
Suction cups allow simple on-screen attachment and detachment for spontaneous gaming sessions
Included microfiber bag is ideal for on-the-go storage and doubles as a screen cleaning cloth
Available with Ice, Ninja or Ultraviolet accents
Available at:  TenOneDesign.com
Price: $19.95 (1-pack) or $29.95 (2-pack)

4iiii Innovation: Sportiiiis – The world's first heads up display and performance coach system for sports eyewear
Multi-colored LED boom provides instant visual feedback of critical workout and racing data including heart rate, cadence, power, speed, pace and other ANT+ compatible data
LEDs positioned in the athletes secondary vision guide athletes to their target zone to eliminate the need to take their eyes off the road
Powerful software enables the athlete to create personalized zone profiles for feedback on heart rate, speed, cadence, power and more
Sportiiiis allows athletes to maintain aerodynamically correct postures which can reduce their race time
Adjustable boom easily attaches to virtually any pair of glasses
TipTapTM technology provides audio feedback on critical performance zones and allows the athlete to change between display settings by simply tapping on the unit
Compatible with leading training software, simple to use with Mac, PC and Smartphones
Available at:.4iiii.com
Price: Starting at $199


Wicked Audio: Metallics – Stylish and vibrant earbuds produce great sound at an affordable price
Noise isolating earbuds deliver mind blowing sound
Light weight form delivers the ultimate in comfort
Available in 4 metallically brilliant colors: Pink, Blue, White, Green and Black
Available at: www.wickedheadphones.com
Price: $12.99
How to enter (read carefully, if you don't follow the instructions, your entry will be disqualified):
1. Between now and Friday 05/18/2012 11:59PM EST leave a comment to this post answering this question:
What is one product or product category that you'd love to see us review?
2. At some point on 05/19/2012, 1 random winner will be chosen. The winner will be contacted via email and will have 48 hrs to accept their prize. If I do not receive an answer within that time frame, I'll do other drawings till the prize is claimed.
Rules:
1. Only one entry per person.
2. Contest is not open to anyone affiliated with The Gadgeteer.
3. Winner must have a US shipping address (sorry, this isn't my decision…)
4. the-gadgeteer.com is not responsible for any lost packages or incorrect shipping addresses.
I want to give a HUGE thank you to Opena, X-Doria, USB Cell Drive, iTwin, Stem Innovation, V-Moda, Ten One Design, 4iiii Innovation, Wicked Audio for the  sponsoring this contest!
UPDATE:
The winner of this contest is #313 Jessica Bean!
Thanks again to all who entered and the sponsors who donated prizes.