We use affiliate links. If you buy something through the links on this page, we may earn a commission at no cost to you. Learn more.
Unified Lifestyle features an application for SmartPhone and iPad that will help you stay on your diet track while dining out.  Restaurant Nutrition features the nutrition information for meals in over 60,000 restaurants, convenience stores and markets.
Here in California, almost every restaurant, fast food establishment, or market that sells cooked foods has to, by law, display the caloric contents of the items sold.  The state's reason is saving people from themselves rather than require them to use common sense, and the law was passed in the face of current obesity rates and a rise in Type II diabetes among school children.
As much as I dislike the motivation behind this law, I will admit that I find it to be very useful when ordering in restaurants. The menus state the caloric limits of each meal lunch and/or dinner size.  But not every state has passed this law, and still people struggle to decide what to order  while dining out and still keep on their diets.  This app solves a lot of those problems.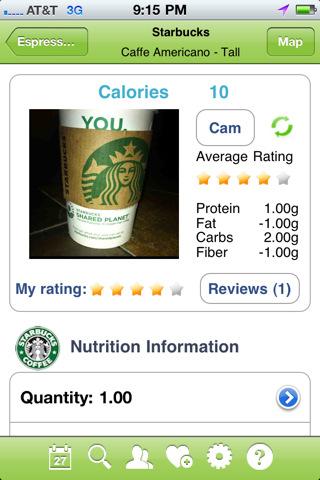 The free version of this application lists various restaurants, convenience stores, and markets like Whole Foods.  Once you select the particular restaurant, you can scroll through the menu of choices to find the nutrition information for the particular meal you've selected. The app will find you the closest restaurant of your choice.
If you're on a points-based diet such as Weight Watchers, you can get the points assigned to that particular meal, but only if you upgrade to the $3.99  version (in-app purchase).