We use affiliate links. If you buy something through the links on this page, we may earn a commission at no cost to you. Learn more.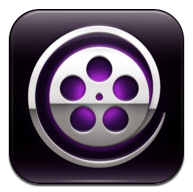 Avid Studio for iPad
Version: 1.0.1
Size: 30.5 MB
I enjoy using iMovie on my iMac and Macbook Air to make short video clips for my reviews or just for the heck of it. I've tried the mobile version of iMovie on my iPad and iPhone but didn't find it to be anywhere close to the desktop version as far as functionality and ease of use. I'll probably always be faster using the desktop version, but sometimes it's nice to have the option be able to create videos on a portable device. I recently took a look at Avid Studio for iPad, which is an alternative to iMovie…
Note: Images can be clicked to view a larger size.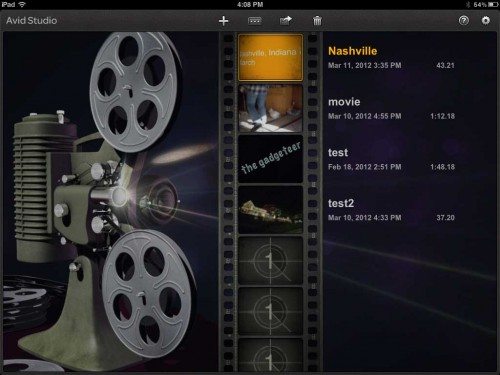 The opening screen for Avid Studio offers a thumbnail vew of your existing projects. From this screen, you can open an existing project, start a new project, rename a project, export an existing project to a video file, email, Facebook, YouTube or Avid Studio for the PC, delete a project, read help files and change settings.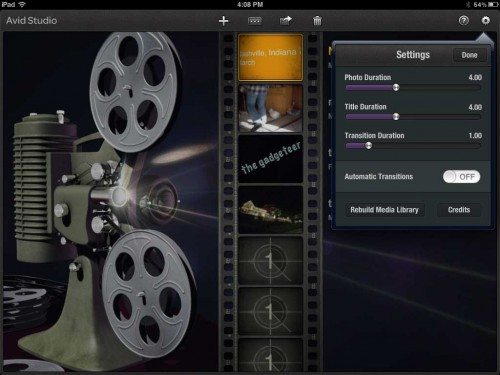 The settings dialog allows you to change the duration for photos in slide slows, title durations and transition durations.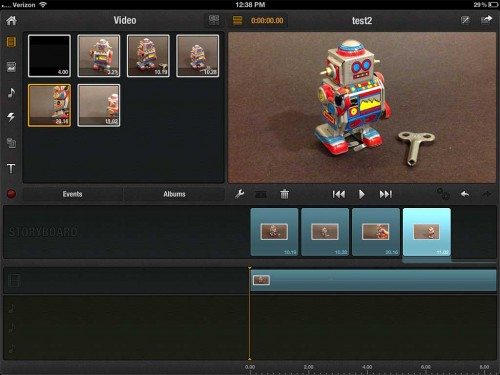 Video editing is done in one screen. On the Left side you'll find all the media sources that you can use for your movie – Video clips, Still images, Music, Transitions, Photo montage styles and Titles.
Never miss one of our posts again. Sent MON, WED, and FRI with the latest gadget reviews and news!
When you click on each type, you'll be shown all the available choices for that type. For example, in the image above, clicking on the Video picker will show all the clips stored on my iPad. From there you can tap one of the thumbnails to play it or you can drag the thumbnail into the storyboard area to start creating your movie.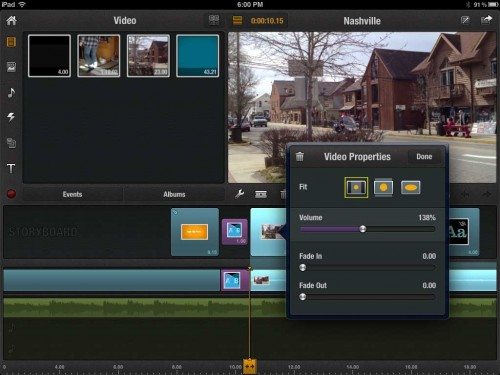 For each clip, you can adjust the video fit in the frame, audio volume levels and fade in / fade out duration.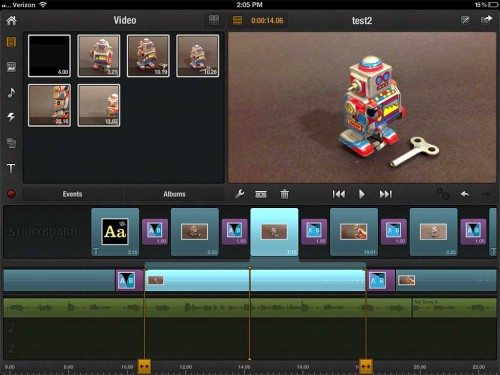 You can also adjust the start and editing positions of each clip by dragging the orange timeline arrows left or right after you've placed it into your storyboard.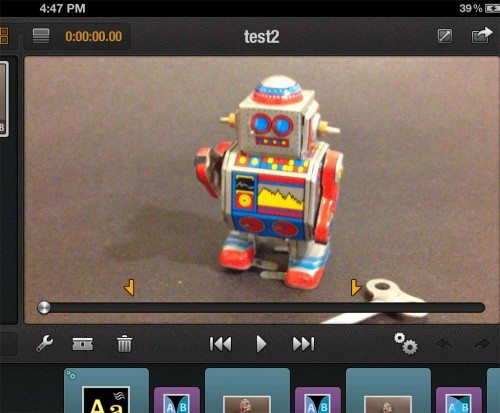 Or you can set the start and end points but dragging the orange pointers in the thumbnail player and then drag the shorter clip into your storyboard.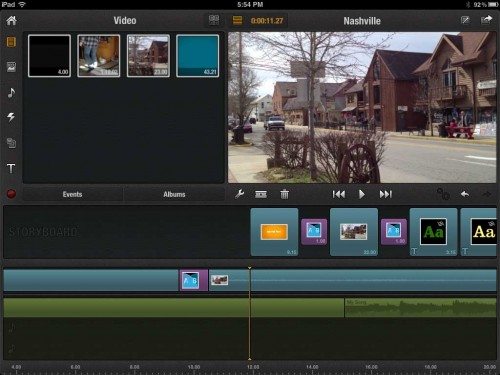 Transitions are added between clips and show up as smaller purple blocks. There are just two types of transitions available, fade to black and cross dissolve. I hope more transitions will be added in future updates.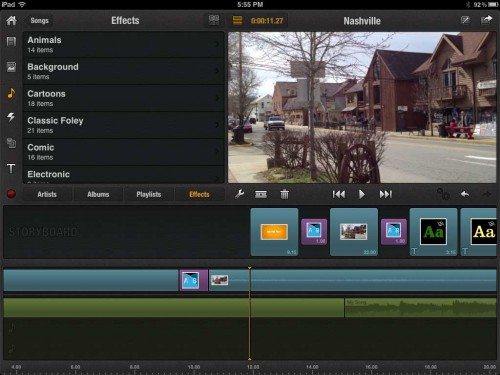 You can import background music from your iTunes library into your movie and Avid Studio also offers some built in sound effects. Like video clips, you can adjust the start and end positions of the audio by dragging the arrows. You can also adjust the volume and fade in/out durations.
Up to 3 audio tracks in addition to the audio in the actual video clip can be layered on top of each other, allowing you to create some pretty nice effects.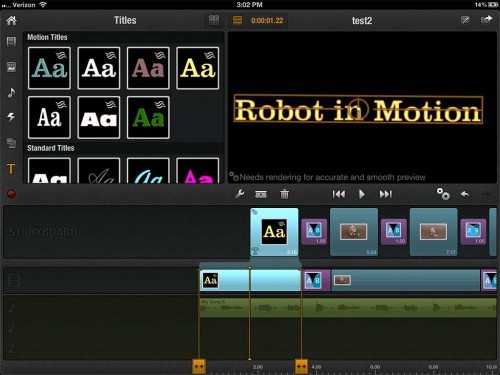 Avid Studio has a nice selection of Title styles, from ones that flash or move, to ones that are just static on the screen. You can adjust the color, font and angle of the text by rotating it with your fingers. Titles can be placed on a black background, or you can overlay them directly over your video. It's up to you.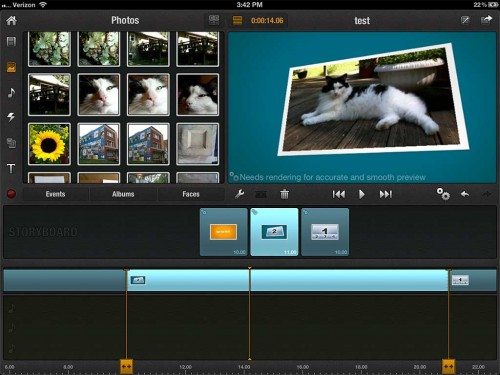 In addition to creating movies, Avid Studio offers several photo montage templates that allow you to create some interesting slide shows and add pizzaz to static images in your videos. While video editing was easy for me to figure out, I had a hard time figuring out how to work with the photo montages. I finally did a search on Avid Studio iPad in YouTube to watch a few tutorials so I could learn the basics.  After that they were much easier to use.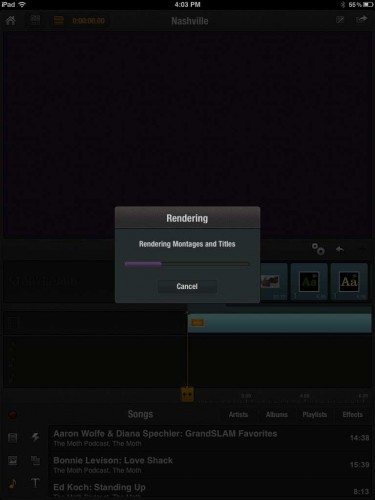 The only real complaint that I have about this software is that it asks you to render the video quite often and doing that can sometimes take a minute or two. I've also had the app crash back to the home screen a few times while I was in the middle of doing some edits.
After you've created your masterpiece, you can export to YouTube, Email, Facebook, Avid Studio for PC or to a video file in your Photo gallery.
Here's a quick test video that I created and uploaded to YouTube.
Exporting to YouTube offers a max resolution of 720P. Hopefully an update to this app will offer 1080P to take advantage of the new iPad's higher resolution.
Avid Studio for iPad costs the same as Apple's iMovie ($4.99), but gives you much more bang for your buck. It beats iMovie on features and ease of use (once you figure out some of the features like photo montages). If you enjoy creating movies on your iPad, you will definitely want to buy Avid Studio.
Product Information
Price:
$4.99
Manufacturer:
Avid
Retailer:
iTunes
Requirements:

Compatible with iPad. Requires iOS 5.0 or later.

Pros:

Relatively easy user interface
Multiple title styles
Multiple image features (montages, overlays)
Sound effects library included

Cons:

Rendering can take a long time
No version for iPhone