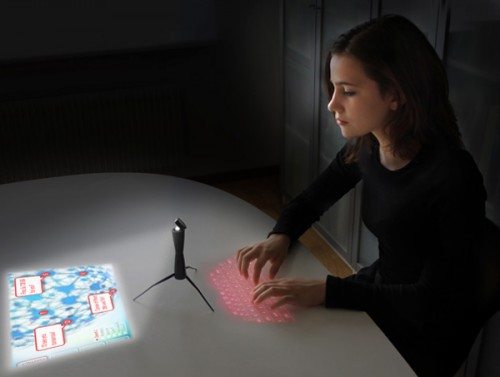 From design company Frank Etc. comes the concept of the Spider, a mobile solution for connecting to the Web.  The Spider Computer is an ultraportable device with a built-in projector and laser keyboard that you can easily carry with you.  When folded the Spider can also be used as a mobile phone.
"Its three legs can easily be folded out, allowing it to be placed on a flat surface. The mirror head opens, and the projection is directed towards the table surface or a wall. Digital correction compensates for angular differences in projection versus surface. Working prototype was made for technology, user studies and research. When legs are folded into the body, it becomes a mobile device, used as a phone, for messages etc. Circular LCD display with graphic interface. It can be carried in your pocket and brought anywhere."
Some of our links in posts like this one are affiliate links, which means that we may receive a small commission on purchases at no cost to you.