We use affiliate links. If you buy something through the links on this page, we may earn a commission at no cost to you. Learn more.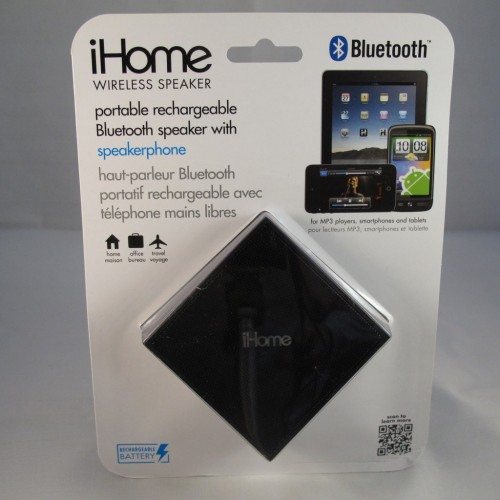 Just when I thought there's no way that there could be another iCcessory, the people at iHome come up with the iDM11 Portable, Rechargeable, Bluetooth Speaker with Speakerphone.  Now if you haven't already bought several devices to play your iPod/iPad/iPhone through, you have the opportunity to do it wirelessly and in style.  Of course, it doesn't work just with Apple products.  It will connect to your Bluetooth enabled computer or cell phone, just not at the same time and any audio device with a headphone jack.Firstly this is a well made device, well – as well made anything made of plastic can be.   It has a substantial heft which should keep it from falling off the desk.  This is probably due to the weight of the rechargeable battery.  It looks good sitting on my desk.
Features:
Bluetooth wireless capability
Bluetooth wireless audio profile (A2DP)
Bluetooth 2.1 + EDR wireless technology
Bluetooth hands-free profile
Integrated microphone, ATI SoundClear voice echo cancelling and answer end call controls
Rechargeable internal lithium-ion battery
SRS TruBass sound enhancement
LED Power On/Charging Indicator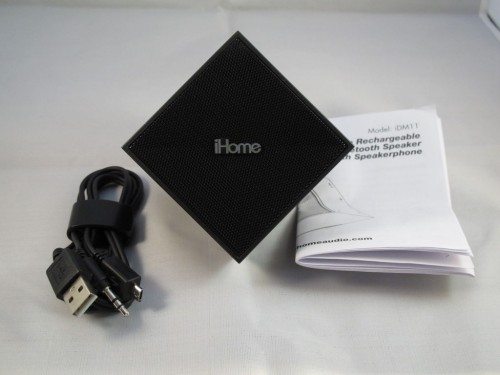 In the package you get the iDM11, an adapter cable for charging the device and also connecting to a 3.5 mm jack.  By the way, be prepared to spend some time getting the packaging open.  I had to use a set of diagonal cutters to cut through the plastic shell.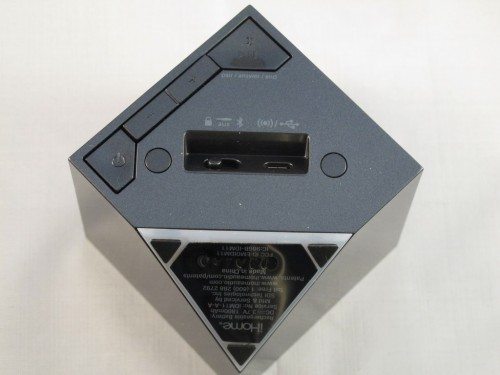 A look at the bottom.  The slide switch selects lock, aux input or Bluetooth mode.  The socket is for the charging/aux input cable.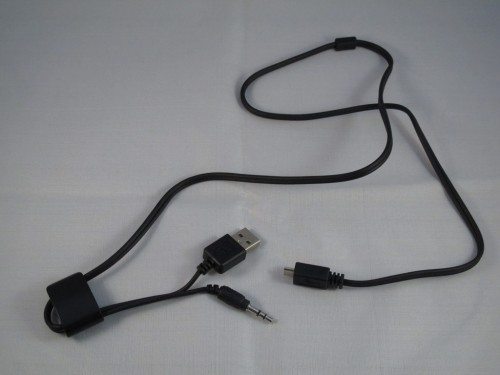 This is the Y cable that's used for both charging and connecting an auxiliary device.  Lose it and you'll have a paperweight.  The connector on the end that plugs into the iDM11 is microUSB.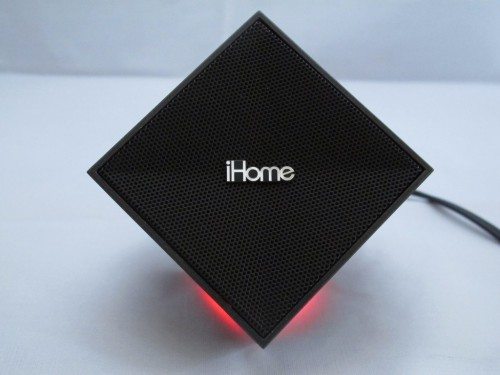 Before using the iDM11, it has to be charged.  This can be done by plugging the charging cable into a USB port on a computer or using a mains USB adapter is I did.  While charging, the LED on the device pulses red.  When fully charged it glows blue.  When using the iDM11, a pulsing blue light indicates low battery and a quickly flashing red light signifies less than 10% charge left.  In use, I was able to go for 7 hours before I got a pulsating blue light.  Specs say you should get up to 10 hours on a charge.
Pairing the iDM11 with my iPod Touch was a simple process of  switching the slide switch to the Bluetooth position;  pressing and holding the power switch until a light appears at the base;  turning on Bluetooth on my iPod; and then pressing and holding the Bluetooth speakerphone switch until the light on the base flashes blue and red.  At this point my iPod recognized the iDM11, and I paired the two devices.  There was no password required.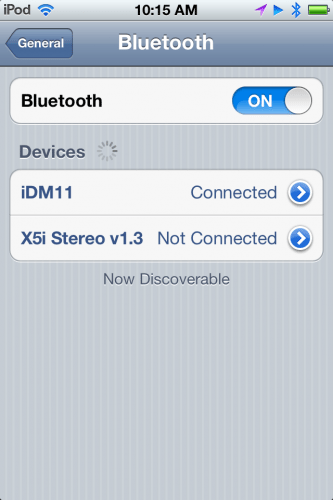 Once connected, subsequent pairings are automatic.  When the iPod and iDM11 are within range of each other and there is no other device using the iDM11, they connect.
While playing audio through the iDM11, you can control the volume and play and pause the stream via buttons on the iDM11.  You'll notice I wrote playing audio and not music.  This is a mono sound device.  I have many other gadgets I can use to play the music from my iPod in stereo.  However, I like to listen to audio podcasts that I download using the RSSRadio app.  With the iDM11, I fire up the iPod to playback through the device and can listen without the encumbrance of headphones.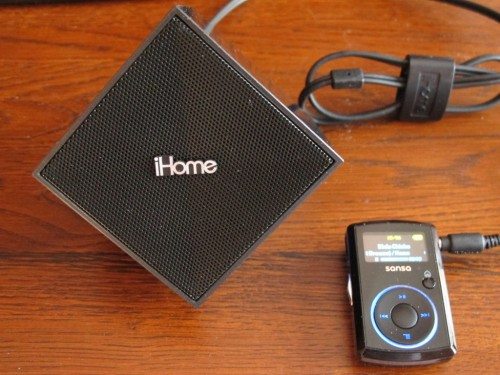 Using the special auxiliary cable, it is possible to connect an audio device using the 3.5mm connector.  It works, but again for music, I would use something else.
The iDM11 is a multipurpose audio device and works as a very respectable cell phone speakerphone.  Pairing the devices proceeds just as with the iPod except my phone asked for a password.  Inputting the default of 1234 got the devices paired.  Many phone calls later, I can say that I was impressed with the echo cancelling and sound quality.   Of course sound quality is subjective, but I was able to hear clearly those that called me and people I spoke with had no problem understanding me.
I'm conflicted about the iDM11.  Yes, it's very portable and wireless, however, the loss of the special cable could make it useless.  I find it convenient for playing talk show podcasts, but when playing the tunes on my iPod, I prefer earphones or powered stereo speakers.  And, I really don't need another speakerphone.  My cell has one built-in.  I was even able to get it to connect to my Windows 8 PC, but I can't find a must have application for this device.
Product Information
Price:
$69.99
Manufacturer:
iHome
Retailer:
Available from Manufacturer
Requirements:

Audio source via Bluetooth or auxiliary jack

Pros:

Wireless
Decent mono sound
Quality build

Cons:

Audio controls hard to find
Unique cable required for auxiliary input