The Gadgeteer is supported by readers like you! If you buy something through links on our site, we may earn an affiliate commission at no cost to you. Thank you! Learn more.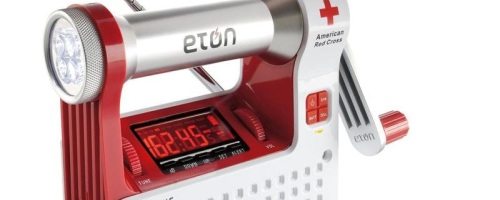 A reliable emergency radio radio is a great idea for anyone. Something that will work even if you forgot to replace the batteries and that can get the weather bands can literally be a lifesaver in an emergency. The Eton Corporation, in conjunction with the American Red Cross, offers several radios that fit this need. I was sent the Eton Axis to put to the test.
The Eton Axis is a nicely compact package with several features:
Digital tuner with AM (520-1710 KHz) & FM (87-108MHz)
NOAA weatherband – all 7 channels plus "Alert"
Direct USB power transfer (includes USB cable)
Built-in white LED light source
Flashing beacon red LED light
Can be powered from three different sources: Self-Powered Aluminum crank with Hand Turbine Technology, 3 AAA batteries (not included), or AC Power
Digital clock with alarm
Connectors with rubber gaskets/plugs to seal out moisture, 3.5 mm headphone output, DC-in, USB cell phone charger and AUX-IN input
Telescopic antenna provided for maximum range and reception
DC 5V input
Rechargeable NiMH battery
Includes: USB cable, owner's manual, warranty card
Dimensions: 6.375" x 6.625" x 2.125" (W x H x D) 162 x 168 x 54 mm (W x H x D)
Weight: 1 lbs. 8.3 oz. (688 g)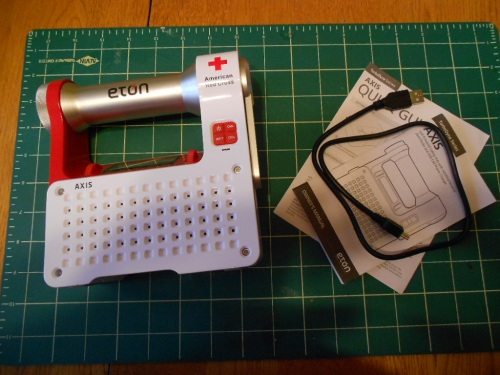 The casing is mostly a tough plastic molded in bright reds and whites with an aluminum crank and upper handle/flashlight. There is a little noise during the world-famous Gadgeteer Creak Test, but it seems to be a solid package, fairly compact with a little heft to it. Other than a comment about rubber gaskets in the jacks, there is little information about how waterproof the unit is. I would assume, based on how it is built, that it is lightly water-resistant, but not water-proof. Overall, I think it looks a little toy-like.
The upper section is the flashlight and crank 'hand turbine'. The 4-LED flashlight has a rotary switch around the head for on, off, and flashing red. The flashlight is a fairly broad beam with a large 'ringed hot spot' in the middle. It is not a great light, but would be helpful in an emergency. The flasher is a single red LED and not very bright, but it probably can go for a long time. The solidly-built hand crank is not bad to use. The relatively small knob gives my fat fingers a cramp if I turn it for very long but it is designed to get a pretty decent charge from a fairly small of effort. As you crank, an LED will show red/orange if you are doing it fast enough and green when the small Ni-MH battery is charged.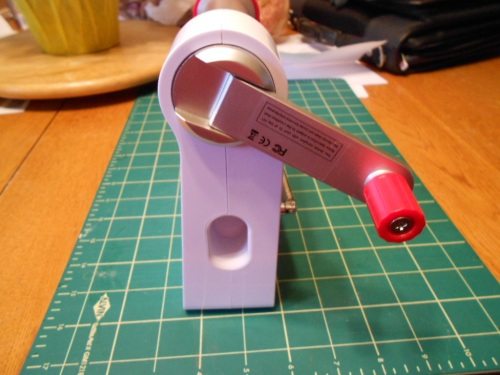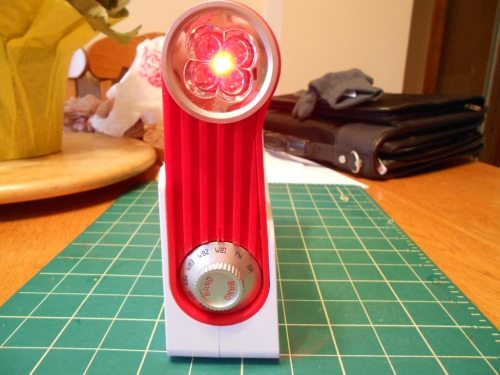 The radio section is a combination of digital and analog components: large, easy-to-see digital display, with rather 'clunky' dials for tuning and volume. The radio can receive AM, FM, and 7 weather bands – chosen by a  dial on the side. There is a folding telescopic antenna to use with the weather and FM bands. When folded, it partly tucks into a recess in the back of the radio. There is a clock and an alarm built into the radio that are set in a typical way. The manual is helpful to remember how to do it but you can generally figure it out just by looking.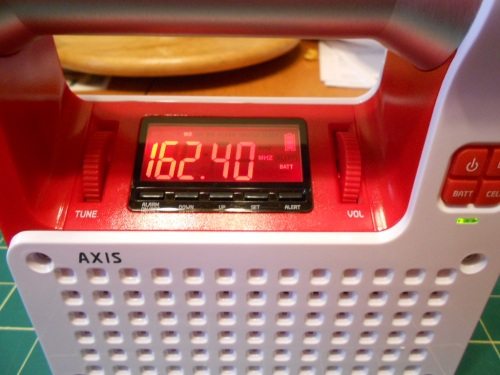 Sound quality is good with very good volume for a smaller unit. I think that in an emergency, sheer loudness and clarity is much more important than musical quality.  This thing can get nice and loud, but it is still does music nicely enough that it would make a decent bedside clock radio. One helpful feature is the 'Alert', which will sound an alarm when the National Weather Service issues an alert in your area. Note:  This feature means that the radio is actually 'on' when it is in use, and it will drain the batteries rather quickly!
Power options are what makes these sorts of emergency radios especially useful. The Axis has one really interesting feature here. While billed as running on AC power, it is actually more flexible than that. The Axis uses a 5v, 500mA miniUSB cable to power the unit and charge the Ni-MH battery (miniUSB-USB cable included). By going this route, you can use an easily-replaced cable to charge the unit from any powered USB source – a laptop, an auto USB charger, a wall/AC USB charger, etc.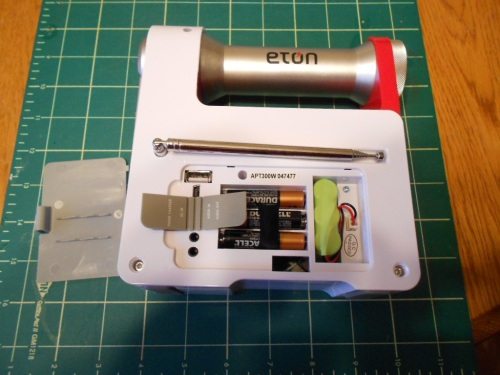 The Ni-MH battery pack is a standard package that looks like 3 'N' or '123' batteries side by side. It takes about 8 hours of AC power to fully charge the pack. It also charges via the crank, but for every minute of cranking, you get about 5 minutes of quiet radio, or a 30 second phone call. There are also 3 AAA batteries in the unit that will operate everything. You can use rechargeable batteries here, but the unit itself will not recharge them.
Cell phone charging is an increasingly common element in emergency radios, etc. and the Axis does this as well with a full USB port. You can charge the phone from the crank, Ni-MH battery pack, or AAA batteries. Hint: Get yourself an adapter tip that goes from mini-USB to your phone's tip, such as this one for miniUSB to microUSB. Then, you can leave it on the charging cable (the attached lanyard makes it hard to loose the adapter) and store the cable by wrapping it around the handle.
In a previous review of another Eton radio, I was unhappy with the way the buttons worked – it did not seem as user friendly as I would have hoped. While not perfect, this unit is a lot better. When you hit the main power button, you can select the desired power source – 'BATT' (the 3 AAA's), 'DYN' (the Ni-MH battery or the AC power source). If you forget to select the right power source, it will use whatever you were using last; this could be a problem if you let it drain something you cannot easily recharge in time. I still think the buttons are awkward for emergency use – small overall, small labels, and not as intuitive as it should be.
Overall, this is a pretty decent unit. SMRP is $70, and is often available for under $55. You can use it as a decent bedside radio – which means that it will be charged and easy to find in an emergency. However, I think one of the smaller offerings would be a smarter choice for an emergency kit.
Product Information
Price:
$70
Manufacturer:
Eton Corporation
Pros:

Several power sources
Solidly made crank

Cons:

Small buttons and labels, not as intuitive as it could be
Not very weatherproof
Mediocre flashlight