We use affiliate links. If you buy something through the links on this page, we may earn a commission at no cost to you. Learn more.
This post brought to you by
Kia Rio
. All opinions are 100% mine.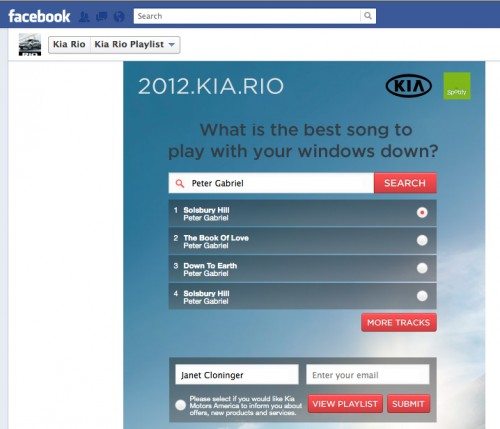 It's almost summer – time to drive around with the windows down, enjoying the warm weather and blasting your tunes. Kia Rio and Spotify have joined to help you create a soundtrack for your travels with their "Best Songs with your Windows Down" playlist. To add  your own song, go to the Kia Rio Facebook page, search for your song, and submit. (It has to go through an approval process, so don't worry if you don't see your song added immediately.) If you don't already have Spotify, you'll need to download it to see and enjoy the playlist. Once you have Spotify, you can add more songs to this playlist within Spotify. My favorite music is anything by Peter Gabriel, so I added Solsbury Hill, a song about leaving one phase of your life behind to start a new phase. Luckily, I'm not limited to only one song, so I could also add songs by Adele, Yes, or even "I'm in Love with My Car" by Queen.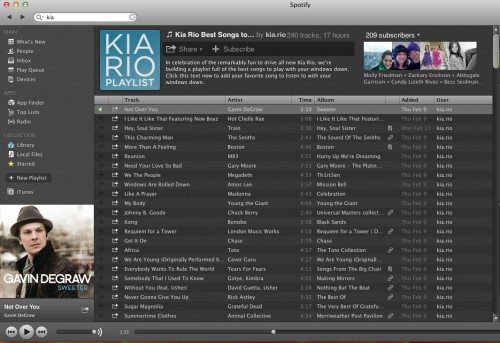 To see the "Kia Rio Best Songs to Play With Your Windows Down" playlist, I did a search for Kia in Spotify and selected it from the Playlists section of the search results. The playlist already has songs from many genres, and you need to be sure your favorites are represented. Be sure to come back and tell us what songs you added and why they're good driving songs. You'll be able to listen to these songs at home, and you can even take them with you in your car if you have the Spotify Mobile apps for iPhone, Android, Symbian or Windows Phone. With 'Offline mode' you can listen even when no internet connection is available. Don't forget to check the playlist daily for new songs.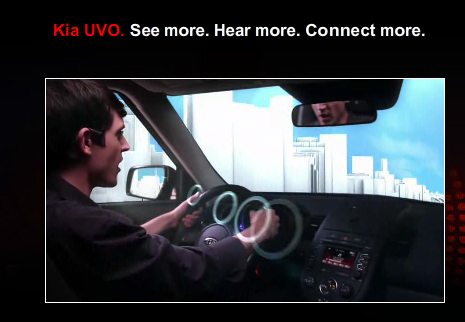 Now, imagine you're zipping down the road, listening to your favorite songs in a Kia Rio equipped with the voice-activated UVO Infotainment System, powered by Microsoft. With Microsoft's advanced speech technology, you can teach UVO to understand the way you speak, so you'll be able to easily use your Bluetooth phone or MP3 player without ever taking your hands from the wheel or your eyes from the road. With UVO, you'll even be able to stream music from your Bluetooth-enabled phone – like the "Best Songs to Play With Your Windows Down" playlist! UVO offers more functions, like a color touch screen, HD radio, even a rear-view camera.
Learn more about the Kia Rio by watching the following video, then go add your song to the playlist. Don't forget to come back here and leave a comment telling us what you added and why it's a good driving song.