We use affiliate links. If you buy something through the links on this page, we may earn a commission at no cost to you. Learn more.

I have my thermostat set to go down to 68 degrees at night because I sleep better when it's cool. When I was asked if I would be interested in reviewing the PolarPillow,   I was intrigued by their claims that it would keep my head cool for hours without the need for refrigeration, batteries or water. They sent me one, I've tried it for a few nights and here are my thoughts…
Note: Click the images in this review to see a larger view.
First of all, you might be asking, What are the benefits of cool sleep?
Cooling the brain helps you fall asleep! Your circadian clock keeps your body at its warmest during the day for high-level functioning and its coolest during the night for dozing off. Researchers from the University of Pittsburgh School of Medicine reported that a primary cause of insomnia is hyperactivity in the brain's frontal lobes at night. This activity increases the brain's temperature making it difficult to fall asleep. Cooling your head at night can help slow down this activity and allow your brain to rest. Falling asleep may simply be a matter of cooling off.
The first words out of my mouth when I tried to lift the box off my deck after the UPS man dropped it off was "What the heck!" The weight of the box was totally unexpected. When you think about pillows, you usually think of something light and fluffy. But the box with the PolarPillow was heavy. So heavy that I thought there had to be some mistake with what was actually packaged inside the box. When I opened it though, all that was there was the PolarPillow in a protective plastic bag.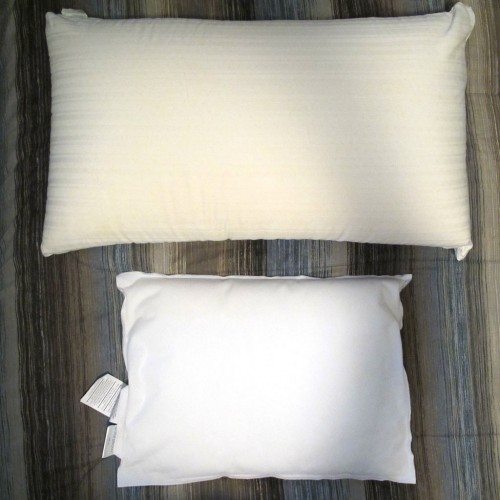 The PolarPillow is approximately 21″L x 16″W x 3″H and weighs an incredible 15 lbs! No, I'm not kidding. Inside the pillow is 200 ounces of a special gel that is cooled by the ambient room temperature.
As you can see it's significantly smaller than a standard sized pillow, which means that it will look a bit odd on your bed and pillow cases will not fit well.

The Polar Pillow is also pretty flat compared to the foam pillow that I normally use.
When it is exposed to normal room temps for at least 30 minutes, the pillow will stay cool for 2hrs. The thought is that 2hrs is plenty of time to fall asleep.
The gel in the pillow does not slosh around, so it won't bother you with weird sounds when you're laying on it or moving your head. Squeezing the pillow, the gel reminds me of the feel of those blue icy packs that you can use to sooth sore muscles or keep your lunchbox cold. It has that same basic consistency.
I'm not going to beat around the bush; sleeping with a 15 pound pillow was not a good experience for me. I think this pillow is better suited for people that sleep on their back instead of their side. Laying on my back, the pillow worked fine. It was comfortable and did keep the back of my head cooler than normal. I do wish the pillow was fluffier or thicker, because I'm used to that with my foam pillow. That said, I could probably get used to the PolarPillow if I only slept on my back. But I don't. I turn on my side and like to put my bottom arm  under the pillow and top arm over the pillow kind of like I'm hugging it. You really can't do this (comfortably) with the PolarPillow due to its small size and weight.
The price and fact that it's flatter, heavier and smaller than a normal pillow really turned me off.  But if you sleep on your back, have a problem with headaches or night sweats, I can see the advantages of using the PolarPillow. It's just not for me.
Product Information
Price:
$99.00
Manufacturer:
PolarPillow
Pros:

Keeps your head cool for 2hrs
Does not require refrigeration or batteries

Cons:

Weighs 15 lbs
Flat
Regular pillow cases are too large