We use affiliate links. If you buy something through the links on this page, we may earn a commission at no cost to you. Learn more.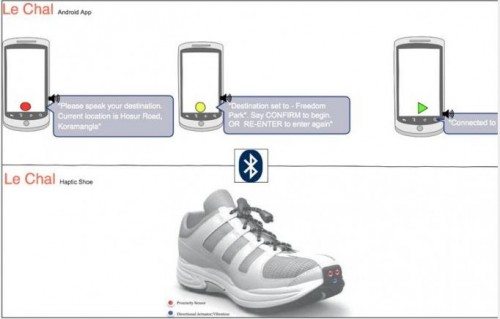 Anirudh Sharma, a student of Informatics Engineering at the Rajasthan Technical University, has designed Le Chal (Hindi for 'Take Along") to assist the blind and visually impaired to navigate around.  By pairing Le Chal with an Android smartphone with GPS, the user can speak a destination into Google maps and then manoeuvre via Google's navigation. Four small vibration motors embedded in the front, left, right and back of the shoe mildly vibrate to indicate which direction the person should be going in. As they get closer, the vibrations will get stronger to indicate closeness to their destination. In addition, a built in proximity sensor in the front of the shoe can give the user feedback on their immediate surroundings.
Here's hoping that GPS and Google map accuracy gets a little bit better before this goes into full production. This has the potential to end up as a cheap and unobtrusive (especially compared to current methods) solution for the visually impaired as Anirudh estimates that to upgrade a pair of shoes will only cost around $20.