We use affiliate links. If you buy something through the links on this page, we may earn a commission at no cost to you. Learn more.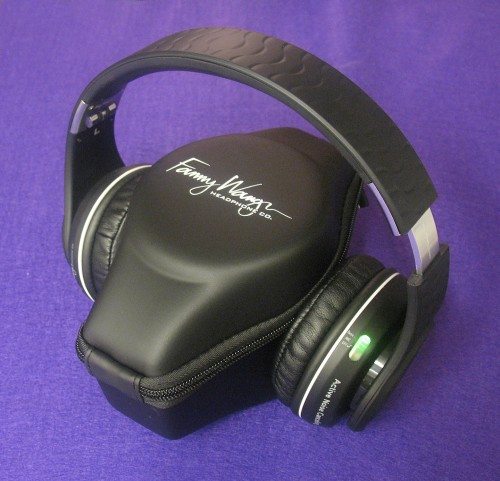 A year ago, I reviewed some headphones from a new company – Fanny Wang. They weren't established yet but managed to get attention with their striking design. Their original On Ear (1000 Series) was similar enough to the Monster Beats to spark a lawsuit. Nobody (except the lawyers) won that suit, and Fanny Wang continues to make and sell headphones. They've recently released what they call the 3000 Series Over Ear Noise Canceling headphones.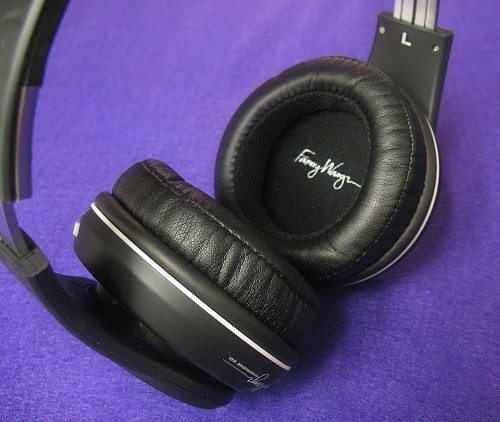 Over Ear headphones are exactly that: a larger ear piece that surrounds the ear (circumaural), rather than a smaller cup that sit on the ear (supra-aural). The advantage to this design – especially when combined with active noise canceling – is complete isolation, and I mean complete. Noise canceling is great for commuting, because it can make the background hum of trains, buses and planes disappear, as in … gone. It's an amazing technology. However, the disadvantage of the over-ear design is complete isolation. I'm not contradicting myself. To be totally isolated from your environment can be extremely dangerous on a busy street. Also, noise canceling does affect audio quality, and usually not for the better. I will talk more about that later.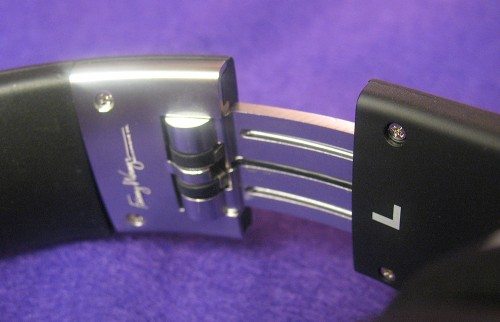 Let's look at the headphones. The 3000 Series are almost identical to the On Ears model in design, only in larger proportions. The design looks better on this larger scale. They are made of matte black plastic overlaid onto an aluminum frame, giving the 3000 Series a more mature, classy look and feel. The cups are padded in soft, black leather. I would have preferred slightly firmer padding, but they are comfortable for extended periods. Inside the leather padding are air vents which permit the pads to breathe, cutting down on sweat. The cups also rotate in a circular motion which can help with a close-to-perfect fit. The headband's padding is adequate, but not very thick. Three color choices are available: Black, White and a bright blue and white combination.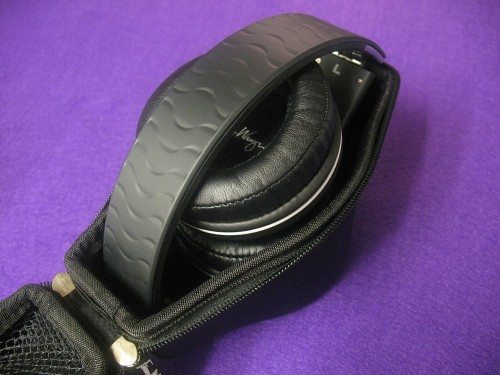 The headphones are foldable and come with a hard, form-fitting case. While the case is very good at protection, the fit is so tight that I'm always worried about using too much pressure just to get it zipped up. A little more wiggle room would have been nice. The hinges are aluminum and snap into place with a reassuring click when opened. The usual sizing adjustments are available, but as happens often with many brands of headphones, I had to use the largest setting.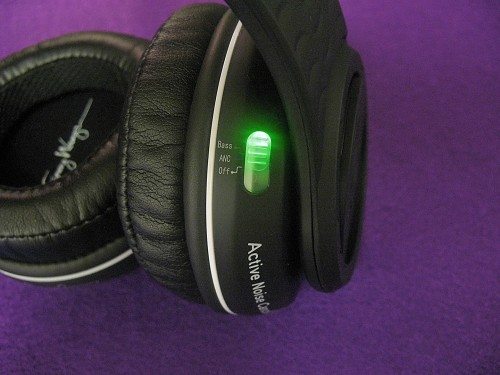 Overall, the Fanny Wang 3000 headphones look and feel well made, are very comfortable for an over-ear design, and sound good for their cost. But I suspect the main selling point of these headphones is not the sound, but the active noise canceling feature. Bose has made a name for themselves with their versions of noise canceling Quiet Comfort Headphones. Fanny Wang's 3000 Series offers a few more features and has a more aggressive design than the Bose version.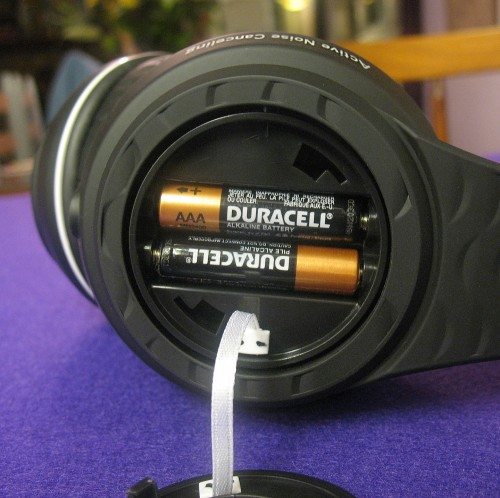 Built into the 3000 Series are 4 microphones that measure ambient noise. A canceling signal is generated which effectively cuts 95% of background noise. Add to that a built-in 5 watt headphone amp, 50mm drivers (larger than most headphones) and you have some serious power sitting on your head. This power requires two "AAA" batteries. There is also what Wang calls a DuoJack; an in-line headphone splitter for sharing headphones. The cord is replaceable.
There are three audio settings to choose: Off, for normal headphone listening; Active Noise Canceling (ANC) and Bass Boost (combined with ANC) for all you hip-hop fans. The Bass Boost switch cranks the bass a full 6dB, which will vibrate your teeth when loud. You've been warned. Note that the headphones will only work in normal, passive mode without batteries. Noise Canceling and Bass Boost will not work without them.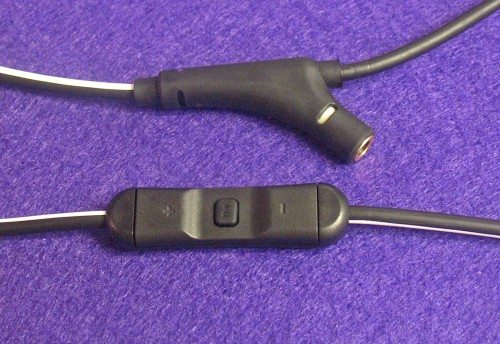 The included inline remote has the usual play/pause/volume up and down functions, but I have an issue with it. The mic works great. I made some calls on my iPhone while listening to music and predictably, the music faded until the call was finished, then resumed. People I talked to were impressed with the voice quality and I could hear them well.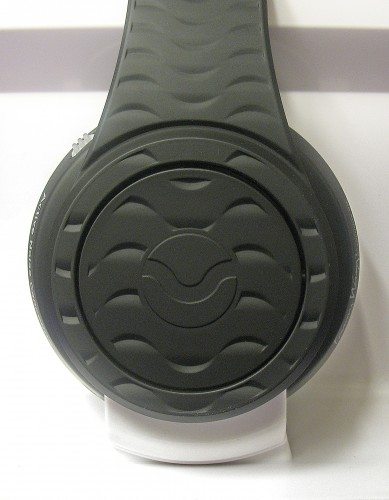 Actually, I could hear the other person better than I could even hear myself. Think about that for a minute. You're talking on your phone using noise canceling headphones and you hear the other person just fine, only since you're in almost total isolation, you barely hear your own voice. It begs the question: Is it asking too much for headphone makers to reroute the mic back to the earpads so you can hear yourself talk? To be fair to Fanny Wang, this inability to hear yourself properly is universal. Every brand of headphone/earphone with a mic has this problem.
But, even with all the features and specs, it comes down to audio quality. How does music sound on the 3000 Series? Well, it's kind of complicated. With ANC turned off, the Wangs sound a little bit muffled. It's not off-putting. I quite enjoyed the warm sound, and it had some decent kick. However, if I was looking for a good headphone with no desire to use noise canceling, I would look elsewhere.
It's when you activate the noise canceling that the 5 watt amp and four mics change the sound dramatically. Instantly, the sound floor drops to almost total quiet and the volume goes up a few notches. However, it's only the treble and mids that are boosted, while the bass is not altered much. Maybe that's why Fanny Wang included the Bass Boost switch.
With ANC turned on, the music has more presence and more depth. But it also can be more grating at louder volumes. Everything good and bad becomes exaggerated. At lower volume, the sound fills your head like a good set of speakers without demanding your full attention. Think background music while you go about your business. But higher volumes can induce a headache fairly quickly. The treble becomes edgy. Bass Boost doesn't help much. It just adds loud bass to an already too loud mix.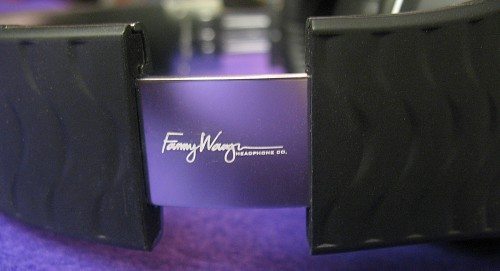 However, the Wangs shine with classic rock and vocal music. Frank Sinatra – a perfectionist in the studio – was made for these headphones. The warmth of his crooning on "Nice 'n' Easy" matches the sound signature of the Wangs perfectly. I found this to be true on any Sinatra song. His recordings are so clean, that deciding to use Bass Boost or not came down to preference rather than necessity.
The alt-country group, Tarnation, have a siren-like southern gothic style that can be both inviting and dangerous. Paula Frazer's deadpan vocal performance in "Big O Motel," drips of desperation from a lifetime of bad choices. Heard through the 3000 Series headphones, you can feel her pain.
"In Memory Of Elizabeth Reed" from The Allman Brothers "Idlewild South" album is a jazzy, southern rock instrumental masterpiece. Greg Allman's keyboards remain distinct with good stereo separation. The Wangs showcase the wide dynamic range of this song quite well.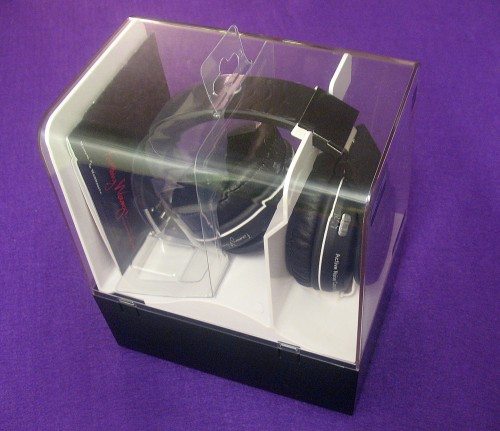 As long as you are not a bass head or maximum volume freak, the Wangs may be the perfect commuting headphone. At a civilized volume, that Bass Boost plus the built-in amp can make your music sound richer and warmer. Along with ANC, it's like you are in a concert for one. The music becomes more intimate and engaging. And while the Fanny Wang 3000 Series headphones may resemble the monstrously popular Beats headphones, don't be fooled. These are some serious headphones for serious music.
Product Information
Price:
$299.95 US
Manufacturer:
Fanny Wang
Requirements:
Pros:

Noise canceling works very well
Well made
Bass Boost OK, but great at lower volumes

Cons:

Expensive
Noise canceling doesn't improve audio quality at louder volumes
Case fit is very tight