We use affiliate links. If you buy something through the links on this page, we may earn a commission at no cost to you. Learn more.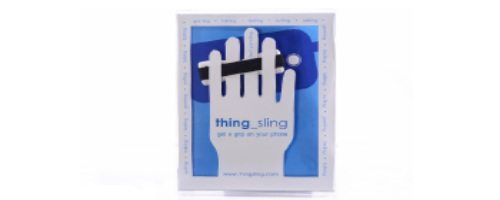 I'll admit that when I saw the ThingSling for the first time, I was not impressed – a small strap for the back of your phone? More basically – something else somebody wants to stick on my phone? I already have a case that demands I adhere some micro-Velcro to it, and a car mount that needs a metal disk stuck on there, now a strap? Come on.
However, I am really pleased to tell you that the ThingSling is actually a cool item!
The packaging is pretty minimal – a cellophane sleeve and cardboard insert holds the ThingSling in a rather clever way, and there is also a small instruction sheet (English only) included that makes use and installation pretty clear. Their website is well done and supportive – if there is any question the instructions do not answer, the site will. The package also includes an alcohol wipe to prep the attachment site – everything you need to get it on quickly.
The 'made in the USA' ThingSling itself is basically two components. There is a 2.5″ x 3/4″ 'bowtie'-shaped plastic piece that sticks to the phone with a 3M adhesive and anchors the strap, and the short, less than 1/2″ wide elastic strap. The unit is stuck in the package in such a way that as soon as you take it out, it is ready to go with no other protection on the adhesive. This is great if you are ready for it, but if you remove it prematurely, you may accidentally set it down while you prep the phone or something. The unit currently comes in black and white, but the colors and shapes may evolve over time.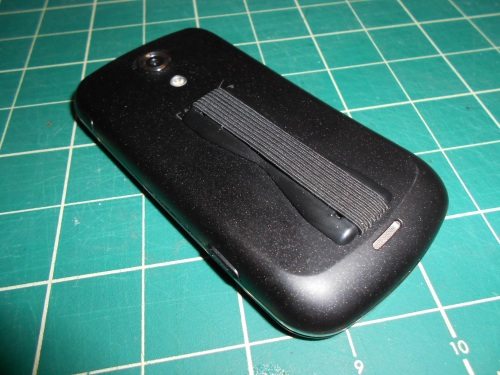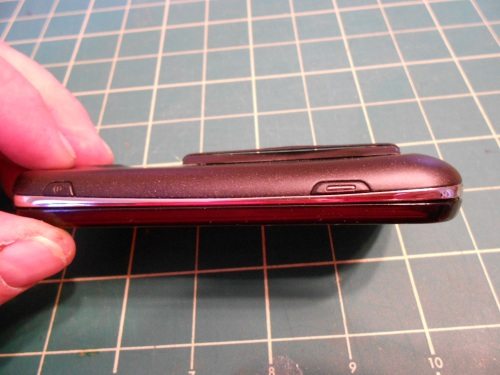 The instructions recommend placing the ThingSling on your middle finger and finding the 'right' place for it to stick to. While I understand the theory here, in actual use I find that I would prefer it in a slightly different location depending on what I am doing, so a neutral 'middle, bottom half' location seems to work best for me. Place it, press it for about 30 seconds, and done. It will cure for about another 24 hours or so. It is also removable as long as you take it easy and gently pry it off. Mine came off with no problems at all.
Two things to note:
There is a temptation to slip lots of fingers in the strap and slide it way up almost to the palm. It works much better if you think of it more as a 'fingertip mount'. For my fat fingers, it works very nicely just using the second joint of my middle finger. It is amazingly secure just with this little bit.
While I mention that this is a phone device over and over, it is actually a nice addition to many hand-held devices – cameras, handheld games, media players, etc.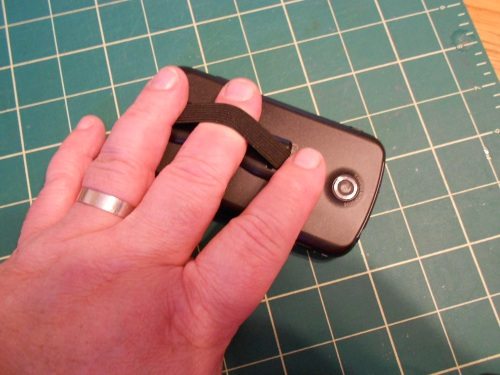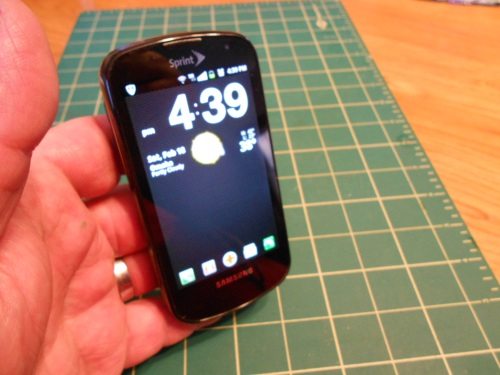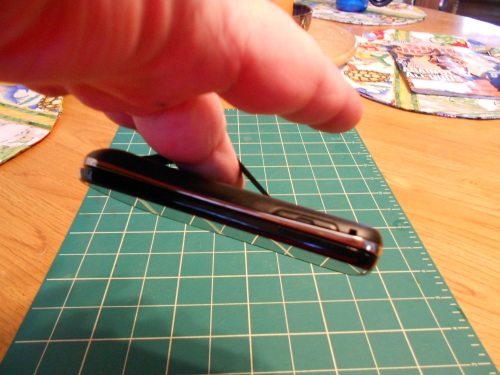 OK, I installed it. Now what? Now it is almost like the phone is Velcroed to your finger! I use my phone a LOT to read ebooks, etc. With the ThingSling, I can read, get up and do something – even carry stuff – without either putting the phone down or actually holding it. Sure, the inventor designed it for hiking and sailing and other active things, but it has shown itself to be handy for much more mundane situations. In the last few days, I ended up using it in a lot of commonplace ways:
Changing from computer to reading chair without actually holding it
Getting up to get drinks, use the bathroom, or fetch something – again, without actually holding it or having to drop it in a pocket
Laying in bed and reading without actually holding the phone, just letting my arm rest propped on a pillow
Fall asleep reading, and have the phone stay safe and handy
Checking weather and notifications walking to my car – one-handed and secure – while also fumbling for my keys and such, while carrying stuff
Surfing the web while holding the phone, and being able to do both comfortably
It is not perfect. It adds a little thickness (about the same as 2 quarters) and does not work with fabric or silicone cases. It also may conflict with other things on the back of your phone, like my already mentioned metal disk for the magnetic car mount. On the other hand, for only $12.95, it is a pretty cool accessory!
…………………………………………………………………………………..
Now, for something completely different. I mentioned the metal disk on my phone for a cellphone mount. I use Honda cellphone magnets to not only mount my phone in my 2003 Honda Element, but I also use on on top of the dashboard to hold decorative things. But, I was not 100% happy with the cell phone mounting location – did not do horizontal well and was not in a good place for GPS use. I had a brilliant idea – combine the magnetic mount with the ThingSling!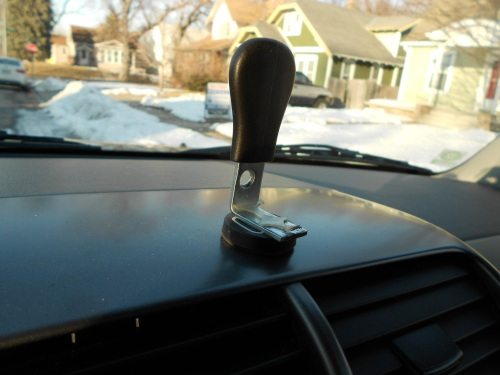 I took a piece of 2″ angle iron, like you would use to support a shelf, and slipped a wheelchair brake knob over the 'upright' arm to add some bulk and prevent sliding back off. Then I cut off about half of the horizontal leg and added a little rubber padding to it to prevent slipping. Now, the bracket can sit on the magnet, and the phone sits on the bracket! It is not very level since the ThingSling is on the bottom half of the phone, but it holds it well, and is easy to adjust. It is also the perfect location for GPS use, etc.! I can even use the bracket without the magnet as a small stand for the phone to watch movies, etc. hands-free.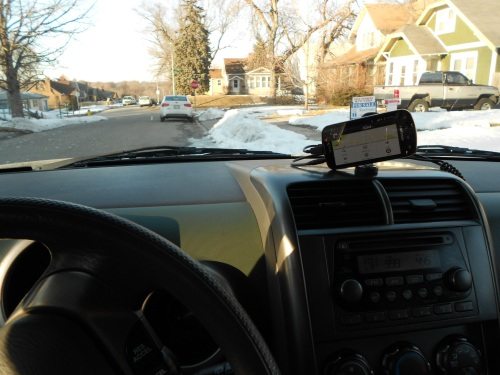 Not too bad, huh? Lots of added value to the ThingSling for about $1.50 worth of parts (A bit more if you don't have a handy bin of wheelchair parts around.)
Product Information
Price:
$12.95
Manufacturer:
ThingSling
Pros:

Small, strong, and secure

Cons:

Not compatible with silicone or fabric cases
Adds another item to your phone's back