The Gadgeteer is supported by readers like you! If you buy something through links on our site, we may earn an affiliate commission. Thank you! Learn more.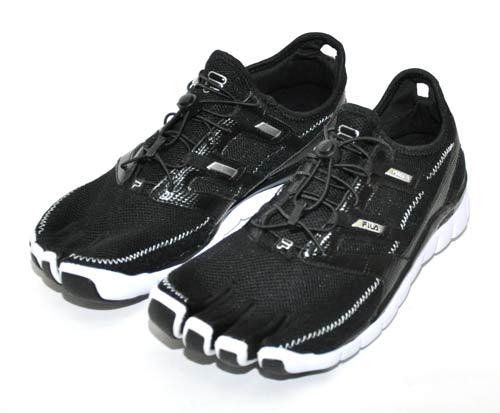 Being a decades-long runner and a bit AR, I am particular about the running shoes I use. Especially now that I am getting older, I want to keep my knees and ankles as strong and healthy as I can. As runners out there know, it all starts with your shoes. In the past year I have tried several minimalist running shoes, including several variants of Vibram's FiveFingers. Their complete lack of cushion wears on my toes during long runs on hard surfaces. So when the folks at Fila asked me if I would like to try their Skele-lite running shoes, a minimalistic, toed shoe with a bit of lightweight padding…I jumped at the opportunity.

I agree with the latest theory that classical running shoes cause foot, ankle, knee, and/or leg problems in many runners. The padding and design allow non-ideal foot striking and when you do the same action 10,000's of times, the imperfections add up. Minimalistic running shoes are engineered to force you to run as if you are running barefoot; where the true ergonomics of the lower body can operate more optimally. In our soft, modern life, our feet (among other things) have gotten soft and weak. So, running in what more or less amounts to a pair of socks can cause quite a lot of blood and blisters along the way to running Nirvana.

Fila's Skele-lite running shoes combine a well-made, toed upper with a very lightweight padded base that combines positives of both worlds. As you can see, these Skele-lite's have a true sole to run on. Where the FiveFingers force you to run on the front 40% of your feet (aka toes and balls of your feet), you can still heal strike to a large degree with the Skele-lites. Since I have been running on the FiveFingers for over a year, I find myself running on the front part of my foot just due to habit. As I said, the best of all worlds; adding that little bit of padding to making running on hard surfaces much nicer. I do however see the possibility of reverting back to the less ideal, heal striking that a padded sole allows/enables you to do.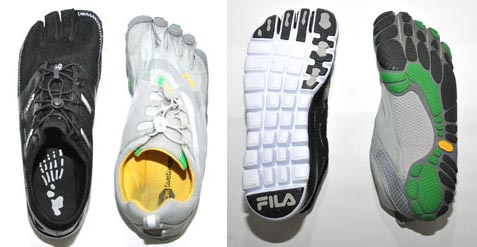 Here are a few pictures illustrating the similarities and differences between the FiveFingers and Skele-lites. As you can see, the tops are VERY similar, although the material and stitching are a bit more substantial on the Fila running shoe. The base of the Skete-lites have an actual base/sole, providing cushion, padding, and arch to the bottom of your foot.
Features:
EZ-slide, micro suede and airmesh upper, EVA midsoles, and bungee lace with lacelock.
An addition to the barefoot shoe category.
Lightweight performance micro suede and airmesh upper.
Ever-Grind outsole offers traction without weight.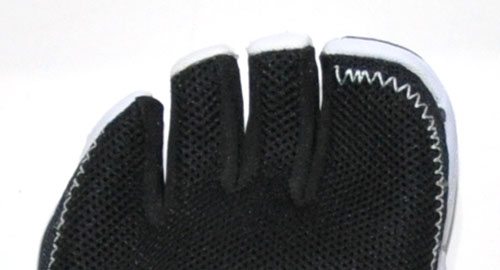 The toe pockets are designed differently as well. There is a separate slot for your big three toes and a single slot for the two smaller ones. The pockets are more padded than the FiveFingers (which, in my opinion is a positive design feature). The single pocket/slot for your smaller two toes does not cause undue squishing or rubbing between the two toes. Although, I did use a pair of Fila's toes socks in conjunction while running in these shoes, which I am sure helped with this potential issue.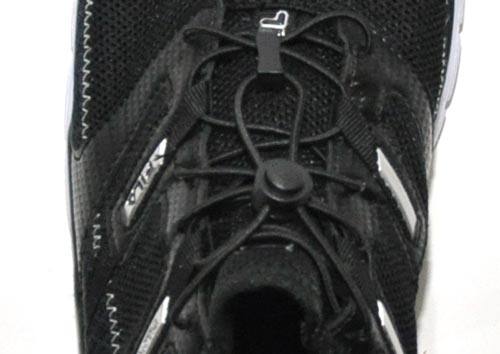 As with many of the new running or workout shoes, the days of tying your laces is over. To get a nice snug fit, all you have to do is pull the bungee cord-like lacing, secure the tie holder, and you are ready to go. Personally, the Skele-lites fit my feet very well….extremely comfortable.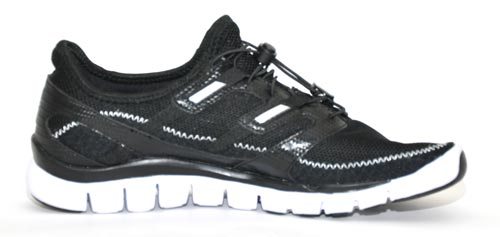 The Skele-lites are nicely made, on par with other under $100 running shoes I have tried. There is little doubt in my mind that they will last the 300-500 miles the average running shoe does before they begin to breakdown.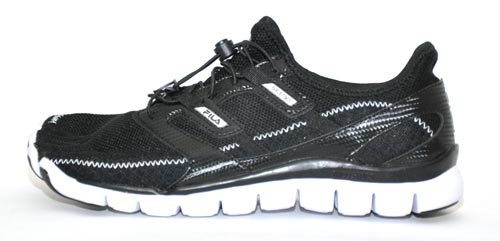 The lightweight padded base is similar to Nike's Barefoot running shoes. The upper portion of the shoe is made of a form fitting nylon mesh that fits like a glove.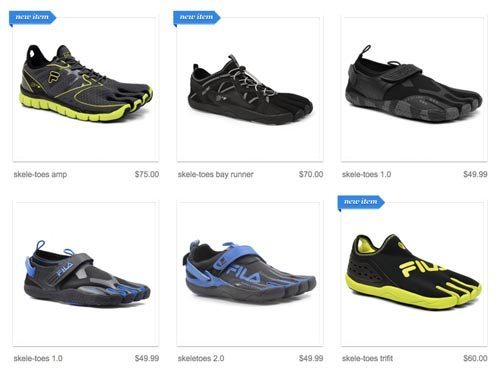 The Skele series has a multitude of variation in the collection. The Voltage and Amp are the most substantial of the lot while the others have less sole and are designed much more like the FiveFingers running shoes.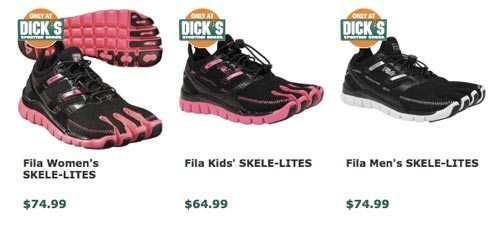 The Skele-lites are available exclusively through Dick's Sporting Goods' website and brick and mortar stores.
Overall, I truly enjoy running in Fila's Skele-lite running shoes. They are comfortable, form-fitted, lightweight, and easy to run in. Being priced in the $75 range, they are a competitive bang for the buck in this category of shoes. Running shoes being such a personal thing, until you try them on, you won't truly know if they are for you. But if non-(padded)soled, minimalistic running shoes wear on your feet and toes, the Skele-lites might be a worthy alternative/option. The next time you are in need of a new pair of running/workout shoes and want a minimalistic shoe with a bit of padding in the sole, I suggest trying the Skele-lites on for size.
Support The Gadgeteer
:
The Gadgeteer is supported by readers like you! If you buy something through the links on our site, we may earn a small affiliate commission. Thank you! Learn more.
Product Information
Price:
$75
Manufacturer:
Fila
Retailer:
Finish Line
Pros:

- Good material/construction
- Nicely form fitted
- Lightweight, minimalistic design
- Toed
- Well engineered sole tech

Cons:

- Padded base could allow for heal striking