We use affiliate links. If you buy something through the links on this page, we may earn a commission at no cost to you. Learn more.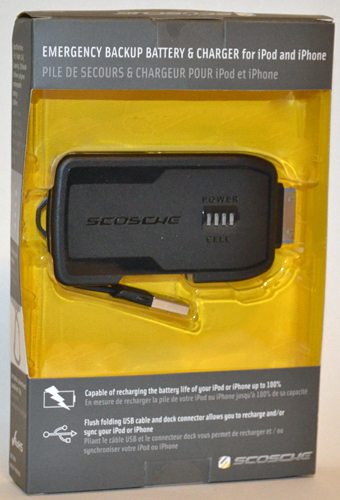 Lots of people rely on cellphones now, and many, like my family and me, have only cellphones.  Your phone is useless without a charge, and luckily, there are a variety of backup batteries available to keep them charged up.  If you don't want to add a case with a backup battery, then you're probably stuck carrying a big brick of a charger in your bags.  If you want to keep your iPhone (or iPod) charged up without an extra burden to carry, the flipCHARGE rogue Emergency Backup Battery & Charger for iPod and iPhone from Scosche lets you keep a full recharge on your keyring.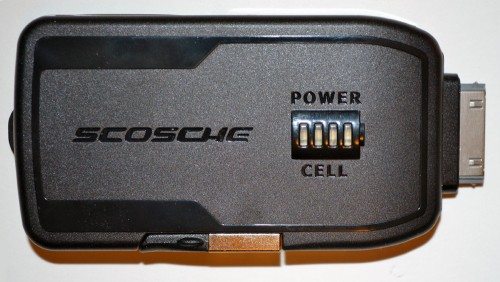 The Scosche flipCHARGE rogue is made of black plastic.  There are four (extremely) bright blue LEDs on the front that show charging progress while the internal battery is being charged or remaining charge while the rogue is being used to charge your iPhone or iPod.  It measures almost 3.5″ long  X 1.75″ wide X 0.5″ thick when closed; it's about 3.8″ with the 30-pin connector open (as seen in the above photo).  It weighs 2.4 ounces with the carabiner attached.
Specifications
Output: 5v~1000mA
Battery type: Lithium polymer; 1800mAh
Battery charge time: ~4 Hours
Offers up to 100% charge on dead iPod
Offers up to 100% charge on dead iPhone
Flip-up 30-pin connector
Integrated USB charge and sync cable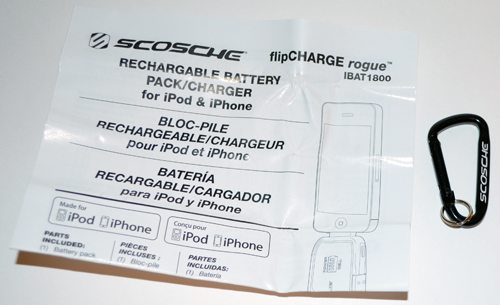 You receive only a user's guide booklet and a Scosche-branded carabiner with the rogue.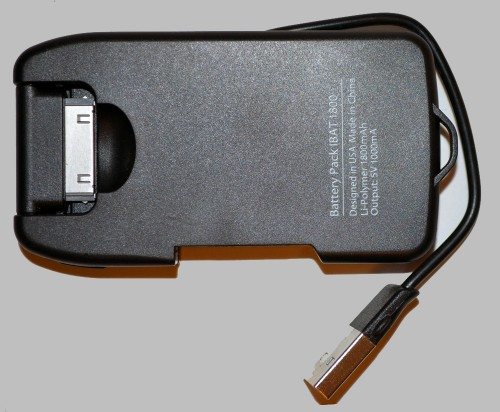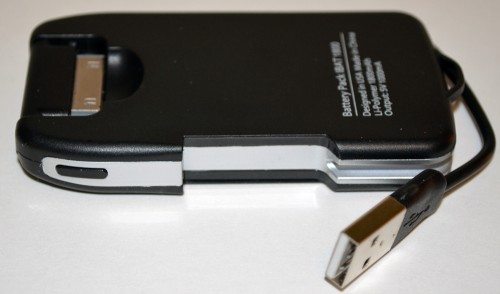 Here we see the 30-pin connector stowed away and the integrated USB charging cable opened.  The USB connector fits in a notch in the side of the rogue; it's held in place by a magnet.  There's a groove in the sides of the rogue where the USB cable fits when the USB plug is stowed away.
In in lower picture, you see an oblong black button on the side of the rogue.  Pressing this button causes the blue LEDs on the face of the rogue to light up to show the current battery charge level.
You can also see a plastic loop on the end opposite the 30-pin connector.  You attach the carabiner to this loop using the split-ring that comes on the carabiner.
I charged the rogue using a USB port on my computer, and it did take about 4 hours.  The lights blinked to show charging status and all went on steady when charging was complete.
If you connect the iPhone or iPod to the flipCHARGE rogue while it's connected to the computer, you can sync your Apple device while both the rogue and iPhone/iPod charge.

I tend to keep my iPhone charged, but the battery was down to 85% when I connected it to the rogue.  My battery was topped off to a full charge pretty quickly, and the rogue still showed 3 lights.  My daughter's iPhone tends to go longer between charges, and hers was down to 35% when I connected it to the rogue after charging mine.  Charging her iPhone took longer, and it had only a 90% charge when the rogue was drained.  Technical specifications for the rogue promise "up to 100% charge on dead iPhone."  I didn't get the equivalent of 100% charge between the two phones, but it was enough to give me enough extra power to get me to my AC charger.
I recharged the rogue and let my iPhone discharge down to about 30%.  This time when I charged it with the rogue, I was able to charge the iPhone to 100% (very quickly, I might add) and the rogue still had 2 lights showing when I checked the battery status.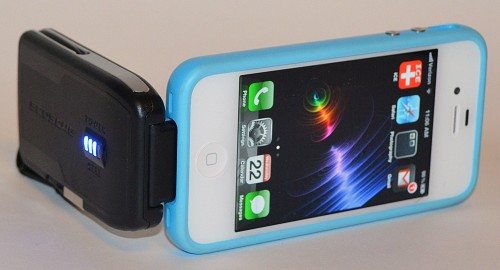 The 30-pin connector has a hinge that allows it to fold away when not in use.  You can also fold the hinge back and use the rogue as a horizontal stand as your Apple device is charging.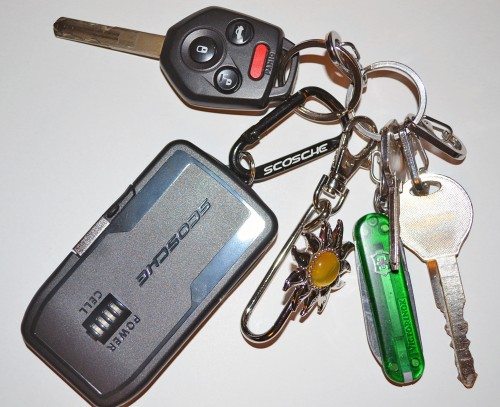 And as mentioned earlier, the Scosche flipCHARGE rogue fits on your keyring.
The Scosche flipCHARGE rogue is a nice addition to your daily-carry gear.  It's compact and light enough that you can carry it on your keyring or throw it in your bag without even noticing it's there.  When you need a boost of power for your iPhone or iPod, the rogue can give you enough juice to help you make it through the day.

Product Information
Price:
$59.99
Manufacturer:
Scosche
Requirements:

Works with Pod touch (3rd and 4th generation), iPod nano (5th and 6th generation), iPhone 4 and iPhone 3GS.

Pros:

Small and light enough to carry on your keychain
Can charge/sync your Apple device as you charge the rogue

Cons:

I didn't get the equivalent of a 100% charge the first time I tried it, but perhaps that was because of my testing method