We use affiliate links. If you buy something through the links on this page, we may earn a commission at no cost to you. Learn more.


We have been promised a paperless office for years now. Perhaps it will never happen. With the iPad, I have found that many of the documents I used to print out I now carry on my device or store online in a service such as Evernote or Dropbox. But, on occasion, I'll want to print something from my iPhone or iPad, and there's no AirPrint printer available, or I really just want to send a screen shot to my Mac. How do I do it? Printopia, a Mac application from ecamm, to the rescue!
The software installs as a Preference Pane, which, for those who don't know, is similar to a Control Panel in Windows. You open System Preferences, and there it is. When you click on it to activate it, you have a few interesting settings: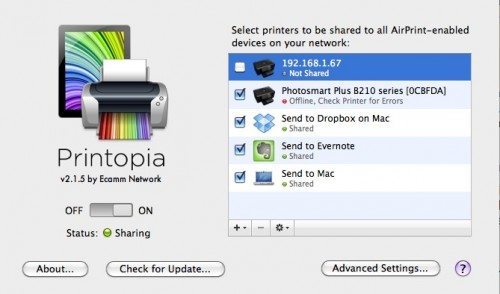 All of the printers on your Mac will show up, in addition to Dropbox, Evernote, and an option to send documents to your Mac. Any items can be activated or enabled by a simple check box. Once this is done, any iOS device on the same WiFi network as your Mac gets the chosen options in the Print… dialog box in any app that accesses the built-in AirPrint printing routines.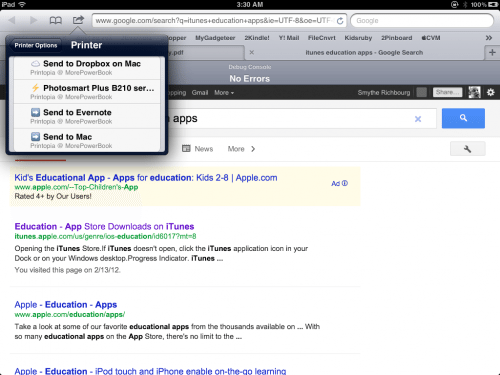 If you've despaired over having to add the cost of a new AirPrint-capable printer to your network with the purchase of an iOS device, this little gem is a $20 wonder. I cannot get across to you in this review how cleanly and easily everything transfers. Printing to the Mac from any app will send the image in the most logical format: a web page is printed as a multipage PDF, and just pops open on your Mac in your default PDF reader. A photo comes across as a JPG (if it was from the camera) or a png (if it was a screen shot). It'll open in the default apps for those document types. All documents are put into a Printopia folder that is created on first transfer in your document folder.
Not only is simple printing enabled, but you can also create workflows within the PrefPane to have PDFs sent to other apps on your Mac for annotation, storage, or other processing. The "+" button on the settings pane reveals many options: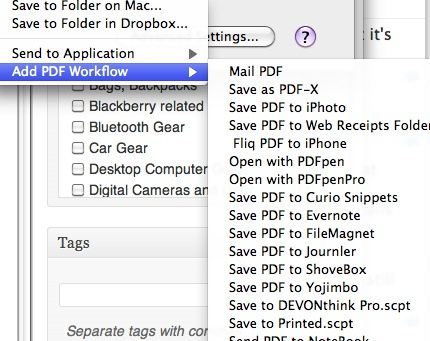 The first three options are obvious, but the PDF workflow one is amazing. Every app on your Mac that can process a PDF is enabled to receive a PDF from any iOS device. Using Fliq, for example, I can send the document from any iPad to my iPhone via my Mac without having to open/transfer it. I just have to say "yes, that's OK."
There are other equally impressive apps available from ecamm, but this one, if you're a Mac and iOS user, is by far the most useful! Five stars.
Product Information
Price:
$20
Manufacturer:
ecamm
Requirements:

Mac, wifi network, iOS device running AirPrint OS version.

Pros:

Seamless. Unbelievably clean process.
Fast.
Easy install and setup.

Cons:

Mac only.
Doesn't read your mind.