We use affiliate links. If you buy something through the links on this page, we may earn a commission at no cost to you. Learn more.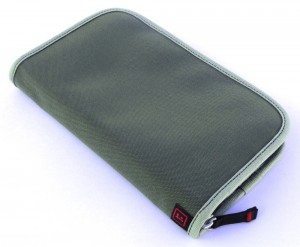 The topic of journaling has come up now and again here at The Gadgeteer, and has been popular of late.  I've been journaling daily for over a year now, and my media of choice is old school: a classic Moleskine notebook and pen.  I typically just toss my Moleskine into my messenger bag so that it is nearby to capture my daily activities, prayers and scribbled musings.  I'd been thinking about trying a case or cover for my Moleskine when I was serendipitously presented the opportunity to evaluate a Moleskine Folio from Rickshaw Bags.  Onward!
Background
Rickshaw Bagworks, also known as Rickshaw Bags, also known as simply Rickshaw, is a small, urban San Fran-based company that is best known for producing bike messenger-style bags and backpacks, many of them custom made-to-order in their shop.  Though they may not yet have the name recognition of some of the bigger boys, their product offering has grown steadily over the past several years.
Versions
When placing an order for a Moleskine Folio from Rickshaw, there are several options from which you can select.  First, you can select which version best suits your needs between the Classic Moleskine Folio and the Smartphone Moleskine Folio.  The only difference between the two is that the Smartphone version swaps a few writing implement pockets for a larger one that fits a smartphone.
Materials
After selecting between versions, you can select your choice of materials from among the following:
Classic Cordura® – Cordura nylon exterior/Cordura nylon binding
Performance Tweed™ – Performance tweed exterior/Cordura nylon binding
Waterproof Sailcloth – X-Pac™ sailcloth exterior/Cordura nylon binding
Colors
After selecting the version and materials, you can select from several stock color combinations for each material.  Alternatively, you can also choose to customize your own Folio by selecting from a growing list of materials and colors, and your personal Folio will be hand-assembled to order in Rickshaw's San Francisco shop.
Dimensions
The empty Moleskine Folio measures 9.75 inches high by 6 inches wide by 1.25 inches deep.
The Outside
I received a Classic Moleskine Folio clad in olive drab Classic Cordura nylon with light green Classic Cordura nylon binding.  I like this particular color combo because it has sort of a military look. The Cordura material feels tough and durable, like it could take a lot of abuse.  In fact, in the few months that I used the Folio before writing this review, I handled and used it several times a day and it showed absolutely no wear at all.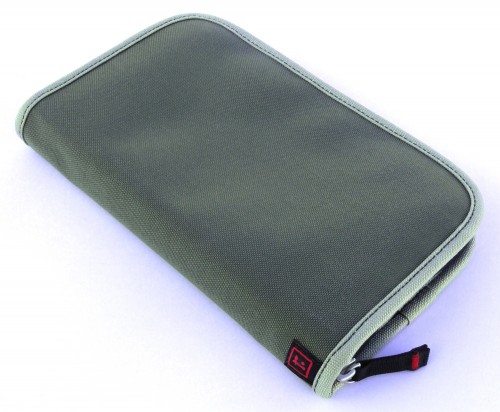 The Classic Moleskine Folio fits nicely in the hand, not too large for the amount of cargo you can stuff into into it.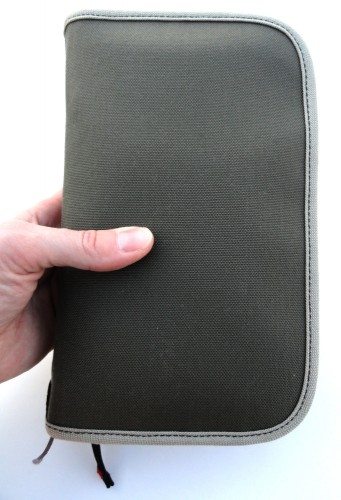 Never miss one of our posts again. Sent MON, WED, and FRI with the latest gadget reviews and news!
The Folio includes custom zipper pulls in a black with red trim color scheme which matches the Rickshaw logo.  Here, you'll notice that the Moleskine notebook's bookmark has gotten caught in the Folio's zipper.  Unfortunately, this seems to happen regularly, unless you consciously make the effort to tuck the bookmark inside before you zip the Folio.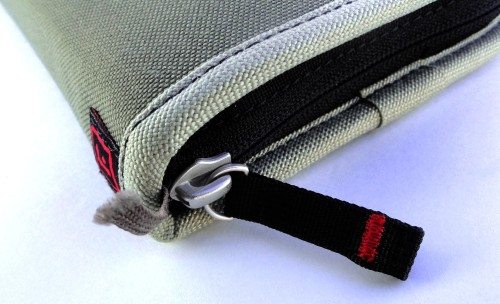 The Rickshaw logo sewn into the bottom of the spine, a lowercase "r" with a dot, is in black and red color scheme and matches the zipper pull.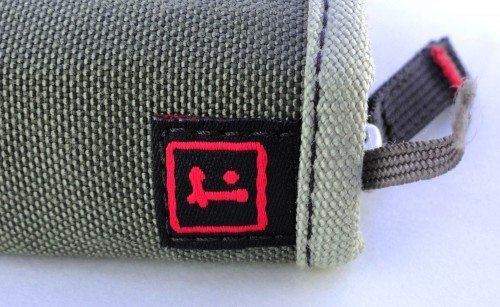 The Inside
The inside of the Folio is plain black.  The basic layout is an organizer panel for ID or business card, pens, and so forth and also a large zipper pocket.  If you order the Smartphone Folio rather than the Classic Moleskine Folio as shown here, the three rightmost pen pockets would be replaced with a single, larger pocket that includes a small Velcro flap.  In the center of the Folio is a padded neoprene flap used to protect the cover of your Moleskine notebook.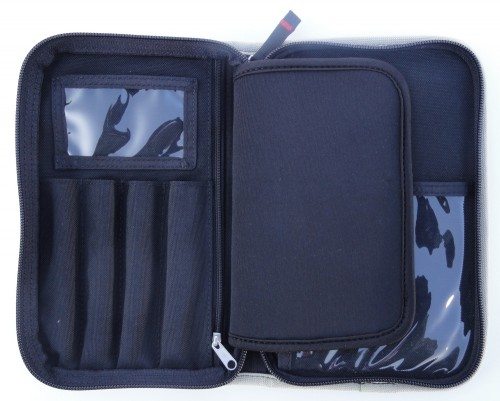 On the right is the pocket for the back cover of the Moleskine, as well as a larger transparent pocket.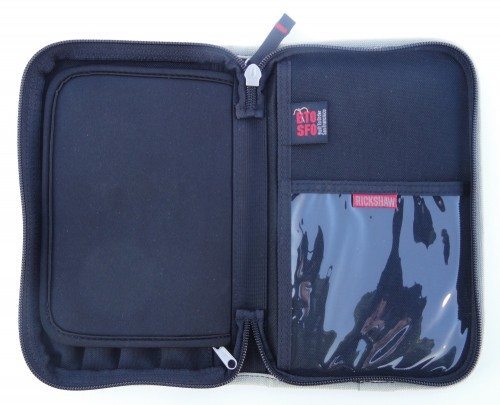 Closeup of the "BTO SFO" (Built to Order in San Francisco) tag and another Rickshaw tag, both sewn into the interior of the Folio.  The little tags and logos are a nice touch; there are enough of them to get the point of the branding across without being obtrusive.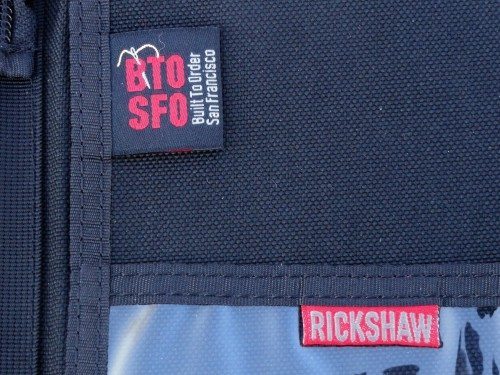 After snapping the pics above, I immediately loaded the Folio up with my large Moleskine notebook and some other stuff.  Taking a look at the organizer panel on the left side, at top I've placed in the upper transparent pocket an iTunes gift card.  Below that I've placed a small ruler, highlighter, two pens, and a click eraser.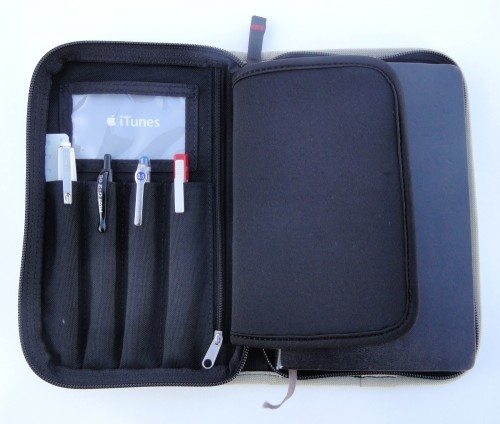 The large zipper pocket on the left runs the full length and width of the front of the Folio.  It's big enough for all kinds of stuff, like a passport, maps, other IDs or cards, or even a Kokopelli sticker.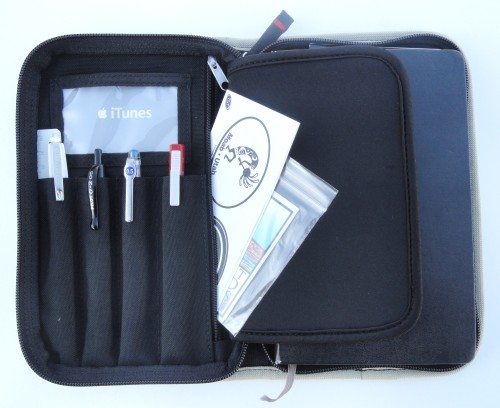 The rear cover of the large Moleskine notebook slides into the large pocket on the right side of the Folio's interior.  It is a snug fit, but once you get it in, it fits very securely.  Of course, this prevents you from fully utilizing the Moleskine notebook's rear cover "bellows" pocket, but you can still place some things into this pocket in the Folio.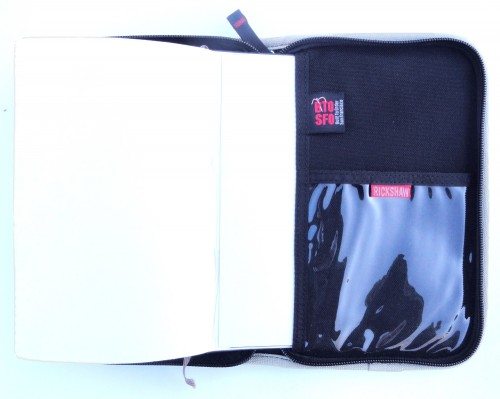 The large Moleskine notebook fits a bit snug in the Folio; occasionally I had to do a bit of extra work to get the Folio to zip around the Moleskine's corners.  Note that the Folio has been specifically designed for the large Moleskine notebook.  There are other types of notebooks that are similar in size to the large Moleskine (Field Notes, Rhodia, and others), but I can't say whether these would fit in the Folio.  They may fit fine, they may not.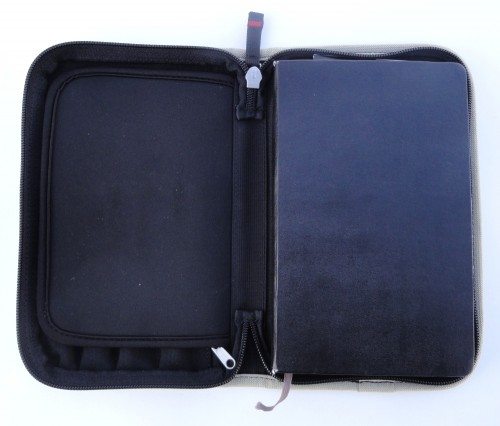 Here, I've stuffed a pamphlet and a few postcards into the large transparent pocket on the right side of the interior.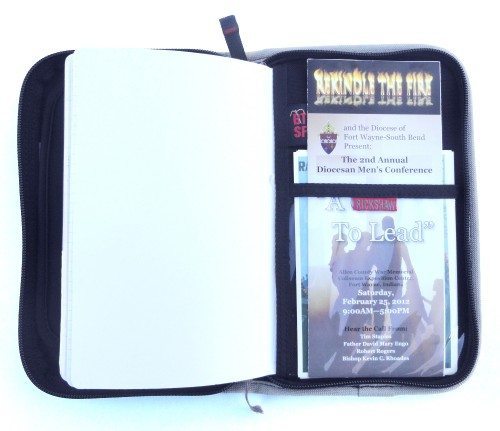 Below is a shot of the Folio and everything I stuffed into it.  There's room for more than this, but adding too much more made the Folio difficult to fully zip closed.
Conclusion
The Moleskine Classic Folio is well designed and constructed solidly from durable materials.  A Large Moleskine notebook fits snugly into it, and it includes several organizational features to hold other items.  It's a bit pricey, but for you journalers, note-takers, travelers and the like, this would be a great item to haul around your Moleskine notebook and a few essentials and not worry about whether the contents are protected.  As a daily journaler myself, it was great to be able to toss the Folio, loaded with just the stuff I need, into my bag and have everything I need to journal away.  We're planning to take an extended vacation out west this summer, and I plan to fully utilize the Folio for daily travel journaling.
Update 03/26/2015
I still use this Folio for my Moleskin. It gives it some nice protection and spots to some accessories.
Source: The sample for this review was provided by Rickshaw Bagworks. Please visit their site for more info.
Product Information
Price:
$50.00
Manufacturer:
Rickshaw Bagworks
Pros:

+ Durable: high-quality materials and construction
+ A decent number of organizational features
+ Can customize material and color combinations

Cons:

- Fully loaded, its a bit tight to zip closed
- A bit pricey, but the construction is high quality
- Moleskine's bookmark gets caught in Folio's zipper