We use affiliate links. If you buy something through the links on this page, we may earn a commission at no cost to you. Learn more.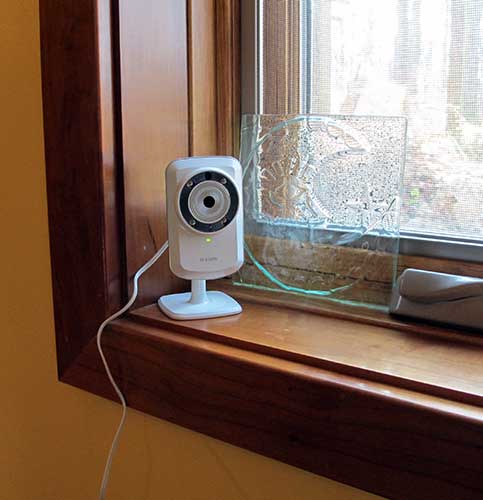 I'm not ashamed to admit that I'm a home body. I'd rather be home than anywhere else in the world. Sometimes I think that I would be perfectly happy as a hermit. Of course I'm not a hermit and I don't keep myself barricaded in my house 24/7. I go to work every day, go on vacations, etc. For those times when I'm away from home, I like to be able to check up on things remotely. I want to know if my cat Max is up in the windowsill when he's not supposed to be. Or if the Fedex guy dropped off a package. Wireless network cameras like the D-Link Wireless N Day/Night Home Network Camera (DCS-932L) let me do that with a computer or a smartphone.
Note: Click the images in this review to see a larger view.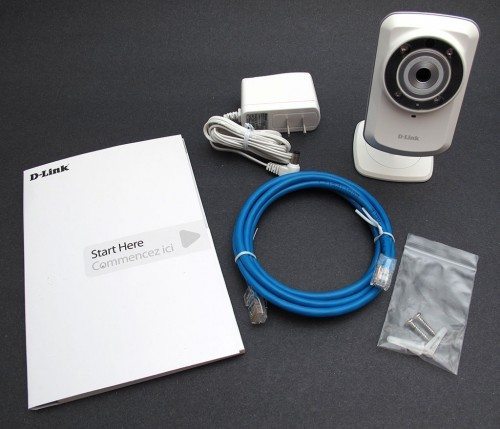 Package Contents
D-Link DCS-932L camera
Ethernet cable
Mounting screws
AC Adapter
Installation Guide
CD-ROM with D-View Cam Software (Windows)
Hardware Specifications
Built-in Network Interface – 10/100Base-TX Fast Ethernet, 802.11b/g/n WLAN
Wireless Connectivity – 802.11b/g/n Wireless with WEP/WPA/WPA2 security
Video Codecs – MJPEG, JPEG for Still Images
Resolution – 640 x 480 at up to 20 fps, 320 x 240 at up to 30 fps, 160 x 120 at up to 30 fps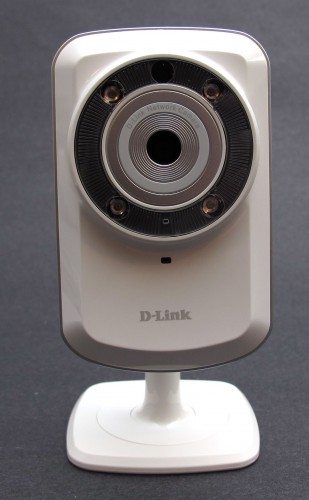 This D-Link camera is very similar to the Dropcam Echo wireless camera that I've been using for over a year now. The main hardware difference is that the D-Link camera has night vision.
The camera itself is made of white plastic. There's a small LED below the lens that lights up Green when you're connected to the network and Red when you're not.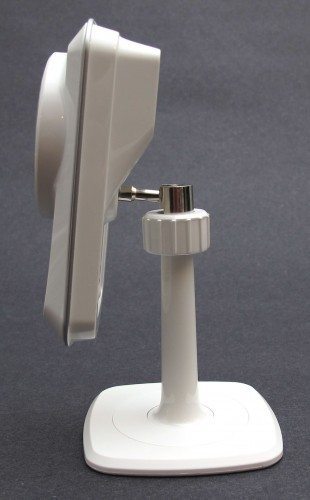 The camera is connected to a base that can be mounted on a wall or any other flat surface. It's not necessary to attach the base to anything though as it is heavy enough to stand on a table or shelf.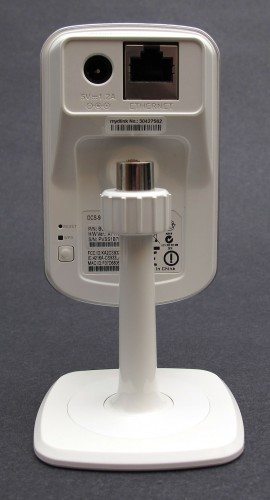 On the back of the camera is the power connector, Ethernet jack, reset switch and a WPS button. WPS stands for Wi-Fi Protected Setup. Some routers have this feature to allow you to easily setup the D-Link for wireless viewing. Sadly, my older Linksys doesn't have this feature, so I had to go through a little more work in order to get the camera to work wirelessly.
The camera comes with a CD for Windows users, but I had to download the setup app for my Mac from D-Link's site. The setup wizard allowed me to easily get the camera up and running as long as it was connected to my router with an Ethernet cable. I had to go into the advanced options to set it up for wireless use. This wasn't difficult, but the instructions do not mention how to do it or where to look for the settings.
One thing to note is that once the camera has been setup, you don't have to have any computers on to use it. As long as your router is powered on, you'll be able to access the camera from the web or your smartphone.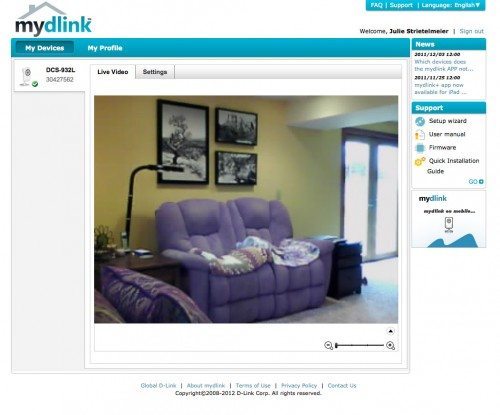 As part of the setup procedure, you create a free mydlink account. With this account you'll be able to remotely view your camera and change the settings. I found the mydlink web interface to be a little slow to load. It installs a Java applet every time you login, which can take a few seconds.
From this web interface you can watch live video, digitally zoom in and listen to audio through the microphone built in to the camera. Video quality isn't bad, but it's a little fuzzy and the audio quality tends to have a lot of static / white noise. You can hear things, but the static in the the background gets annoying quickly, so I almost always turn it off.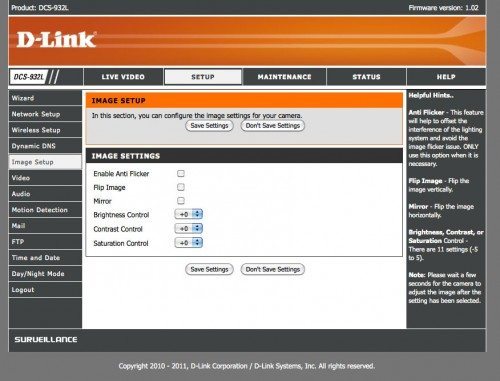 Advanced settings allow you to adjust various options for image quality.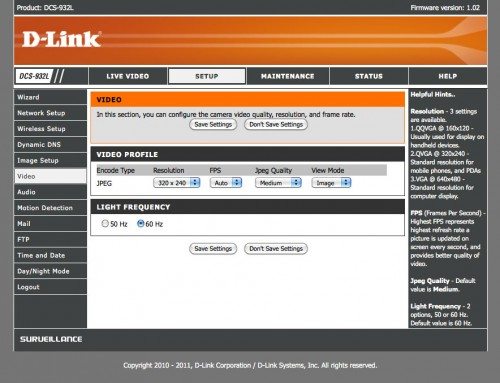 By default, the video size is set to 320×240 medium quality. I adjusted it to be very high quality which improves the slightly fuzzy image quality.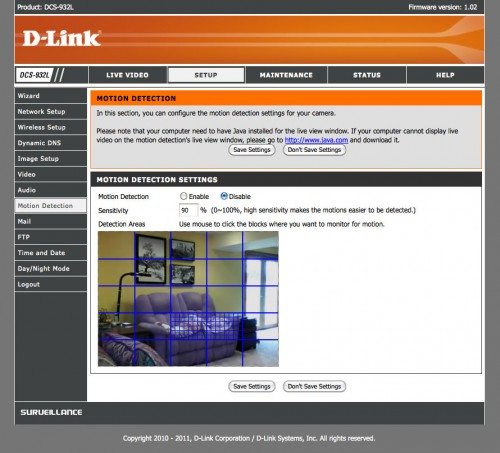 Motion detection settings give you the ability to mark areas of the image to watch for changes. By clicking squares on the grid, the software will keep an eye on those specific spots and will notify you via email when motion is detected. You can set it up to send you one image or have it send 3 images before the motion was detected and 3 images afterwards.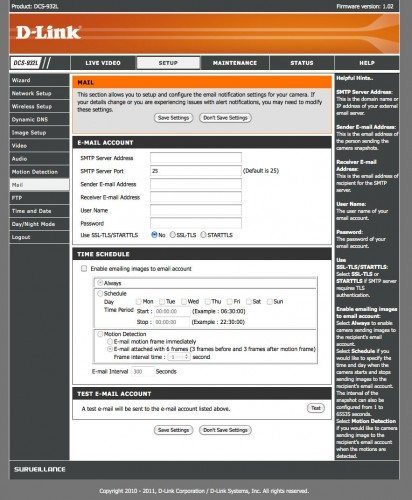 You can also specify the day and time period that the software can send email notifications.
The great thing about the D-Link camera is that you don't have to pay a monthly fee for the email notification feature.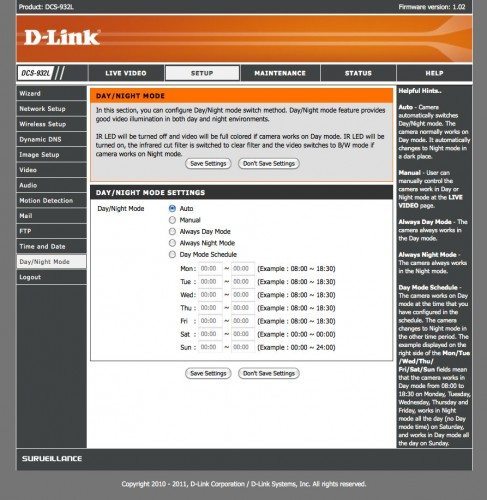 By default, the camera will automatically switch back and forth between day and night vision depending on the level of light. But if you would like to manually schedule when the camera will switch between the modes, you have that ability.
In addition to viewing a live feed from your camera on any web enabled computer, you can also view the feed with your Android or iOS device.
Here we see the free mydlink lite iOS iPhone app. It has a simple interface that loads quickly (much faster than the web browser viewer). There's also a 99 cent mydlink+ version for the iPad that is full screen.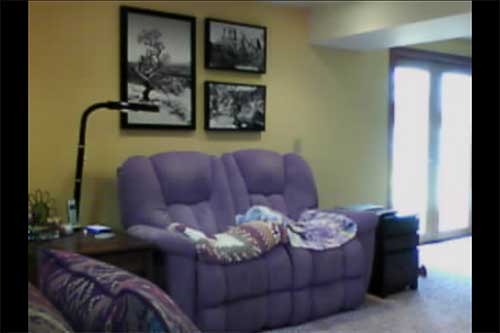 Turning the phone to landscape orientation provides a larger view. As you can see, the image isn't exactly crystal clear. It is noticeably fuzzy. It's not as bad as some network cameras I've tested, but isn't as good as the Dropcam.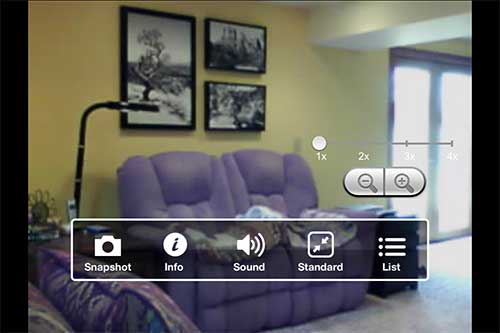 Tapping on the display will bring up a few options such as the ability to take a snapshot, toggle sound, and zoom. Like with the web viewer, audio through the smartphone app has static.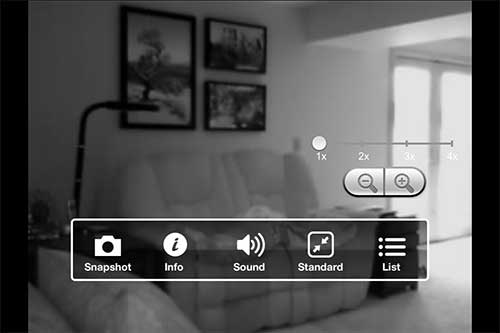 This is what the picture looks like when the camera is in night vision mode.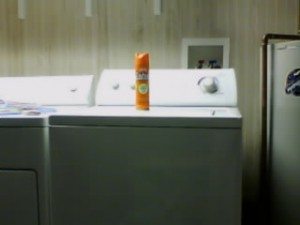 Here's an example of what the camera shows in a normally lit room. This happens to be my utility room, which has florescent lights in the ceiling. I had one set of lights turned on when I captured this image with the iOS version of the mydlink app.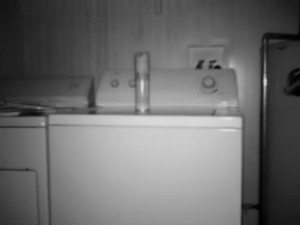 This is what the camera shows when all the lights are off and the door is closed. The room is in almost complete darkness. The image turns black and white, giving it a Ghost Hunters vibe. The D-Link uses infrared (IR) illumination for night vision up to 5 meters (16.4 feet).
You can also record video via the D-ViewCam interface if you have a Windows PC. At this time, there isn't a Mac version of the D-ViewCam software. I tried to test D-ViewCam on the only Windows machine I have (an HP Mini netbook), but didn't have much luck because it requires 1024 x 768 resolution which the Mini can't quite do.
That's one feature that the D-Link lacks, a DVR feature built in to the mydlink web portal. Dropcam has this, but they charge you a monthly fee for it.
I wish the picture was sharper, but all in all, the D-Link Wireless N Day/Night Home Network Camera (DCS-932L) is a good choice for an easy to use wireless networked camera. It's not too expensive and offers decent control over motion detection and email notifications without having to pay a monthly fee.
Product Information
Price:
$149.99
Manufacturer:
D-Link
Pros:

Night vision
Advanced motion detection settings
Free email alerts when motion is detected
Email and night mode scheduling features
Does not require connection to a computer

Cons:

Image is slightly fuzzy
Audio has static
Not obvious how to setup for wireless connection
mydlink web interface installs a Java app every time you access it