We use affiliate links. If you buy something through the links on this page, we may earn a commission at no cost to you. Learn more.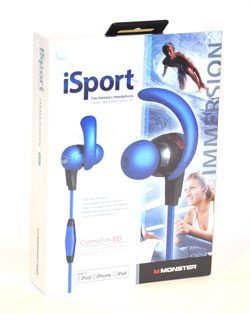 I enjoy listening to motivational music while working out. But due to the intensity of my fitness routine at the gym or while pounding pavement, I am very tough/rough on my earbuds. I have trashed many a pair over the decades. Not through abuse or neglect, but by sweating in and on them too much.  (I know, TMI). Monster has developed a pair of relatively high-end earbuds specifically engineered to withstand this abuse; the iSport Immersion In-Ear Headphones with ControlTalk. They are so extreme (and waterproof), they advertise you can even put them through the washing machine (as most of you know, typically the sure kiss of death). So, I was excited to give them a good thorough run for their money :).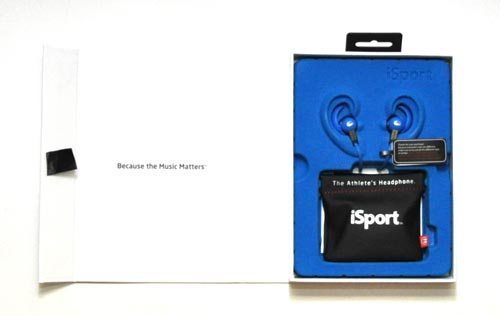 The Monster iSports come very well packaged….and I agree with Monster's statement of 'Because the Music Matters'.  I am spoiled in which earbuds I use to listen to my music when it comes to non-workout moments.  I have at my disposal more than a few high end, custom-fitted monitors giving me a great, comfortable listening experience. However I won't use any of my monitors to workout with as I do not want to destroy these pricey items with my sweat. My point is, it would be nice to have great sounding earbuds to exercise with….ones tough enough to survive the perils of working out. The Monster iSports are supposed to be THE ones.
Box Contents: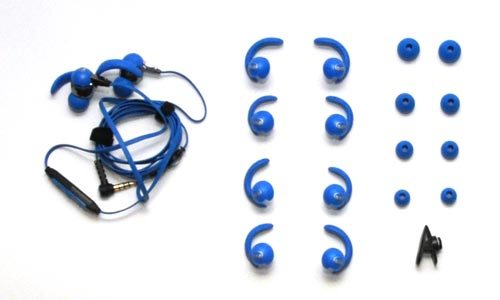 iSport Immersion headphones
4 pairs of multiple-sized SportClips and Eartips
Protective spring-clasp pouch

Monster includes four sets of SportsClips and eartips to allow you to achieve the perfect fit for your ear shape and size. Due to the 90 degree turn my ear canal makes, this shape/style of earbud rarely works for me. So, I was surprised how well and how comfortably I was able to get the iSport to fit in my ears. Once in my ear, they stay seated very well even on a long run in the dumping rain. I grant you, occasionally they get bumped and need to be reset into my ear canal, but rarely.
Features:
Advanced In-Ear Speaker Design
Delivers true Monster-quality sound while the patented SportClip provides a no-fail fit worthy of your toughest workout.
Proprietary Waterproof Sealed Housing
Beach. Mountains. Take your iSport headphones anywhere—including the laundry room. It's 100% machine washable!
MicroStrand Conductors
Listen to your tunes reproduced in dramatic detail. With iSport, you'll go the distance without ever missing a beat.
Magnetic Flux Tube™ Technology
The same technology found in Monster's best speaker cables are now in the ultimate sports headphone. 
24K Gold-Plated Contacts
Attractive—and anti-corrosive for maximum audio signal. From now on, your favorite tracks will sound as good as gold. 
Patented In-Ear Clip Design
Provides a secure, customized fit for even the most rigorous workouts.
Convenient Right Angle Jack
Move freely with your tangle-resistant cord and jack safely out of the way.
Pro Sound Isolating Eartips
Multiple sizes and shapes for the perfect fit—blocking out sweat and noise so you can always focus on winning.
ControlTalk™ On-Cable Mic
Take the call without stopping—iSport comes with convenient, hands-free calling for your iPhone or smartphone.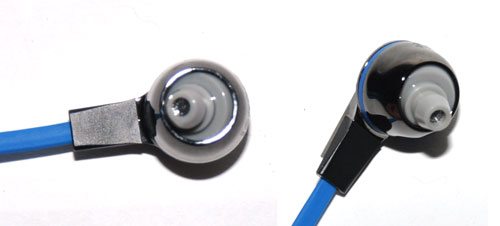 As you can see, a majority of the iSports is constructed of a hard, durable plastic and rightly so, they are meant to get wet. The OmniTip swivel nozzle pivots for extra adjustment. They are the directional speakers that the eartips slide onto; thus allowing the speakers to be angled independently in relationship to the earbud themselves for better seating in the ear and more comfort.
The left earbud has a blue ring around it. The right earbud has a red ring around it — making differentiating between the two quick and easy.

The iDevice enabled remote control and microphone is also suppose to be hardened to withstand exercise ickiness. This is a key failure point on the earbuds I have destroyed so far. The waterproof ControlTalk button/mic is located six inches below the left earbud, easy to find by feel while focusing on your workout. It worked perfectly with all the iDevices I used it with.

You can see for yourself, Monster puts it right there in writing…..Waterproof.  However, Monster is vague on just how waterproof the iSports truly are. The iSport's instruction manual has the following language: "iSport headphones are designed and engineered for use with water sports, but not at depth: – good for swimming / – surfing, jet skiing; not intended for deep sea diving." They also state that if the iSports are "…..used underwater at too great a depth for too long a time," the one-year warranty will be voided. This language is way too vague for me. If folks do have issues, I hope Monster steps up. Considering their cost and design intent, it seems like Monster could include a longer, more holistic warranty.

The blue cable connecting all the components of the iSports is thin and flat, well constructed, and tangle-resistant. Monster has implemented the following technology into the iSports wiring: MicroStrand conductors, magnetic flux tube technology, and 24K gold-plated contacts.  These are all included to give you a better listening/music experience. It's supposed to be tangle-resistant; it still tangles, just not terribly so.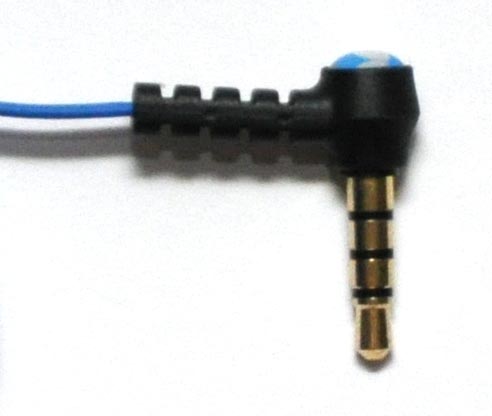 The low-profile plug is well engineered/made. I prefer the L-shaped plug because it makes for a smaller profile, form-factor and is less likely, if bumped, to damage the internal plug-port mechanics.
Fit and Comfort: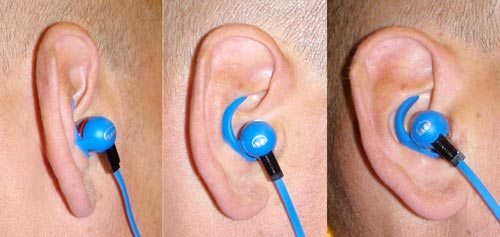 As I said, the iSports fit me surprisingly well. The SportClips do a stellar job of holding the iSports in my ears while running, lifting weights, getting to-do items off my list, etc. The iSports' design does well at pressing themselves up against my ear canal, keeping them well seated/sealed. The Monster iSports are available in the blue color you see here and black.
Sound Quality:
While the sound quality of the iSports do not match that of the monitors I use.  They do sound much better than the stock earbuds that come with iPods (not like that is too difficult). They are also better than the Sennheiser/Adidas MX 680i Sports Earbuds I reviewed this past summer. The key to getting the best sound quality is proper setting in your ear. If they are not, you lose most of your mid and bass. When they are properly set in your ears, they are well balanced: crisp and clear highs, detailed mids, and a nice full bass that is not too extreme.
I have made several calls with the iSports and I have been able to clearly hear those I am talking with and vice versa.
Getting Down & Dirty:
Along with getting sweaty and icky each workout, I have run with the iSports earbuds several times in the dumping rain (something you cannot avoid if you are a runner in Western Washington). They definitely got wet and continued to work just fine.  I have not washed my iSports to see if they live up to Monster's claim of their rugged ability to survive immersion in water. I like them too much. Although, there may come a time, by accident or needing to be cleaned, when it may become a necessity. Thankfully, they should survive.
Bottom Line:
I have used the Monster iSport Immersion In-Ear Headphones a dozen times over the past month or so. They are definitely the best sounding and most durable sports/workout earbuds I have every used. Monster calls them 'The Athelete's Headphones' and I have to agree. That said, this great sound and rugged survivability comes at a (relatively) premium cost. The iSports' MSRP is $180 but can be found on the Net for $150. I consider this price point to be in the moderately priced (middle-end) earbuds these days, akin to the Etymotic hf-5s. Considering the iSports sound quality and added toughness, worth the price for a set of headphones that can stand the pounding (& ickiness) of hard-core working out.
Product Information
Price:
$179.95
Manufacturer:
Monster Cable
Pros:

- Well built/constructed
- Very durable
- Waterproof
- Customizable and comfortable
- Blue/Red rings to differentiate right & left earbuds
- ControlTalk button, remote control w/mic
- Great carrying pouch

Cons:

- Expensive
- Could include a longer, more black & white warranty