We use affiliate links. If you buy something through the links on this page, we may earn a commission at no cost to you. Learn more.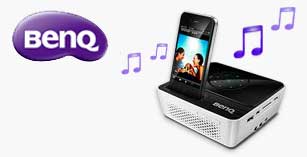 Help The Gadgeteer win BenQ's Joybee GP2 Mini Projector contest and you might become a winner of a $150 Amazon gift card and $500 cash! We're always holding contests for you guys, so this time we're turning the tables and I'm asking you to help me win a contest. BenQ is trying to promote their new Joybee GP2 Mini Projector by asking influential technology blogs like The Gadgeteer to post videos demonstrating or otherwise talking about the Joybee. More details on two ways that YOU can win after the jump.
BenQ has hand-selected technology and lifestyle influencers to compete for YOUR votes with videos. Every week, starting Dec. 5, 2011 – Jan 8, 2012, these top influencers and bloggers will post videos showcasing BenQ's newest, innovative, and portable video projector; the Joybee GP2. These videos will be designed to show off the great features and fun, creative ways you can use the Joybee GP2 Mini Projector. The competitor with the most weekly votes wins a prize of a $150 Amazon gift card. The competitor with the most votes on their video at the end of this 5-week contest can win one of three Grand Prizes – each $1500 cash!
To learn more about the Joybee GP2, visit: http://promotions.benq.us/microsite/miniprojector/.
HELP THE GADGETEER WIN AND YOU CAN WIN TOO! There are two ways that you can win. Here's how YOU can win a $150 Amazon gift card. Just follow these steps:
Suggest an idea for a video concept on the BenQ Facebook/BenQUSA wall.
Be the first to make a suggestion and provide your e-mail address to BenQ using the form on the "Video Ideas" tab on the left of the BenQ page.
If I use your idea and win one of the weekly prizes with that video, YOU will win a $150 Amazon gift card too!
Make sure you let me know you left an idea for me on the Facebook/BenQUSA wall so I'll see it and consider using it!
You can vote once a day, so make sure you come back daily to vote on your favorite videos, and submit ideas to the BenQ wall to win a $150 Amazon gift card!
Another way that you can win is that if The Gadgeteer wins one of three grand prizes at the end of the contest. Those prizes are for the most votes, most Original video and a Judge's Choice. If I'm one of those winners, I'll receive $1500 in cash and I'll split that prize equally ($500 each) with 3 of you by holding a random draw.
I'll make a follow-up post once I've submitted my first video. Hope you all consider voting for it when I do! 🙂