We use affiliate links. If you buy something through the links on this page, we may earn a commission at no cost to you. Learn more.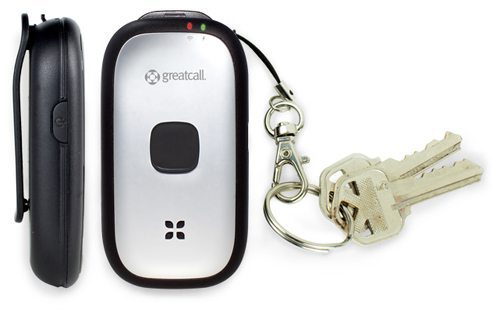 This personal safety device from GreatCall gives you immediate access to trained personnel who can summon emergency services and notify your family.  The 5Star Urgent Response device fits on your keychain or can be clipped to a bag or backpack.  A single button push will connect you with highly-trained certified response agents who have access to your personal profile with information about your health and your emergency contacts, so they'll be able to immediately summon the correct assistance.  The responders utilize GPS technology, stored frequent locations, and advanced location training to locate users when they press the 5Star button.  You can also use the 5Star to connect directly with 911 in your area.  The 5Star is an excellent safety device for elderly people living alone, for children, and adults who work or live in unsafe conditions.  You can purchase the 5Star device in silver or black for $49.99 directly from GreatCall or at Walmart and Sears stores nationwide.  Monthly monitoring service is $14.99/month; no contracts are required.  Additional users on the same account are only $8.99.  There's even an app in the iTunes App Store for your iPhone; the $14.99 purchase price covers the first month of monitoring.  Read the full press release after the jump.
GreatCall Announces Introduction of the 5Star Responder™ Device – Empowering People to Be Prepared for Any Situation 
First-of-its-kind Wireless Device Provides Personal Security – Anytime, Anywhere
San Diego, Calif. – October 19, 2011 – GreatCall, Inc., a leader in wireless services that enable people to stay connected, safe and healthy,today announced the immediate availability of the 5Star Urgent Response™ service and the 5Star Responder™ device, powered by one of the nation's most reliable wireless networks. Available for purchase now at www.greatcall.com or by calling GreatCall directly at 800-650-3946, the 5Star Responder is a first-of-its-kind wireless, mobile device that is an easy, convenient, and affordable way to better protect yourself or those closest to you, at home or on the go. Beginning October 23, the service and device will also be available nationwide at Walmart and Sears.
By simply pressing the button on the Responder, users are immediately connected to highly-trained Certified Response Agents who will identify them and their location, conference in family or friends, dispatch 9-1-1 emergency service, access a nurse, or provide any additional assistance, if needed. Consumers can also use the device to contact 9-1-1 directly if needed. The 5Star Responder is a small, stylish, mobile communication device that's available in silver and black.  Users can conveniently attach the GPS enabled Responder to a keychain, purse, or backpack.  Users can also rest easy knowing their Responder was designed and manufactured by AnyDATA, a trusted leader in innovative wireless devices.  The 5Star Urgent Response service is also now available as a downloadable smartphone app for iPhone on iTunes.
The benefits of the 5Star Urgent Response service are exciting.  No matter the situation, from a woman walking home late at night who suddenly realizes she's being followed, to a child who is lost or feels unsafe at school, to an aging American living alone who's concerned with a stranger pulling into their driveway, all can feel empowered knowing that 5Star is standing by 24 hours a day, seven days a week, ready to respond.
It's especially powerful because so many people are afraid and hesitant to call 9-1-1.  In addition, many services provided by other companies are focused solely on responding to emergencies.  With 5Star Urgent Response, you don't have to be afraid to call, whether it's an emergency or any situation where you're concerned about your well-being.
 "The 5Star Responder will revolutionize public safety," said GreatCall CEO David Inns. "No matter how serious the situation – even if it's just to have one of our Response Agents stay on the line with you as you walk to your car late at night – you can be assured that we are there with you until your situation is resolved."
5Star Urgent Response™ Service Features:
Never miss one of our posts again. Sent MON, WED, and FRI with the latest gadget reviews and news!
Reliable Nationwide Coverage – 5Star™ works nationwide and provides consumers with immediate access to help anywhere wireless coverage is available.  5Star service is powered by one of the nation's largest and most reliable networks.
Immediate connection to Certified 5Star Agents – 5Star gives consumers live, 100% U.S. Based Agents who are certified by the National Academies of Emergency Dispatch®, trained in CPR and other emergency protocols and available to assist anytime, day or night.
Enhanced location tracking with GPS – 5Star utilizes GPS technology, stored frequent locations and advanced location training to locate users.  The Agent will not locate the user until they hit the button to ask for help.
5Star and 9-1-1 work together – 5Star Agents will identify and locate you, assess your situation and then send the appropriate help including assistance in dispatching 9-1-1 emergency services.  Agents will stay on the line with users until their situation is resolved and can also conference in a registered nurse, family and friends.
Affordable – Service is just $14.99 a month with no contracts and no cancellation fees. Service for each additional user on the same account is only $8.99 a month.
Personal Profile – Contains comprehensive, personal details such as emergency contacts and medical conditions, which allow the Agent to better assist users in an urgent situation.  The profile is secured by an SAS 70 Type II certified data center, HIPAA compliant, and is only shared with first responders in the event of an emergency.
Free LiveNurse – Includes GreatCall's award-winning LiveNurse service FREE, for unlimited mobile health advice from friendly, registered nurses in English or Spanish, 24 hours a day.
Multilingual – 5Star Agents can provide translation support for assistance in over 100 languages.
The 5Star Urgent Response service is not a substitute for 9-1-1.
5Star™ Responder Device Features: 
Convenient – The compact, lightweight (weighing only 1.8 ounces / 50 grams), and GPS-enabled Responder conveniently attaches to your keychain, purse, or backpack.
Simple and Easy to Use – Single button operation with a powerful speaker phone and simplified service and battery indicators.
Locator Service – Users also have access to an online locator so they can track the Responder and find the user themselves.
9-1-1 Direct – To connect directly to 9-1-1, simply press and hold the Responder button down for five seconds.
Great Value – The 5Star Responder Device retails for $49.99.
Specifications:
o    Available in black or silver.
o    Dimensions (H) 2.9 x (W) 1.6 x (D) 0.6 inches.
o    Battery has at least 3-4 days standby time before recharging.
To learn more about the 5Star Urgent Response™ service and the 5Star Responder™ device, please visit www.greatCall.com/5Star.
To access company logo and high-resolution images, please visit: www.greatcall.com/assets
Follow GreatCall on Twitter: @GreatCallInc; and on Facebook: facebook.com/greatcall
About GreatCall, Inc.
GreatCall is a company of "People You Can Count On" to provide wireless services that enable customers to stay connected, safe and healthy.  The company stands apart from other wireless services providers through its simplified, personalized and humanized approach, as well as its commitment to providing a high-quality customer service experience. The company has been widely praised for its ability to deliver the benefits of innovation and technology in a meaningful and easy-to-use format. GreatCall has received prominent national media accolades from the Wall Street Journal, BusinessWeek, The New York Times, Washington Post and major TV broadcast networks.
GreatCall's services, apps and cell phone handsets are sold nationwide at leading retailers such as Best Buy, Sears, Sears Hometown Stores, RadioShack Dealer Franchise, Fry's Electronics and ShopKo, as well as direct to consumers at 1-800-918-8543 and online at GreatCall.com Service coverage includes the U.S. and Canada. GreatCall is located in San Diego, CA. For more information, please visit www.greatcall.com
About AnyDATA Corporation
AnyDATA Corporation (www.anydata.com), headquartered in Irvine, CA, USA, is a global leader in the quality design and manufacture of high-performance wireless devices. A one-stop solution, AnyDATA provides a full range of device services—design, development, testing, certification, and manufacture. With 15 years of experience in wireless connectivity, AnyDATA helps network operators and major brands deliver stylish, reliable, differentiated devices to consumers worldwide. AnyDATA products have been certified by 60 operators in 45 countries.