We use affiliate links. If you buy something through the links on this page, we may earn a commission at no cost to you. Learn more.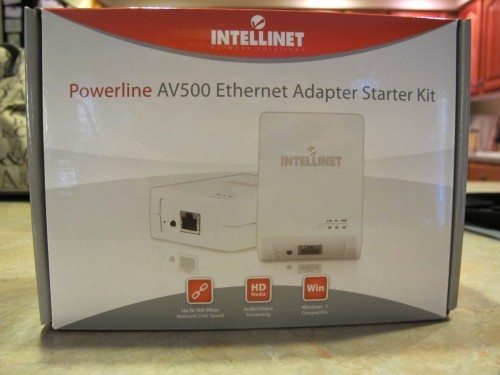 Powerline Ethernet may be the least understood and used technology for networking.  It's a shame because it's so easy to use and is more reliable than WiFi.  The good news is that there are more vendors offering products in the space, Intellinet being the latest.  Their Powerline AV500 Ethernet Adapter  provides a true plug and play implementation.  If you stream video or transfer files on your LAN and want to save the cost and hassle of running cables, Powerline is the way to go.
Here's what the product says it will do:
Network computers through existing AC power lines
Up to 500 Mbps network data rates and data security through 128-bit encryption
Enables high-quality video streaming, VoIP and gaming over a home network
Provides network access for computers, HD media players and gaming consoles
Plug and Play (no drivers required)
Software-free security configuration with a simple push of a button
HomePlug AV compliant
Compatible with Intellinet Powerline AV/HD200 Ethernet Adapters
Can co-exist with HomePlug 1.0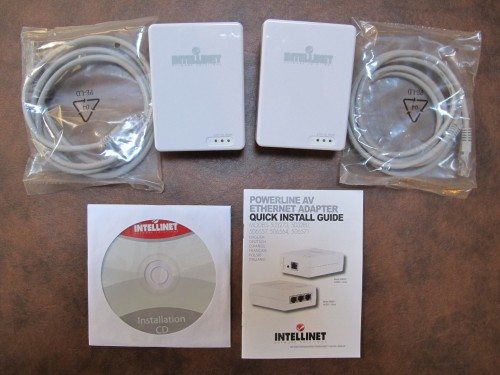 For your first Powerline installation, you'll need a starter kit.  It consists of two adapters and hopefully ethernet cables to connect your devices.  The Intellinet starter kit had everything needed.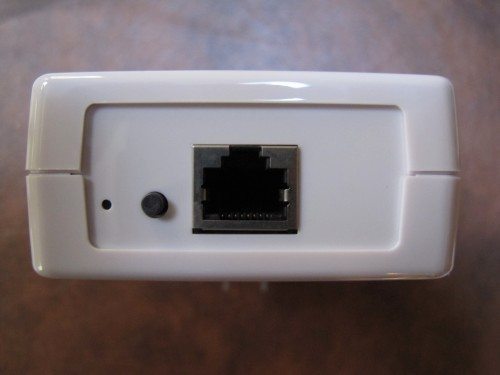 On the bottom is the Ethernet connector, a button for changing the password and a hole for inserting a paperclip to reset the device.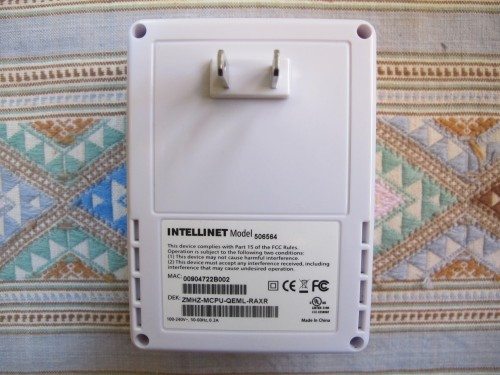 The backside has the mains connector, which is not polarized.  This allows it to be plugged in different orientations.
Never miss one of our posts again. Sent MON, WED, and FRI with the latest gadget reviews and news!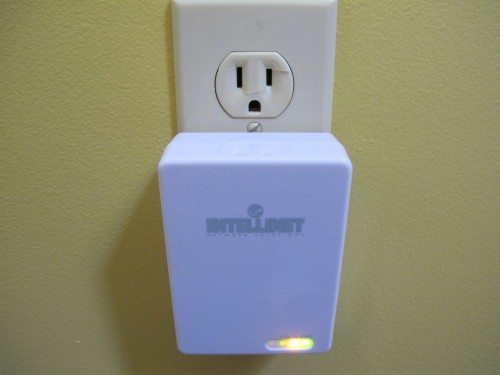 And here it is plugged into the wall socket.  The indicator lights show connection to the LAN, relative throughput and link status.
This isn't my first Powerline review, and I've had the technology running successfully for several years.  Before this review I had 4 nodes connected: 1 for my Ooma VOIP; 1 for a Cirago media server; 1 adapter with a 4 port switch for a Roku, media extender, and another Cirago media server; and then of course, the main adapter that connects to the router.  The current adapters are AV200 devices and are HomePlug AV compliant.
To test out the AV500's HomePlug compliance and to check how idiot proof these devices can be, I didn't read the installation instructions and just plugged both adapters into a couple of power sockets.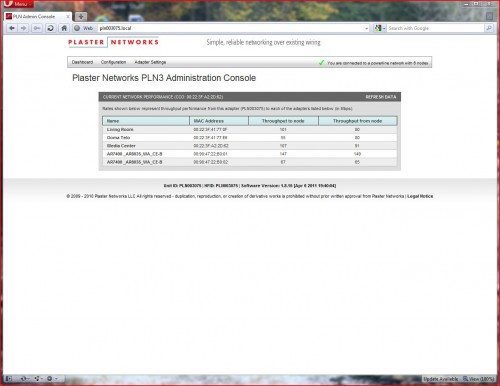 Within seconds the two Intellinet adapters were recognized on the LAN.  The above screenshot is from the firmware inside the Plaster Networks adapter connected to my router.  The last 2 entries are the AV500 devices.  The Plaster Networks firmware only works if their adapter is connected to the router and unfortunately it is no longer supported because they appear to have gone out of business.  To get the maximum throughput between the AV500 adapters, I later had to reconfigure so that one of the AV500's was connected directly to the router.  The maximum throughput on the LAN is the lesser of the ratings between two nodes and in the above case that would be 200 Mbps.
OK, so now I determined that the AV500 really is conforming to HomePlug specs, I rummaged through my closet to find some devices I could hang on the adapters for some stress testing.  I pulled out an unused PogoPlug device and connected a disk to it.  I then connected it via an adapter.  I also moved my OB100 from the a router port to a Powerline adapter.  This gave me 6 Powerline adapters of different brands: 2 Netgear, 2 PlasterNetworks and 2 Av500.  I also installed the included Power Packet Utility to monitor what was going on.  Installation of this software is optional and probably most users won't bother.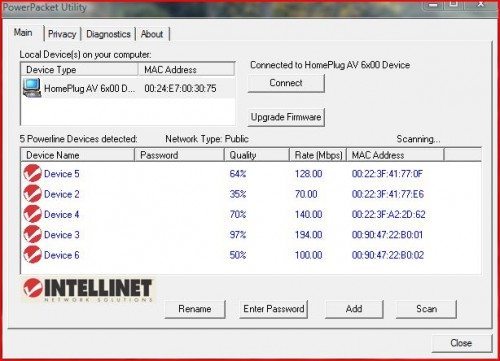 In the above screen shot my local device or the one plugged into the router, is Plaster Networks.  It is rated at 200Mbps which makes that the fastest throughput between it and the other nodes.  Here devices 3 and 6 are the Intellinet AV500's.  You'll notice that device 3 shows a throughput of 194 Mbps and device 6 shows only 100 Mbps.  Be aware that the throughput will vary depending upon the distance between devices and the condition of your home power wiring.  I'd be surprised if anyone got the stated speed and my experience has been anywhere from 70% to 25% of rated throughput.  You can move the adapters to different circuits looking for better throughput and monitor the results using the Power Packet Utility.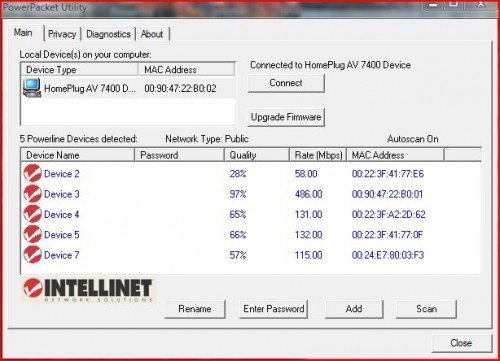 To see if I could get near 500 Mbps, I replaced the Local adapter with one of the AV500 devices.  Illustrated above, you can see that device 3, the other AV500 is now screaming along at near 500 Mbps, but that's partly because it's plugged into the same AC circuit as the local adapter.  It's less than 15 feet away.  I wouldn't recommend buying Powerline equipment for 15ft when you could run a cable more cheaply.  You'll also notice that Device 2, which is connected to my Ooma box, is running very slow.  That's because there's something amiss with the line on that breaker.  I haven't figured it out yet, but the speed is sufficient for VOIP.  Another downside of Powerline is its susceptibility to electrical noise.  In my house, I have some under cabinet LED lights that when turned on cause so much electrical noise that my Mbps drops by 50% on all my circuits.
The Powerline adapters come configured with a common password for the 128 bit encryption.  This could cause a problem if you're thinking of using them in a multi-unit building.  It would be possible for a user on the same electrical panel as you to be connected to your LAN.  This is taken care of in two ways.  By pressing a button on the adapter hooked to your router and then, within a certain time, pressing the buttons on the other adapters, a random password is generated  for those devices.  The password can also be changed by using the utility. For those of us living in a detached home, we can just use the devices right out of the box with the default password or one could use the utility to segment the LAN by assigning different passwords to devices.  This way an adapter could only communicate to devices with the same password.
I make good use of Powerline in my home.  I stream HD video from my PC, connect my VOIP boxes where I want them and attach my Roku to the Internet without having to run cables or settle for the vagaries of WiFi.  I also have a Laptop running Ubuntu connected via an adapter.  For my uses a 200 Mbps device is sufficient.  Even when the quality of the signal is low, I've had no problems streaming data over the LAN.  For those who need higher throughput, the Intellinet AV500 would be an excellent choice.  It's a no-brainer to install and there's no maintenance.  It's truly Plug and Play.
Product Information
Price:
$140
Manufacturer:
Intellinet
Retailer:
various
Requirements:
Pros:

Plug and Play installation
High speed

Cons: