We use affiliate links. If you buy something through the links on this page, we may earn a commission at no cost to you. Learn more.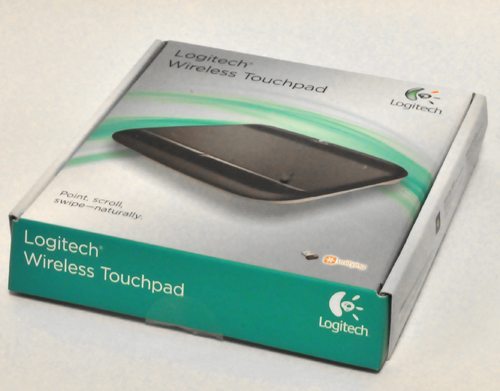 I have been a mouse guy my whole life. I have had a contentious lifelong relationship with the touchpad on my laptops and have always gravitated to the mouse. I tried several trackball devices over the years thinking that perhaps I was missing something.  But the mouse always tugged at my heartstrings and pulled me back. My current mouse that I have used for over a year, and which I love, is the Microsoft Natural Wireless Laser Mouse.  This is the mouse that all others will be judged by in my opinion, so when I was sent the Wireless Touchpad from Logitech to review I looked at it much like an old man looks at kids who are playing in his yard. Was I going to be won over?  Let's go see.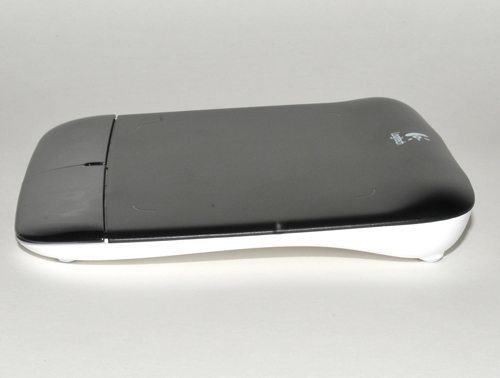 I don't know what I was expecting but the box looked awfully small to me when it showed up. When I took it out of the box I was taken aback. Wow, this thing looks really nice.  It's got curves, and honestly, it looks like an Apple product.  Now, the plastic construction will tell you that it's not an Apple product, but it isn't poorly built. Quite the opposite. It is nicely put together and the plastic makes it light and easy to transport.  And the small rubberized feet on the bottom keep it steady on my desk as I swipe my fingers hither, thither and yon.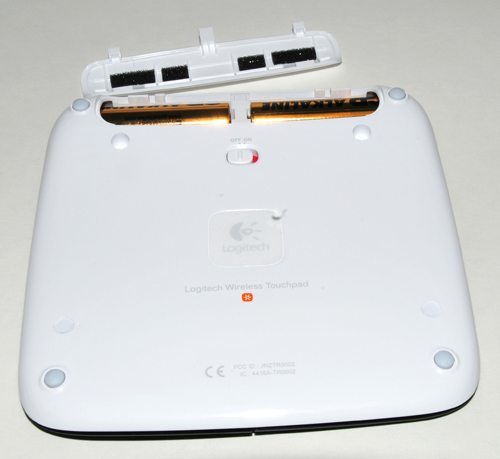 On the back is the on-off switch, as well as the battery compartment, which I discovered already contained 2 batteries. Nice touch, Logitech.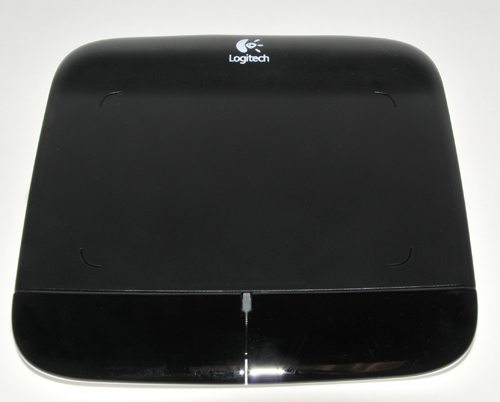 On the top of the device is the 5-inch touchpad area surrounded by about a 3/4 inch frame all the way around it. There are slightly viewable lines on the surface of the touchpad that designate the corners of that 5 inch touch area, but you can't really feel them when you are using the Touchpad because the active surface is smooth all the way across.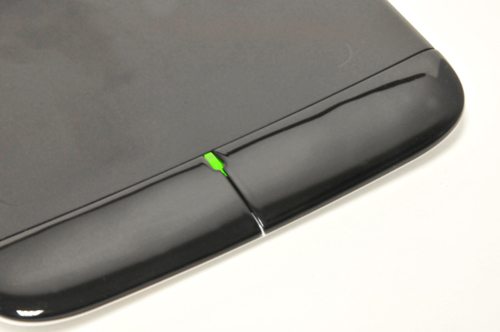 At the bottom on the front are 2 mouse buttons that cover the entire width of the device, with an indicator light in the middle.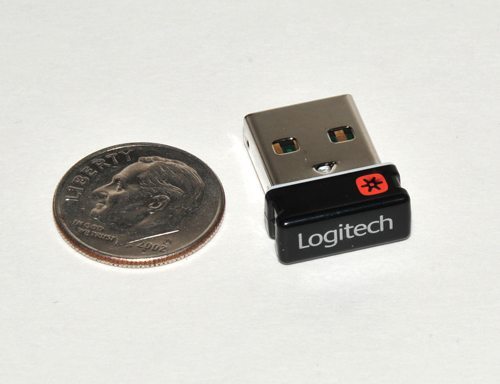 The USB dongle that comes with it is Logitech's "Unifying receiver" which is a pretty cool little trick if you use all Logitech products. That little dongle will allow you to connect up to 6 Logitech wireless devices and only use 1 USB port. Nice. You can see in the picture that the dongle is about the same size as a dime, which means you better watch it or you'll lose it!
Now let's look at one more picture of the device before I yell at it to get off my lawn.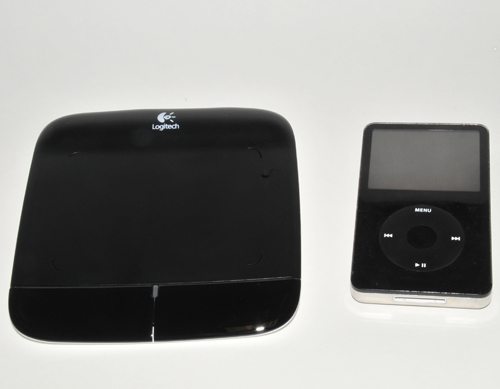 Never miss one of our posts again. Sent MON, WED, and FRI with the latest gadget reviews and news!
As I slowly moved my mouse over to the side to make room for the Touchpad, I felt a pang of guilt. 'I'll be back' I silently told my mouse. And I hesitantly began to use the Touchpad. I don't know why the experience is so strange for me because I have a touchscreen smartphone, and 2 tablets that all use 100% touch for their interface. So why is the thought of using touch so weird on my laptop? Perhaps it is the presence of the keyboard? You know, like peanut butter and jelly, a keyboard just goes better with a mouse. Mac users are publicly mocking me at this point while pinching and zooming on their Magic Trackpads, but I can take it. Mac users just can't help themselves. But I digress.
Here is what I like:
I like that the Touchpad is so much bigger than my laptop touchpad. The 5 inch touch area is monstrous compared to my laptop touchpad, and the large buttons on the Touchpad are solid and responsive.  I love the shape and the angle of the Touchpad. It fits perfectly for my hand as I use it sitting on my desk. The gestures available on the Touchpad are responsive and easy to use. Once you learn them, it is second nature.  For everyday computer use… email, surfing, etc, the Touchpad is great. And the price ($49.99) is right for me.
Installation was crazy-easy. Plugged in the dongle and in about 20 seconds I was ready to go. Turn it on and I am in business. And it looks really, really nice. Dare I say it looks sexy? Well, maybe not Apple-sexy, but Windows-sexy. There you go.
Here is what I don't like:
There aren't enough gestures. What is the first gesture that comes to mind when you think of a touch device? That's easy… pinch to zoom… spread to zoom. Well, that's missing on the Touchpad. I suspect that has to do with the limitations of Windows 7 and I feel sure that Windows 8 will address that.  But for now, it aint' there.  There are good gestures available, but I felt limited in what I could do. You can use the traditional 1-finger tap for things.  You can use two fingers up and down for scrolling. You can use 3 finger swipes left and right for advancing back and forth in the browser. And you can use 4 finger swipes left and right to tab between open apps, and up and down swipes to get to the desktop and back to your apps. But I want more. There's also no turning your fingers to rotate things in the apps that would support it, like photo apps or graphics editing apps.
The only other thing I didn't like was the fact that there is no tactile feedback when you have left the 5-inch touch area. Aside from the lines that appear on the surface that show you where the touch area is, there's nothing that tells you have 'left the area'. And of course, you aren't looking at the device when using it so those lines on the surface are basically useless. Occasionally one of my fingers is outside the area and I don't know it and my gesture isn't what I want to accomplish because of that.
Bottom line
I have tried to become proficient with the Touchpad in Photoshop, which I use daily.  I can't quite get comfortable with it because the detail work requires me many times to get down to the pixel level to manipulate images.  I jump back to the mouse to accomplish these types of tasks.  But for general computer use the Touchpad is great. Logitech says the batteries last 4 months, and if that holds up then that isn't bad. The Magic Trackpad is probably the ruler by which other touchpads will be judged, and it does have more gestures, higher quality materials, and of course is Apple-sexy. But you must have a Mac to use it, and with the Logitech you must have a Windows computer to use it. So perhaps it isn't fair to compare the two.
So if I had to give the product a rating of 1 to 10, I would give it a 7.  With this thing I won't use my built-in touchpad on the laptop, and that's a very good thing.  I don't hate Touchpads quite as much now. Maybe I'll let the kids play on the lawn after all… but just for a little bit.
Product Information
Price:
49.99
Manufacturer:
Logitech
Requirements:

Windows 7
Available USB port
(Not OSX compatible)

Pros:

Good build quality
Dead-simple to install
Sexy design (yes, I said sexy)

Cons:

5-inch touch area not big enough
Needs more gestures