We use affiliate links. If you buy something through the links on this page, we may earn a commission at no cost to you. Learn more.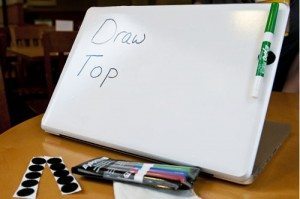 I frequently use a whiteboard to convey a concept or have a dialogue with a client.  With whiteboads and whiteboard markers it is a good chance that they are not what you want them to be when you show up at someone's office:  the whiteboard is blurry or stained and there is usually one red market – the exact color you do not want to use.  I usually carry my own set of whiteboard markers to avoid just such a problem, but I can not carry my own whiteboard, or can I?
An entrepreneur founded DrawTop, to make sure you always have a whiteboard with you.  By taking advantage of the unused space on the back of your laptop, or should I say the space used only for stickers and pictures, the DrawTop provides a whiteboard that is with you when and where you need a whiteboard.  The DrawTop Laptop Whiteboard is a white vinyl sheet that looks simple thanks to an adhesive back and even includes a set of Expo whiteboard markers.  I only wish you could print on these to create a standard whiteboard diagram for  illustration purposes or add your company logo.  I also wonder how it works on Mac's as the light up Apple Logo may be viewable through the DrawTop.  I guess I will just have to order one and let you know.
Priced at $12 for a single DrawTop , $16 for two, or $10 for a special DrawTop for your tablet of choice.  Available today on the DrawTop website.