We use affiliate links. If you buy something through the links on this page, we may earn a commission at no cost to you. Learn more.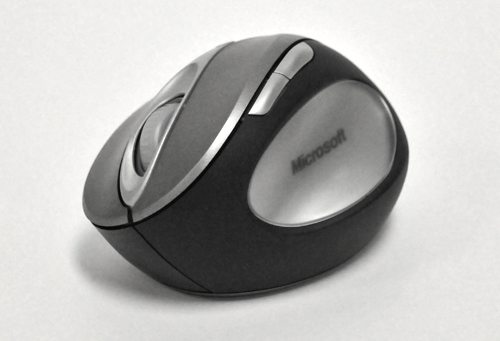 The Microsoft Natural Wireless Laser Mouse 6000 (hereafter referred to as "Natural Mouse") would make any elephant nervous!!  Like any good computer professional, over the years I have gone through a boatload of mouse products, from touchpads to trackballs, wireless mice, corded mice, travel mice, Bluetooth mice, laser mice, and even a few pointing sticks.  And I have discovered that all mice are not created equal.  And when it comes to this honking beast of a mouse, it packs a huge list of features!
I have had the unfortunate experience of getting carpal tunnel syndrome because of the way that I used my keyboard and mouse.  So I know from experience how important it is to have a mouse and keyboard that works with your body instead of against it.  And I believe I have finally found the perfect mouse for me when it comes to daily use.  I won't be taking this beast on the road with me because I'd have to take another suitcase, but for my daily use in the office I can't see me going back to any of the other mice I have.  I keep referring to how big this thing is, so let's start off by looking at it compared to some of my other favorite mice so you can see what I am talking about.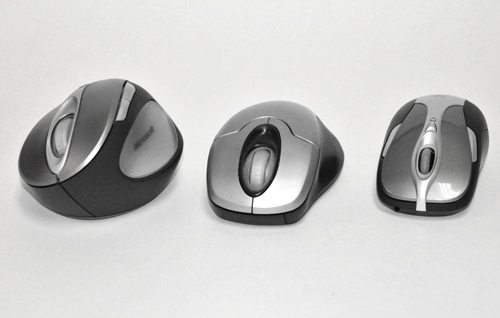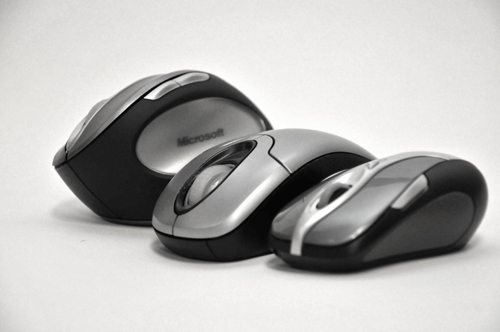 (from L to R) the Natural Mouse, Microsoft Wireless Optical Mouse 2.0, and Microsoft Wireless Notebook Presenter Mouse 8000
When I took this mouse out of the box I said to myself, "Holy smokes Batman, this thing is huge.  You've got to be kidding me."  And for those of you wondering, yes, I did actually invoke Batman's name.  It is over 2.5 inches tall and towers above other mice, especially my Microsoft Wireless Notebook Presenter Mouse 8000 (which is fantastic by the way).  When I used the Natural Mouse for the first time I had a terrible time getting it to do what I wanted.  I read this on other reviews and wondered what everyone's problem was… I mean… how hard can it be to use a mouse, right?  Then I found out.  Look at this picture showing how it sits on the desk and the angle that the top of the mouse is compared to the desk surface: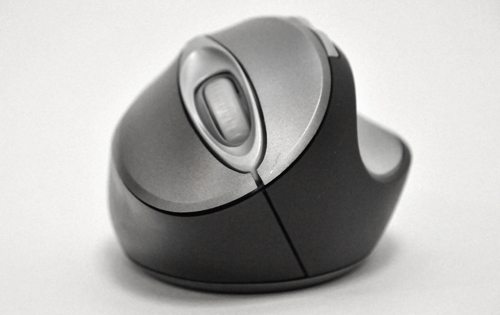 Because the round surface area on the bottom of the mouse isn't directly beneath the top area of the mouse which is offset just a little bit, when I tried moving the mouse in a simple left to right motion on my screen, the cursor moved at an angle.  My 'natural' motion that I have used for years didn't quite work with this 'natural' mouse.  I was frustrated.  But I stuck with it to see if I would get used to it.  And I must confess that it took me several days to get used to it.  I think perhaps the average person wouldn't give it as much time as I did… they would pack it back up in the box.  But because I stuck with it, I must now confess that I won't be going back to any other mice.  It is THAT comfortable.  Here are some more pictures from different angles: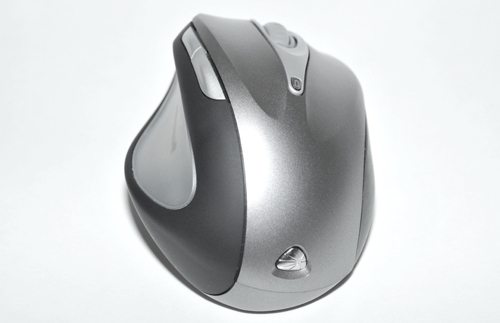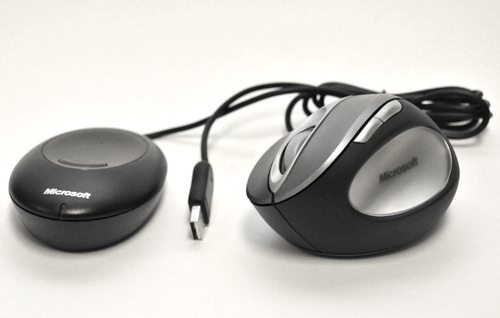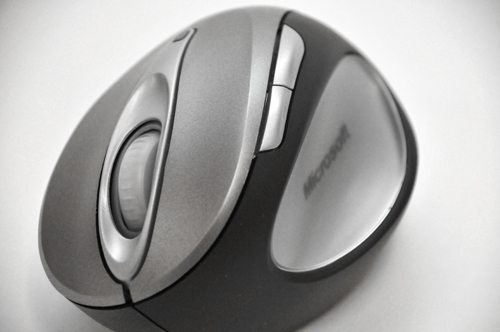 Let me mention the features of this device which brings large trunked mammals to their knees.  (Again with an analogy to its size, but trust me, it's huge.)
The mouse wheel allows 4-way scrolling by allowing you to push the wheel to the left and right in additional to the traditional roll up and down.  You can also push the roller wheel down for a mouse click (customizable).  The 2 buttons on the left side of the mouse are customizable as well and can be accessed using your thumb.  For example, one of those buttons comes programmed as the 'back' button in your browser.  I can't express how wonderful this is for my browsing experience!  The indentation below those 2 buttons is where your thumb will naturally relax.  Of course it has the 2 standard programmable mouse buttons on either side of the scroll wheel.  Located behind the scroll wheel is the wonderful feature of a lighted battery status indicator that lets you know when your batteries need to be replaced.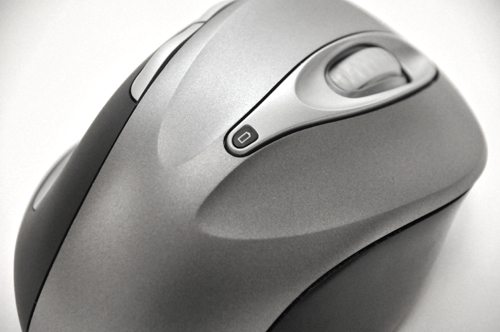 Why the heck hasn't someone does this before?  Genius.  And while I am on the subject of battery, let me say that Microsoft pitches this mouse as having "advanced Microsoft technologies" that prolong battery life.  I have no idea what those technologies might be, but they work.  I have been using this mouse on a set of rechargeable batteries for over a month and have yet to change them.  I have never gone that long before on one set of batteries, so I am tickled.  You insert the batteries by opening a small door on the b0ttom: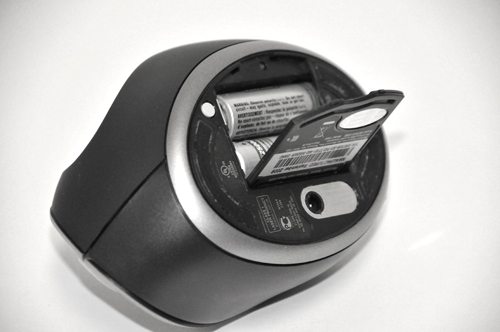 Let me mention a few more of the outstanding features.  First of all, there is a magnifier feature that you can assign to any of the programmable buttons on the mouse.  When you press the assigned button, a magnifier pops up on your screen that enables you to magnify anything from 200% up to 1,600%.  I love this feature because I am a web designer so I am constantly zooming in on parts of my Photoshop documents.  This ease at which this feature works is wonderful.  You can even customize how you want to use the magnifier.  I have taken a few screenshots to show you what I mean.  You can use it in 'lens' mode which pops up a rectangle shaped box that moves with your mouse.  You can use it 'full screen' which zooms the entire screen.  And you can use what is called 'docked' mode which pops up a rectangle area across the top of your screen that is the magnifier for any place your mouse goes: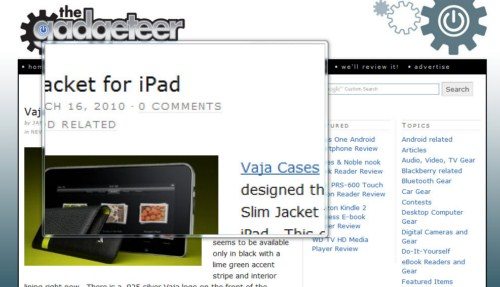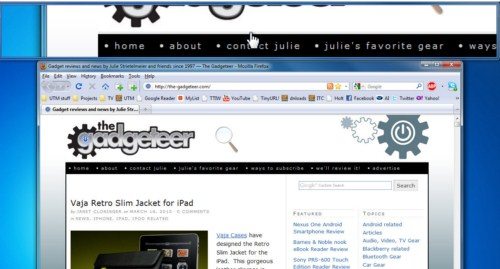 Above is the 'docked' mode.
The best feature of this mouse is that the only part of my hand that touches the desk when using it is that part of the outside of my hand that is below my pinky.  My hand just sits naturally (again, the name) at an angle off to the side and my wrist never touches the desk.  Your hand might get hurt though when it falls from that height off the top of the mouse. (sorry, couldn't help myself.)
It isn't all peaches and cream though.  Because of the way that the top of the mouse sits, left-handers are out of luck.  I am actually a left-hander myself when I write, so I know how lefties have to live in a 'righty-centric world'.  Sorry guys.  Also, the programmable buttons that are next to the thumb are a bit too far back on the mouse, so using them is awkward.  And it will take you some time to get used to moving the cursor on the screen.
If you can overlook those things, this mouse is for you.  It is the most comfortable mouse I have ever used and I think Microsoft knocked one out of the park with this one.  But before I go, did I mention it's big??
Product Information
Price:
$60-$75
Manufacturer:
Microsoft
Pros:

Amazing list of useful features.
It's just so darn comfortable.
Excellent battery life.

Cons:

Takes several days to get used to it.
Left-handed people will be disappointed.
Programmable side buttons usable only by thumb.