We use affiliate links. If you buy something through the links on this page, we may earn a commission at no cost to you. Learn more.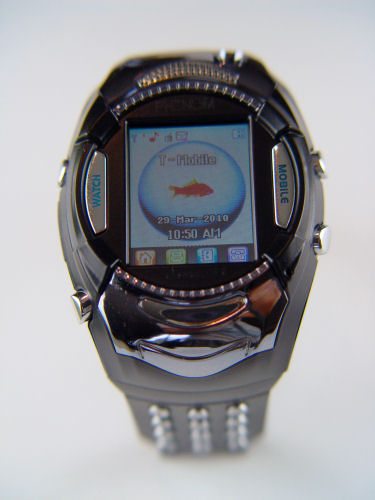 Remember the days of mobile phones that looked like you were carrying around a brick with a whip antenna sticking out of the top? Sadly, I do….
Remember day dreaming that it would be great having a watch that can communicate with others like James Bond or even Dick Tracy did back in the day? Well, that was then and this is now. That dream is now a possibility thanks to the SpecialOPS cell phone watch from Phenom.
The SpecialOPS is an unlocked GSM phone that uses a SIM card and is littered with goodies. It has a built-in FM radio, it has an MP3 player, Bluetooth, a 1.3 MP camera and can play videos. You can also send and receive text messages as well as shoot video. That take Mr. Bond.
It comes with a stylus that you use to navigate around its touchscreen LCD display. Although the screen is only 1.3 inch it is still easy to navigate around using the stylus. You can use the stylus or use the keypad on the side of the watch to dial out.
The SpecialOPS has a crisp and clear speaker so the phone quality is fantastic. I could hear the caller crystal clear and they could hear me clear as well. This means that the microphone on it works well too. The speaker was loud enough without sounding blown out. The Bluetooth on it works great too. It paired effortlessly to my handsfree headset without any problems. The included headphones worked equally as well.  And they are the headphones I like. Not the ones with one long wire and one short wire. So using it for phone calls and listening to MP3 music was nice.
The SpecialOPS cell phone watch comes with a 1GB MicroSD card, battery, stylus, USB cable charger, and headphones.
On Phenom's website they have other models of cell phone watches so check them out and see which one is right for you. They also offer accessories on their site as well.
The SpecialOPS from Phenom goes for a moderate price of $395.00. Not bad for a gadget with all the features it offers.
Oh, and it tells time, too.
Never miss one of our posts again. Sent MON, WED, and FRI with the latest gadget reviews and news!
Product Information
Price:
$395.00
Manufacturer:
Phenom
Pros:

Lots of features
Touchscreen LCD
Built-in FM radio
1GB MicroSD card
Digital and video camera
Bluetooth
Metal band

Cons:

Small LCD screen
Inserting MicroSD card and SIM can be tricky
GSM only