We use affiliate links. If you buy something through the links on this page, we may earn a commission at no cost to you. Learn more.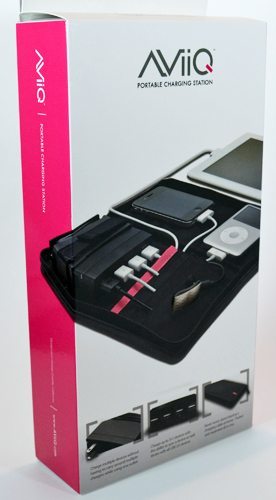 Traveling with a lot of gadgets means traveling with a lot of chargers and cables.  All those chargers can add up to a bulky, heavy load to add to your already bulging gadget bag.  And being sure you take all of them – and bring them back home – can be difficult when you have a tangled pile to sort through.  Aviiq has the solution for that tangled mess.  Their Portable Charging Station allows you to charge four devices at once, and you can even sync one of them with your computer.  Everything you'll need fits into a compact, organized case.  I was selected to try out the Aviiq Portable Charging Station.
Some images can be clicked for a larger view.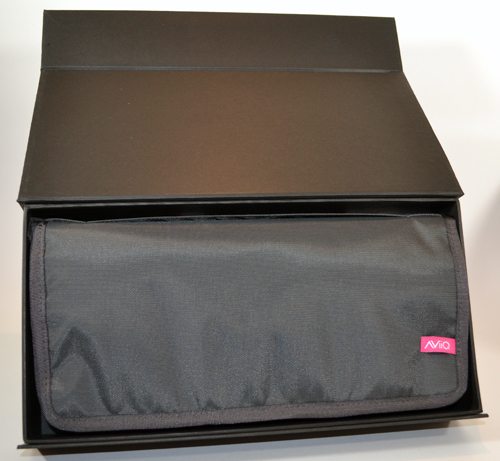 The Aviiq Portable Charging Station comes in a very nice, heavy cardboard box that closes with a magnetic flap.  You don't need it for carrying the charging station in your gear bag, but it's far too nice to throw out.  My house is full of the beautiful packaging so many products come in.  I think I'd prefer a cheap cardboard box that I can recycle without feeling that I've somehow wasted part of the purchase price.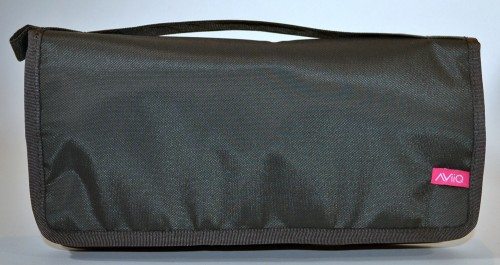 The charging station is housed in a medium-gray nylon bag.  There's a pink Aviiq logo badge on the front right corner.  The bag zips around three sides and opens flat like a book.  Closed, the bag measures 10.2" long X 4.75" high X 1.25" thick.  It weighs 12 ounces on my digital kitchen scale.  Of course, any cables and accessories you add to the bag will add to its total weight.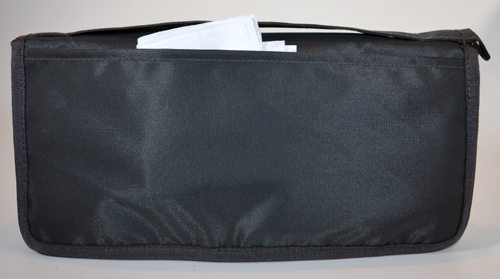 The spine of the case has a grab handle that seems to be made of the same material as the case.  The back of the bag has a full-length open slip-in pocket.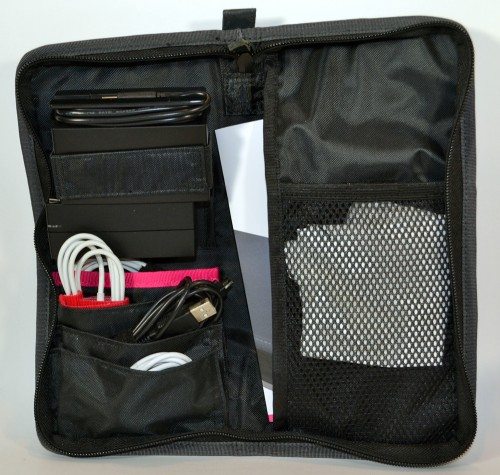 Inside the bag are several pockets to organize your USB charging cables.  The four pockets on the left are holding my Kindle cable, two Apple cables, and a USB-to-microUSB cable that can charge my Bluetooth headset and a variety of other gadgets.  These pockets have some gusseting on the left side for a little extra room.  They close with Velcro on the right side, so you can open them up to reach the cables easier.  A large pocket made of stretch netting is on the right side; it closes with a small Velcro tab.   There's a full length slide-in pocket under the net pocket.
The power adapter and a 4-port USB hub are stored above the left-side cable pockets.  The power adapter fits under an elastic band.  The USB hub has a big clip on the bottom that slides onto a band sewn to the inside of the travel bag.  Both can be easily removed for use, but you can leave the hub in place while charging devices.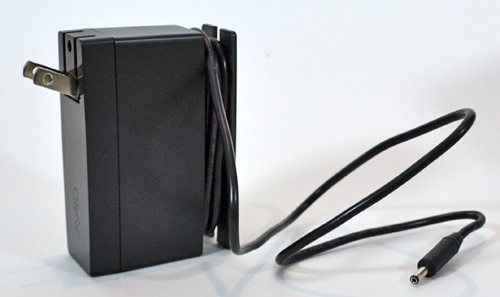 The AC power adapter  has a spool to wind its cable around.  The plug fits into a snug slot at the bottom of the spool to keep the cable neatly wound.  The cord is 47″ long.  The AC prongs fold into the AC adapter to keep it as compact as possible.  These prongs were a problem for me.  You can see in the picture that they have rounded edges.  When they are folded into the charger, that rounded shape makes it very hard to find an edge that you can catch on and use to flip them out of storage.  Every time I used the charging station, I had to use a pen cap or something similar to pry the prongs out of their silo.  The hinge is very tight, so they are hard to deploy even using something to pry with.  The AC adapter is narrow, so I did find that it fit well between other plugs in my power strip.  The power supply requires 110VAC/60Hz and outputs 5VDC 3A max (15W max).  It has overload and short-circuit protections.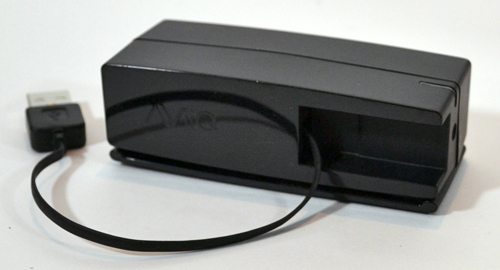 The 3 + 1 USB hub has four ports on the front.  It works with PC and Mac computers.  One end of the hub has a round port to connect the AC charger.  Just above that is a light that indicates when the hub is powered.  A retractable USB connector stores into the back of the hub; its cable is about 5″ long.  The three left-most USB ports are powered by the AC adapter.  They can be used to charge any USB-chargeable device.  The right-most port, marked Data, is powered by the retractable USB cable that you plug into your computer.  This Data port can also sync your device as you charge it.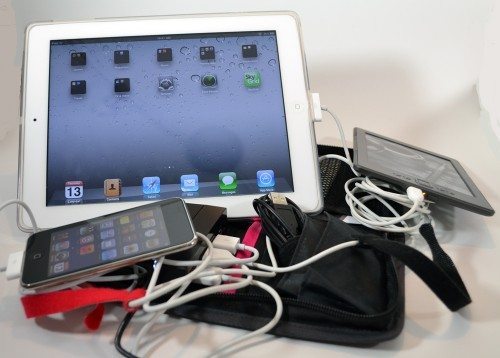 The non-Data ports are designed to charge any USB 2.0 devices that consume 5 – 10W of power.  The hub provides 15W total of continuous power.  It can be used to charge a tablet, which can take up to 10W of power;  simply plug the tablet into a port before you connect anything else.  The hub will send most of its power to the tablet, but you can still charge two more devices at the same time.  You'll see that I have an iPad, an iPod touch, and a Kindle all plugged in to the powered ports.  It may not be clear from the picture, but all three of these devices are charging.  Aviiq has pictures showing devices charging while their cables are neatly tucked away in their storage pockets.  It doesn't make a nice picture, but I found it easier to take my cables out of the pockets to use them.  I keep my cables all wound up with my Strapeez cable wraps from Op/Tech, so I needed to take them out to open the wraps anyway.
I didn't include a picture, but you can sync and charge any device from the Data port.  It will draw power from the computer's USB hub.
I like the Aviiq Portable Charging Station.  The organizational pockets make it easy to see when you've forgotten to put away a cable.  You can charge three devices using only one power connection, and you can charge and sync a fourth gadget from your computer at the same time.  This is very convenient when you're staying in a hotel room with limited wall outlets.  Everything fits into a compact bag that you can carry in your gear bag.  You'll only need one set of charging cables for home and work, because you'll always have them with you.  At $80, I think the Portable Charging Station is a bit expensive.  At that price, perhaps the hub should contain a rechargeable backup battery that can top off your gadget's batteries when you're away from a power outlet.
Product Information
Price:
$79.99
Manufacturer:
Aviiq
Pros:

Compact bag holds cables and makes it easy to see when one is missing
Can charge up to four devices at once
Can charge a tablet
Charger is slim and fits well between other plugs on a power strip

Cons:

Prongs on AC charger are hard to deploy
Expensive
Doesn't have a rechargeable backup battery for devices