We use affiliate links. If you buy something through the links on this page, we may earn a commission at no cost to you. Learn more.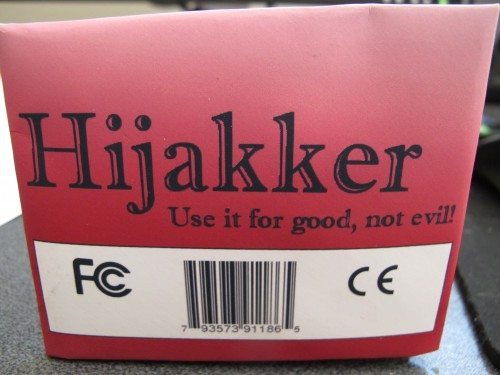 I really don't understand this device.  Someone at Hijakker took a $20 16GB USB drive and added an open source bootable version of Xubuntu and then they sell it for $60.  Their marketing then states "Have your own portable Windows on a USB Flash Drive!", but they forget to mention that you will have to supply your own full Windows operating system installation media to install on the USB drive.  I've been playing with it for a while, so this is my take.
Here's what the good folks at Hijakker have to say about the device:
► Have your own portable Windows on a USB Flash Drive!
► Includes Linux with many pre-installed tools.
► Great for the road warrior!
► Use it for private web browsing that leaves no trace on the host PC.
► A handy tool for Help Desk folks for troubleshooting  and system recovery – just boot it up and access the host PC's hard drive.
► Business Continuity experts can use to borrow / repurpose a PC and get back to their system s quickly during an emergency.
► Comes in eco-friendly packaging to minimize the plastic used.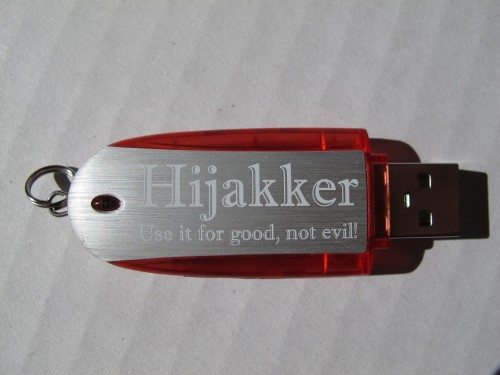 The thumb drive does have an end cap and comes wrapped in an "oragami" envelope.  The envelope doubles as the instructions for using the Hijakker.
To use the Hijakker you'll first have to find a PC that allows booting from a USB device.  Two of my 3 PCs, which are Dells, have that option, but the Toshiba Laptop doesn't.  That's unfortunate because I was hoping to repurpose the Toshiba. Having only 1 GB of memory it was running real slow under XP and I couldn't rebuild it because my installation disks were corrupted.  In the end I downloaded a copy of open sourced Ubuntu and used it instead.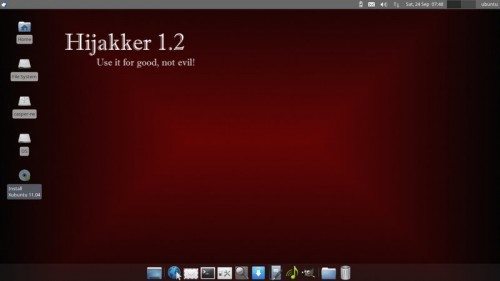 Upon boot up the above screen appears.  If this looks suspiciously like Ubuntu, that's because it is.  Actually, it's a pared down version of Ubuntu (Xubuntu) meant for hardware challenged systems and laptops.  It's fully functional and is available free of charge on the web.  The only difference in the Hijakker version is their logo on the desktop screen.
The main reason I was interested in this device was the ability to run Windows from a thumb drive independently from the PC.  This can be done using an open source application called Virtualbox OSE which is preinstalled on the Hijakker.  The application is also available  free on the web.  Virtualbox will allow you to run Windows or most other OSes on the thumb drive within Hijakker/Xubuntu.  I did not test this feature out because I didn't have a full installation package for Windows or any other OS for that matter.  I'll take their word for it that it works.
When I attempted to connect to the web on my laptop, I had no connection because of a missing wi-fi driver.  After playing around for a bit, a window popped up saying it was downloading the required driver for my wi-fi chip.  This was interesting because I wasn't hooked to the net, nevertheless somehow the driver was installed and I was on the web.
There's nothing earth shattering about the Hijakker implementation.  People with a little Linux knowledge can purchase their own thumb drive and go to Pendrivelinux.com to install Xubuntu.   If you'd rather not, you can pay the premium and purchase the Hijakker.  Personally, I use a thumb drive with Portableapps.com software that allows me to bring my data and applications with me on the road.  It is not bootable like the Hijakker and needs admin privileges to run, but is much easier to use.
Finally,  I'm not too impressed the product presentation.  The packaging is tacky and they don't seem to spend much on QC.  In the first paragraph of the getting started page they list their url incorrectly (www.hijacker.com).  The uses they list for the device are valid, but could just as easily be done without the device.
Product Information
| | |
| --- | --- |
| Price: | $59.95 |
| Manufacturer: | Hijakker |
| Retailer: | Amazon.com |
| Requirements: | |
| Pros: | |
| Cons: | Can easily be built by a user for 1/3 the price. |