We use affiliate links. If you buy something through the links on this page, we may earn a commission at no cost to you. Learn more.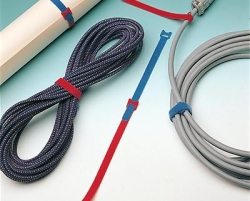 Does your gear bag look like a nest of snakes because of a bunch of loose cables and cords?  Mine did before I found Strapeez cord organizers.  These 8" straps are made of a "unique attachment system" that seems a little Velcro-like to me.  They are completely loops on one side and completely hooks on the other side.  You can use them individually or string them together for bigger cables.  They attach  to your cable so they don't get lost when the cable is released.  If you want another look at them, check out the picture of the cables and other stuff I put into the LapTrap bag when I reviewed it.
A set of six in your choice of red and blue or all black is available for $6.95 directly from Op/Tech USA.  They are also available from other retailers that you may already use.  I've found them at  Tom Bihn, Adorama Camera, and Amazon, to name a few.